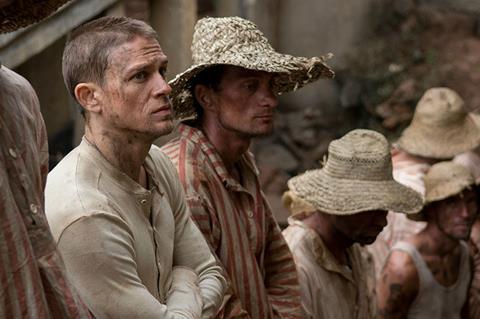 UK distributor Signature Entertainment revealed recent acquisitions at a slate presentation held at London's Picturehouse Central venue last night.
Movies on the 2018 slate include Charlie Hunnam and Rami Malek remake Papillon, World War Two action film The Bombing, starring Bruce Willis and co-produced by Mel Gibson, Blake Lively thriller All I See Is You, and previously announced action sequel Escape Plan 2 with Sylvester Stallone.
Picked up from Capstone, Toronto premiere Papillon follows the true-life story of 'Papillon' (Hunnam), a petty criminal who is framed for murder in 1930s France and condemned to a life sentence in the notorious colony on Devil's Island. Determined to regain his freedom, Papillon forms an unlikely alliance with convicted murderer, Louis Dega (Malek), who agrees to help him escape in exchange for protection.
Also from Capstone is world war two action film The Bombing in which Willis plays US Airforce pilot Jack Johnson who trains the Chinese military to battle against the Japanese Air Force. Adrien Brody, Wei Fan and Simon Yam co-star.
From Sierra/Affinity, Signature acquired Marc Forster (World War Z) thriller All I See Is You about a young woman who is still haunted by an accident that took her sight years earlier. Living in Bangkok with her husband, she undergoes a cutting-edge operation that restores her vision but unsettles her relationship. The film is due for release in March 2018.
Icelandic-Belgian animation title Birdy, acquired from Arri Media International and set for a Q2, 2018 release, tells the story of a young golden plover having trouble learning to fly, who fails to migrate with his family to warmer climates. With the help of his friends, he is able to survive in a world full of natural enemies and is, at the end, celebrated as a hero.
CMG's The Litte Vampire charts the story of Rudolph, a thirteen-year-old vampire, whose clan is threatened by a notorious vampire hunter. Voice cast includes Jim Carter (Downton Abbey) and Miriam Margolyes (Harry Potter).
In sci-fi action film Beyond Skyline, from Vertical Entertainment, Los Angeles detective Mark Corley (Frank Grillo) thought bailing out his eighteen-year-old son was the worst part of his day. However, on the ride home, the skies above fill with a strange blue light. Within moments, the entire city's population is vacuumed up into a massive alien ship including his son. In the aftermath, the resilient Mark and a few survivors encounter a highly skilled resistance force in South East Asia, led by the deadly Sua (Iko Uwais, The Raid 1 & 2). In a race against time, these warriors from different sides of the world must unite to save their families and take back the planet.
Also on the 2018 slate are My Pet Dinosaur, Terrifier, Pyewacket, Europacorp's big-budget Renegades and John Travolta thriller Speed Kills.
Production
The company took its first steps into film production last year with Scott Mann-directed action film Final Score starring Dave Bautista and Pierce Brosnan. The film will be released in 2018 and is one of at least nine in-house UK productions the company is looking to release in the next three years.
Also on a production slate between Signature and UK outfit Picture Perfect are Robin Hood, set to be released in Q3, 2018, and starring Game of Thrones' Kristian Nairn and Brian Blessed; action film Hooligan Escape, set during the Russian World Cup; Camelot; Mary Queen Of Scots; and the recently announced Escape Artist.
Home entertainment specialist Signature has released more than 80 films in 2017, including Jungle, The Hatton Garden Job, Rise of the Footsoldier 3: The Pat Tate Story, Operation Chromite, Aftermath and The Exception.
Ancillary successes include Footsoldier 3 and The Hatton Garden Job. The latter recorded week one DVD sales of close to 30,000 units.
Commenting on the slate, Signature's head of acquisitions and development Elizabeth Williams said: "We are delighted to add these exciting and commercial films to our line-up for next year, including a raft of high quality and cast-driven Signature produced titles. With these additions, we are continuing to bolster the schedule with A-list talent in front of and behind the camera, contributing to our 2018 slate which is by far the biggest yet, alongside our growing productions".