Pioneering entity will develop and finance Chinese-European co-productions.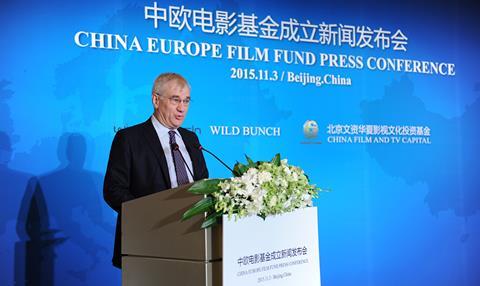 Beijing-based equity fund China Film and TV Capital (CFATC) and Wild Bunch have launched the China Europe Film Fund (CEFF), a first-of-its-kind entity aimed at fostering cooperation between the two territories' film industries.
In a joint statement, the two parties said the fund would initially be dedicated to the development and financing of pictures co-produced by Chinese and European producers.
CFATC is a $322m private equity fund aimed at supporting the cultural industry. It focuses on films, TV dramas as well as cinema chains and equity investment in companies in the film and TV industrial chain.
Its founding backers comprise the China Film Foundation, the state-owned Cultural Assets Supervision and Administration Office of Beijing Municipal Government, Beijing Cultural Investment Development Group, Sparkle Roll Group and CITIC Asset Management Corporation Ltd.
One strand of its strategy is also developing links between the Chinese and the European film and TV worlds.
"Thanks to the valuable experience and expertise of China Film and TV Capital in integrating capital operation within the cultural industry, and Wild Bunch's strong distribution network and influence in Europe, I believe the China Europe Film Fund will greatly advance the development of both the Chinese and the European film industry, and strengthen cultural exchange," said Zhou Maofei, head of the Cultural Assets Supervision and Administration Office of Beijing Municipality.
Paris-based Wild Bunch – which has a long history of working with Chinese producers and directors – said the joint venture was in keeping with its plans to expand into a major global filmed entertainment company.
"We are honoured to be associated with CFATC and with such an ambitious project," said Wild Bunch co-founder and CEO Vincent Grimond [pictured].
"For Wild Bunch, this is a natural evolution, as we have always had strong connections with China, which we view both as a formidable market and as an amazing source of talents and movies. The coproduction possibilities between China and Europe, resulting from the constant efforts of the authorities of several European countries, with France at the forefront, create the perfect environment for this partnership."
The agreement was initiated and facilitated by Vincent Fischer, founder and CEO of Eastward Entertainment, a Beijing-based company specialising in raising money in China for Western film projects and lives shows, entertainment companies and talent.
Fischer will act as an advisor for Wild Bunch in China and is also a member of the CEFF board.
The statement said the fund would focus on co-productions with both international and Chinese commercial potential. The longer term goal was to attract other investors and expand its activities into other sectors of the entertainment world.
The CEFF was officially launched today during a state visit by French President François Hollande to China.
The agreement was signed in a ceremony in Beijing attended by the president of the National Cinema Centre (CNC) Frédérique BREDIN, Zhang Hongsen, head of China's Film Bureau, Unifrance president Jean-Paul Salome, Zhang Pimin, chairman of the China Film Foundation Xu Shujun, vice-president of China Film Coproduction Corporation.