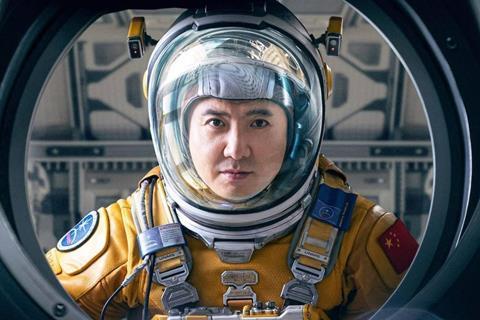 World box office August 12-14
| | | | | | | |
| --- | --- | --- | --- | --- | --- | --- |
| Rank | Film (distributor) | 3-day (world) | Cume (world) | 3-day (int'l) | Cume (int'l) | Territories |
| 1. | Moon Man (various) | $32.1m | $359.5m | $32.1m | $359.5m | 1 |
| 2. | Bullet Train (Sony) | $30.4m | $114.5m | $17m | $60m | 62 |
| 3; | The Fallen Bridge (various) | $18.1m | $18.1m | $18.1m | $18.1m | 1 |
| 4. | Minions: The Rise Of Gru (Universal) | $15.7m | $790.4m | $10.8m | $446.7m | 81 |
| 5. | Top Gun Maverick (Paramount) | $15.5m | $1,378m | $8.4m | $704.2m | 65 |
| 6. | DC League Of Super Pets (Warner Bros) | $149m | $109.7m | $7.7m | $51.4m | 70 |
| 7. | Warriors Of Future (various) | $12m | $52.1m | $12m | $52.1m | 2 |
| 8. | Nope (Universal) | $11.6m | $113.9m | $6.3m | $6.4m | 21 |
| 9. | Thor: Love And Thunder (Disney) | $11.5m | $720.5m | $6.2m | $395.1m | 49 |
| 10. | Hunt (various) | $9.1m | $9.2m | $9.1m | $9.2m | 1 |
Credit: Comscore, all figures estimated, click top right to expand
'Moon Man' knocks 'Bullet Train' off global top spot
The dog days of summer are back at the box office, thanks to a combination of weak product and sunny skies providing audiences in traditionally temperate climes with tempting alternatives. There are no new US studio titles in Comscore's worldwide top 10 chart, which instead saw Bullet Train, Minions: The Rise Of Gru, Top Gun: Maverick, DC League Of Super-Pets, Nope and Thor: Love And Thunder once again all present and correct.
Chinese sci-fi comedy Moon Man returned to the global top spot in its third week of release, thanks to takings of $32.1m – bringing the cumulative total to $359.5m.
That was enough to push the previous weekend's global chart champ Bullet Train down to second place, with an estimated $13.4m in North America and $17.0m for international, combining for $30.4m worldwide.
Moon Man's weekend box office number is the lowest for a chart-topping film since Spider-Man: No Way Home likewise topped the global chart in late January with $32.1m.
As for Bullet Train, Sony's Japan-set action thriller saw box office slide an estimated 55% in North America, and 40% in international holdover markets. France led the latter with an estimated $1.7m, ahead of Mexico and Australia (tied on $1.3m), then Saudi Arabia ($1.1m). UK/Ireland, where weekend box office wilted in hot temperatures, delivered an estimated $1.0m – down from $3.5m for the five-day opening session.
In cumulative totals, UK/Ireland leads the international pack with $6.0m, ahead of France ($5.8m), Mexico ($5.4m) and Australia ($4.1m).
After two weekends of play, the Brad Pitt starrer has reached $60.0m in international markets, $54.5m in North America, and $114.5m worldwide.
Key markets still to release are South Korea (August 24), Italy (August 25) and Japan (September 1).
'Nope' makes $6m international debut – as Universal cracks $3bn in 2022
UPDATE: If Universal is at all disappointed with the expansion of Jordan Peele's Nope into international markets (a confirmed $6.4m debut), the studio has a significant distraction: Sunday (August 14) saw the company break through the $3bn barrier, becoming the first studio to do so in a calendar year since 2019.
Thanks to 2022 hits such as Jurassic World Dominion ($974.5m worldwide) Minions: The Rise Of Gru ($790.4m), The Bad Guys ($246.8m), The Black Phone ($152.7m) and Nope ($113.9m), Universal has put together a solid slate of wins this year. It's the eighth time Universal has topped $3bn globally in a calendar year.
Universal has been boosted by the fact that many of its titles have secured release in China – with Jurassic World Dominion earning $157.6m there, for example. Minions: The Rise Of Gru lands in China this Friday (August 19).
Nope achieved its $6.4m debut from release in 20 international markets, led by UK/Ireland with a chart-topping estimated $2.3m, ahead of Australia and France on $1.2m and $1.1m, respectively. All three debuts included previews.
In North America, Nope has reached a decent $107.6m after four weekends of play – but it's chasing a $176.2m North American total for Peele's Get Out, and $175.1m for his Us. As for international, Nope has a long way to go to match Get Out's $79.5m and the $80.1m total achieved by Us.
Nope arrives in South Korea and Spain this week, with Mexico, Brazil and Japan all to follow a week later.
Also for Universal, Idris Elba Africa adventure Beast – in which Elba's character must protect his teenage daughters from a ferocious lion – landed in 30 early international markets, generating a confirmed $4.9m. Mexico led with $953,000, ahead of Saudi Arabia ($787,000).
Beast lands in North America this Friday (August 19), with some key international markets – such as France and UK/Ireland – following a week later.
'Minions: The Rise Of Gru' pushes towards $800m
Slow and steady wins the race – the power of an appealing family film to keep on chugging through the long summer holiday period is once again being demonstrated. Universal's Minions: The Rise Of Gru has added another $31.4m worldwide over the past seven days, raising its global total to $790.7m.
The weekend saw a confirmed $15.9m added to the global box office pot, with international markets led by Japan, where takings rose by 5% to $1.5m in the fifth week of release for a $24.8m running total.
In cumulative totals, UK/Ireland leads international markets with $46.22m, ahead of Mexico ($38.1m), Australia ($28.7m) and Germany ($27.9m). The film lands in both Italy and China this week.
The Rise Of Gru is now 68% of the way to matching the $1.16bn global total achieved by Minions in 2015, and has reached 77% of the $1.03bn tally for 2017's Despicable Me 3. Although the film is currently sharing the family audience with Warner Bros' DC League Of Super-Pets (which has reached $109.8m globally after three weekends of play), it should happily sustain in the marketplace until kids return to school.
China's 'The Fallen Bridge' lands in third place in global chart
Not only did China top Comscore's worldwide weekend box office with Moon Man – the country also landed third place in the chart with new release The Fallen Bridge. The crime drama from Li Yu (2021's Tiger Robbers) grossed $18.1m in China in its opening session.
Ma Sichun (2016's Soulmate) stars as a woman who goes on a mission to discover the cause of her father's death when his skeleton is revealed after a bridge collapses.
Born in 1973, director Yu began her career as a TV presenter, graduating to directing television programs, then documentaries and – beginning in 2001 with Fish And Elephant – feature films.
The global top 10 chart contains four Asian titles overall. Also in the mix are Hong Kong sci-fi action film Warriors Of Future ($52.1m to date) and Korean spy drama Hunt, which is the directing debut of Squid Game star Lee Jung-jae. Hunt premiered in May in Cannes Midnight Screenings, and will receive its North American premiere at Toronto International Film Festival next month.