The tenth edition of the co-production showcase at the Cannes Film Festival includes new projects from Brazil's Antonio Méndez Esparza and Mexico's Daniel Castro Zimbrón.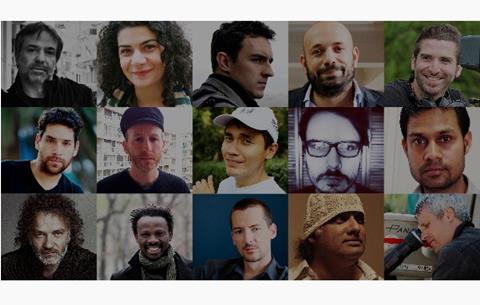 The Cinéfondation's Atelier hosts its tenth edition this year and will invite 15 directors and their projects to the Cannes Film Festival.
Together with their producers, they will be given the opportunity to meet potential partners in a bid to finish their projects and start the making their films.
From May 16-22, L'Atelier will arrange meetings with the directors for film industry professionals interested in investing in their projects.
The Project Book and the meeting request forms will be available online at the beginning of April at www.cinefondation.com.
The project line-up includes Saudade, Brazilian director Antonio Méndez Esparza's follow up to Aqui y Alla, which won Cannes' Critics Week in 2012. The new film, set in Spain, focusses on immigration through a mother-son story.
Argentina's Pablo Giorgelli will bring Invisible, his second feature after road movie Las acacias, which won the Camera d'Or at Cannes 2011.
Territoria, the debut feature of Armenian director Nora Martirosyan, previously received a grant from the Rotterdam's Hubert Bals Fund and was part of Locarno's Open Doors co-production lab last May.
Tabija, from Bosnia's Igor Drljača, was previously showcased at Rotterdam CineMart where it won a Eurimages Prize worth €30,000. The film, focussing on the young post-war generation in Bosnia-Herzegovina, also picked up an Excellence Award at the Sarajevo Film Festival.
Ville-Marie marks a return to narrative features for French-Canadian filmmaker Guy Édoin, whose family drama Wetlands premiered at Venice 2011 and was picked up by Fortissimo.
Chile's Matías Rojas Valencia will present In the Shade of the Trees, following his 2013 road movie debut Root. 'Trees' was at Berlin's co-production market last month and is produced by Don Quijote Films.
Ce sentiment de l'été is from French director Mikhaël Hers, who was at Cannes in 2006 with Charell and won the SFR prize at Cannes in 2011 with short film Montparnasse. He made his feature debut with Memory Lane in 2010. Nord-Ouest Films will produce and it is set to shoot this summer, starring Anders Danielsen Lie (Oslo, August 31st) and Judith Chemla (Camille Rewinds).
Kazak director Adilkhan Yerzhanov will bring Aliyushka, which won the Spotlight: New Kazakh Cinema strand at last year's International Film Festival Eurasia in Almaty.
Cabin in the woods thriller The Darkness is the second film from Mexican director Daniel Castro Zimbrón after his 2012 psychological drama Tau.
The feature has previously been touted in the Off-Frontières selection of Montreal's Fantasia International Film Festival as well as Ventana Sur's Blood Window. Producers include Pablo Zimbrón Alva, Varios Lobos and executive producers are Jorge Michel Grau, Mayra Espinosa Castro through production company Velarium Arts.
White Sun, from Nepal's Deepak Rauniyar, received a Hubert Bals Fund Development Grant and took part in Cinemart/Rotterdam Lab's Boost! programme in 2013. It centres on Pooja, living with her mother in a remote village, who meets her father for the first time after the death of her grandfather.
Having become the first Syrian director to ever be in Competition in Cannes with his short Waiting for PO Box, To All Naked Men marks the feature debut of Bassam Chekhes.
Winner of the Grand Prize at FESPACO, Africa's most important cinematic showcase, with Ezra, Newton I. Aduaka's latest feature Oil on Water is produced by Granit Films and participated in last year's FilmCup Brazil & France in São Paulo.
Bogdan Mirică's debut feature Dogs won the Arte International Relations award at Sarajevo's co-production market CineLink, before taking part in last year's Les Arcs co-production village and in TorinoFilmLab's Script&Pitch programme.
Produced by Akanga Film Asia and co-writer Jeremy Chua, A Yellow Bird from Singaporean director K. Rajagopal focuses on a man attempting to build a new life after eight years in prison. The drama was one of the selected projects at both Ties That Bind and Paris Projects in 2013.
Ruta Salvatge is the latest feature from Spanish director Marc Recha, whose last feature Petit Indi played at Locarno in 2009. Recha's Pau and His Brother was entered into the 2001 Cannes International Film Festival.
List of projects
Invisible, Pablo Giorgelli (Argentina)
Territoria, Nora Martirosyan (Armenia)
Tabija, Igor Drljača (Bosnia)
Saudade, Antonio Méndez Esparza (Brazil)
Ville-Marie, Guy Édoin (Canada)
In the Shade of the Trees, Matías Rojas Valencia (Chile)
Ce sentiment de l'été, Mikhaël Hers (France)
Aliyushka, Adilkhan Yerzhanov (Kazakhstan)
The Darkness, Daniel Castro Zimbrón (Mexico)
White Sun, Deepak Rauniyar (Nepal)
To All Naked Men, Bassam Chekhes (Neth/Syria)
Oil on Water, Newton I. Aduaka (Nigeria)
Dogs, Bogdan Mirică (Romania)
A Yellow Bird, K. Rajagopal (Singapore)
Ruta salvatge, Marc Recha (Spain)
The Cinéfondation's Atelier was created in 2005 to stimulate creative filmmaking and encourage the emergence of a new generation of filmmakers. So far, out of 141 projects accompanied by l'Atelier, 85 have been released in theatres and 44 are currently in pre-production.