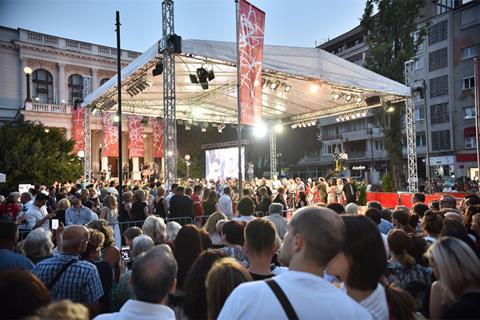 Ten feature projects from Southeast Europe will compete for €46,000 (£38,973) in total prize money as part of the Sarajevo Film Festival's Co-Production Market running in the CineLink industry Days that is a taking place as a hybrid event this year.
The projects include Serbian director Marko Grba Singh's Forget The Ocean, Why Not Try Surfing These Insane River Waves, a reconstruction of the 1957 encounter and relationship between the director's Punjabi and Yugoslav grandparents, set in the context of the post-Brexit crisis in the UK.
Aiming to shoot from August 2022, the film is produced by Dragana Jovovic for Serbia's Non-Aligned Films, which previously made 2018 Cannes Directors' Fortnight title The Load, written and directed by Glavonic, produced by Glavonic and Jovovic and starring Singh. Singh's short If I Had It My Way I Would Never Leave played in a Serbia focus of the ACID section of Cannes in 2017; his mid-length documentary Rampart debuted at Locarno this month.
CineLink has also selected 10 feature-length projects for its Work In Progress strand, including Aida Begic's A Ballad, a Bosnia & Herzegovina-France co-production for Film House Sarajevo and Les Films de l'Apres Midi.
Bosnian director Begic has made four previous features, including Snow, which won the Critics' Week grand prize in 2008, and Children Of Sarajevo, which received a special distinction from the Un Certain Regard Jury in 2012, both at Cannes.
The Work In Progress titles will compete for three awards: a €50,000 (£43,339) in kind post-production award, plus two sponsored awards worth €20,000 (£16,935) in kind and €25,000 (£21,168) in cash.
The jurors for the Work in Progress awards are Cannes Critics' Week artistic director Ava Cahen; Turkish National Radio Television festivals coordinator Esra Demirkiran; Michael Stutz, head of the Panorama section at the Berlinale; Petra Kader-Gobel, senior in-house producer at German production firm The Post Republic; and Yohann Comte, co-founder of French sales agency Charades.
The 27th Sarajevo Film Festival is taking place as a hybrid event from August 13-20.