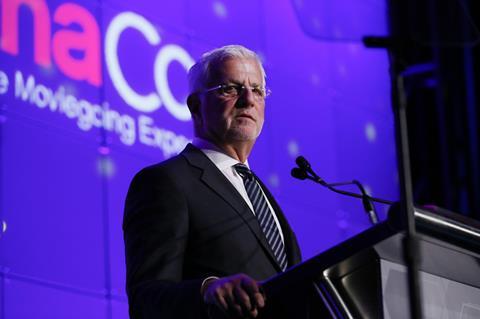 "Exhibition worldwide is booming and still has more room to grow alongside its streaming competitors," Global Road chairman and CEO Rob Friedman told attendees on the opening international day of CinemaCon 2018.
In a typically optimistic opening show distribution keynote that remained bullish on theatrical while acknowledging the march of streaming platforms, Friedman reminded industry professionals at the Las Vegas event that global box office in 2017 climbed 5% to a record $40.6bn.
Some $29.5bn of that comes from international following a 7% year-on-year box office rise. Friedman took care to reference Global Road's Chinese connection – parent company Tang Media Partners has Chinese investors – as he noted how China climbed by 21% to drive 16% growth in the Asia-Pacific region.
He praised the level of film-going in India and the success of certain titles such as Aamir Khan starrer Secret Superstar in China on the back of Dangal's $190m gross last year. Elsewhere Friedman pointed out a 22% year-on-year box office climb in Latin America.
"I believe that mature and emerging markets will drive more opportunity, including films outside the traditional studio model." This last point is of particular relevance to Global Road as Friedman and his team assemble their inaugural sales slate for the Cannes market next month.
While global subscriptions to online platforms are going up and "Netflix and Amazon Studios are here to stay", Friedman, who previously served as co-chairman and CEO at Lionsgate motion picture group, co-chairman and CEO of Summit Entertainment, and prior to that was vice-chairman and later COO of Paramount Motion Picture Group, finished off with a familiar refrain to CinemaCon attendees.
"As human beings we want to experience this communal experience that cannot be replicated," he said. "You cannot compete with seeing a movie with an audience no matter how big your TV screen or how many [audio] channels you pump into the room."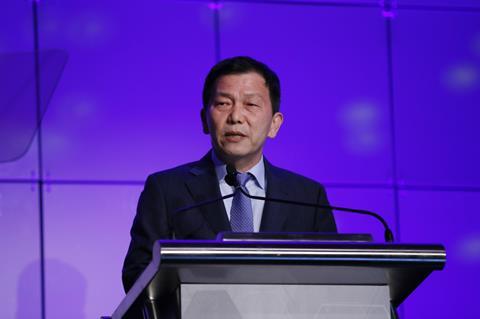 The rise of South Korea's cultureplex
CJ CGV CEO Seo Jung used his exhibition keynote to highlight how the South Korean giant – the world's fifth largest exhibitor by screen count – is stemming the tide of lower attendances by retooling its multiplexes as "cultureplexes".
"Consumers are demanding increasingly diverse ways to spend their time," Jung told attendees in Caesars Palace. "As a result we are finding ourselves competing against not just other cinema exhibitors but providers of cultural experiences… this presents challenges to our survival."
The CEO said CJ CGV developed the notion of the cultureplex, an all-embracing destination for film and other entertainment concepts. Whereas the first multiplex site at CGV Gangbyeon that opened in Seoul in 1998 has seen annual attendances drop to 1.1m, the CGV Yongsan cultureplex site in the capital is expected to draw 3.5m-4m visitors this year.
It contains a theatre with reclining beds made from memory foam, private 'opera-style' balcony rooms, restaurants, bars, a karaoke room, a podcast studio, merchandise store with exclusive film-related goods, and a VR arcade.
"We believe immersive content like this can be the difference and set us apart from our online competitors," he said.