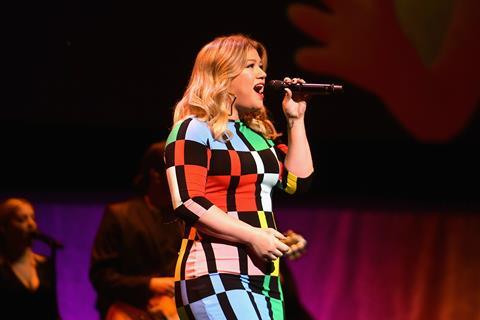 Kelly Clarkson performed 'Broken & Beautiful' from UglyDolls live on stage to round out an (2) STX presentation at CinemaCon that included appearances by Charlie Hunnam and Henry Golding from Guy Ritchie's newly titled crime caper The Gentlemen.
The session included news that Alicia Keys dance film Work It and Bad Moms' Moms to star Cheryl Hines, Susan Sarandon and Christine Baranski are in development.
On-stage appearances by Diane Keaton, Dave Bautista, Chadwick Boseman, and Katie Holmes, as well as first footage from STX's first animation UglyDolls, horror films Brahms: The Boy II, and acquisition titles The Secret Garden and The Gentlemen.
Charlie Hunnam and Crazy Rich Asians star Henry Golding from The Gentlemen (formerly known as Bush, and Toff Guys) turned up to discuss Ritchie's latest crime caper. STX acquired rights from Miramax and STX chairman Adam Fogelson cued up a first look from the film, which also stars Matthew McConaughey, Hugh Grant, Colin Farrell and Eddie Marsden.
"It's vintage Guy Ritchie," said Hunnam, who starred for the British director in King Arthur: Legend Of The Sword. "I grew up on Lock Stock [And Two Smoking Barrels]. Golding described working with Ritchie as "the gift that keeps on giving."
Diane Keaton took to the stage at the Colosseum in Caesars Palace in Las Vegas to promote cheerleaders comedy Poms and revealed the reason she never succeeded at cheerleader trials. "If I show you my legs you'll see why," said Keaton, remaining true to her word. "Look. The knees. They're skinny. There's no strength in these legs."
Fogelson showed a sumptuous first look from family drama The Secret Garden, which STX acquired from Studiocanal and plans to open in spring 2020. The film is in post and stars Colin Firth and Julie Walters.
Dave Bautista from action comedy My Spy appeared on stage with co-star Chloe Coleman, who will next be seen in the second season of Big Little Lies. Fogelson said STX and Bautista will announce further collaborations shortly.
Black Panther star Chadwick Boseman joined Fogelson to talk up revenge thriller 21 Bridges and said he undertook the "life-changing" experience of riding along with police officers from Los Angeles and New York. "At times it was a lot of fun and at other times it was horrific what you experienced," Boseman said. "It definitely put me in the mindset of the character."
Katie Holmes took to the stage to talk up horror film Brahms: The Boy II and said it tapped into the universal theme of a parent's fear for their child's safety.
Clarkson rounded out the session with the live performance from UglyDolls after joining co-star and rapper Pitbull to talk up the film.
In his opening remarks, Fogelson said 18% of STX's films "past and present" were directed by women, and 64% have had women in the lead role. On Friday (5) the company releases the true-life Civil Rights drama The Best Of Enemies starring Taraji P. Henson and Sam Rockwell.
Hustlers starring Jennifer Lopez has begun production in New York and is expected to be ready for the autumn. The STX pipeline includes thrillers Countdown and Horizon Line, two more films from Kevin Hart, star of STX's recent $100m hit The Upside, and Gerard Butler disaster thriller Greenland. Awkwafina on board the crime caper Crime After Crime.