Separately, the studio said Robert Rodriguez has come on to direct the family animation Ugly Dolls, which STX has now dated for May 10, 2019.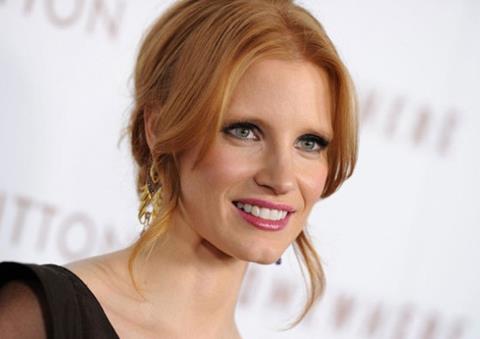 A healthy star quota including Jessica Chastain, Cara Delevingne and Mark Wahlberg turned out on Tuesday to charm convention attendees.
STXfilms chairman Adam Fogelson told CinemaCon attendees at The Colosseum in Caesars Palace that the studio has added two family animation titles to its growing slate.
Eddie Murphy will lend his voice talents to Bo Jr, the story of a bull, in development title The Eddie Murphy Project.
Also in development is an adaptation of the Broadway smash Joseph And The Amazing Technicolor Dreamcoat featuring the talents of Elton John, Andrew Lloyd-Webber, Tim Rice. In development
Cara Delevingne joined French writer-director and EuropaCorp chief Luc Besson and Fogelson on stage to promote Valerian And The City Of A Thousand Planets and debut the new trailer.
The film opens on July 21 and falls under the three-year output deal between STX Entertainment and EuropaCorp. "This is a relationship the rest of Hollywood wanted very badly and we're honoured," Fogelson said.
Besson spoke of how he fell in love with the property when his father gave him the weekly comic book at the age of 10.
The next three STX releases come from the EuropaCorp deal. First out of the gate will be sci-fi thriller The Circle on April 21. Emma Watson sent a recorded message before a trailer. IM Global handles international sales.
Valerian will be the second EuropaCorp release this year, followed on September 1 by action thriller Renegades, which is based on a Besson script.
Fogelson pointed out that since STX launched a little over two years ago with a plan to release three films by the end of its second year, it has released 10, of which five starred and / or were directed by women.
Best in show for the company in 2016 was breakout hit Bad Moms, which became the biggest R-rated comedy of the year and spawned a sequel, A Bad Moms Christmas, which set to begin production in April in Atlanta ahead of a November 3 release.
Mila Kunis joined the executive at the finale of the presentation to talk up the sequel.
Prior to that, Fogelson brought out more stars and said Phase Two for STXfilms will deliver more commercial, star-driven features.
Jessica Chastain and Aaron Sorkin came on stage to discuss the true-life drama Molly's Game from eOne and The Mark Gordon Company and screened first footage.
Chastain plays Molly Bloom, a former world-class skier who was arrested by the FBI for running an illegal high-stakes poker game.
"I like that the film explores female power and what that means in society," Chastain said. "That's something I'm very inspired by and Molly's journey goes through that and Aaron's script shows the hurdles she had and how powerful she is."
She revealed that Sorkin, who makes his directorial debut, likes to act out every character, including Bloom, before shooting a scene.
STX pounced on US and China rights in a reported $9m deal struck in Cannes last May. eOne distributes directly in its territories and Sierra/Affinity handles remaining territories. Idris Elba and Kevin Costner also star in the anticipated 2017 release.
Mark Wahlberg and director Peter Berg came on to say that their latest collaboration, the previously announced Mile 22, is envisioned as a trilogy.
"We're coming at you with a big-ass action movie," Berg said. Mile 22 is earmarked for a production start later this year.
Fogelson showed early footage from the Gerard Butler heist thriller Den Of Thieves that just started production on Atlanta. It is on course to open in January 2018.
Several other titles got a mention. Jackie Chan-Pierce Brosnan action thriller The Foreigner, a US-China co-production involving Chan's Sparkle Roll Media that Fogelson said was made for less than $40m, will open in China on September 29, followed by the US on October 13.
The pipeline includes a previously announced Adam Sandler animation, Big Little Lies star Shailene Woodley in the thriller Adrift that Baltasar Kormakur will direct this summer, and the Nash Edgerton action-comedy with Amazon Studios.