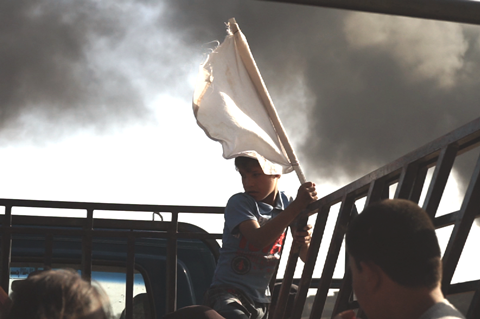 Tel Aviv-based sales company Cinephil has acquired world sales to documentary Isis, Tomorrow. The Lost Souls of Mosul, revolving around the fate of children of Isis fighters left behind in Iraq after the deadly organisation was swept out of the country at the end of 2017, ahead of its premiere at the Venice Film Festival in August.
The production is co-directed by journalist and reporter Francesca Mannocchi and photographer Alessio Romenzi who spent substantial amounts of time in Iraq, capturing the fight to push Isis out of the country.
It was produced by FremantleMedia Italia with Rai Cinema, in collaboration with Bayerischer Rundfunk with Arte, in co-production with Italy's Wildside and Berlin-based Cala Film Filmproduktion.
According to a statement announcing the world sales deal, the documentary "questions what it means to be a son of Isis in Iraq today, a country that has fought a merciless war and is looking to heal."
Under Isis's ideology, children were seen as the bedrock of their dreamed of Caliphate, governed by an extremist interpretation of Islam. The production followed the children of the Isis militiamen, trained to fight and to become suicide bombers, and remained with them to follow their fate after the war.
It examines whether Iraq will be able to accept Isis orphans and widows as it tries to heal and reconcile the population, or whether violence and retaliation will prevail.
"The film never went away when the war ended, and they lost. It stayed to follow their fate in the aftermath of the war, a post-war of marginalized widows and children where the blood of battle leaves room for vengeance and daily retaliation, where violence is the only response to violence," read the announcement.
Award-winning journalist Mannocchi has worked for several Italian and international newspapers and TV channels over her career, focusing on stories about migration and conflict zones. She has reported from Iraq, Libya, Lebanon, Syria, Tunisia, Egypt, and Afghanistan and followed stories such as the difficult post-revolutionary transition in Libya, the wars in Gaza and the coup in Egypt in 2013.
Photographer Alessio Romenzi has had his photos published in Time Magazine, International Herald Tribune, Los Angeles Times, Newsweek, L'Espresso, Der Spiegel, Paris Match, and Stern. In recent years, he has focused on the Arab Spring, the Syrian civil war and the battle to drive Isis out of Iraq.
Isis, Tomorrow. The Lost Souls of Mosul is among 11 documentaries due to premiere in the Venice Film Festival's Out of Competition non-fiction line-up, which was announced on Wednesday.