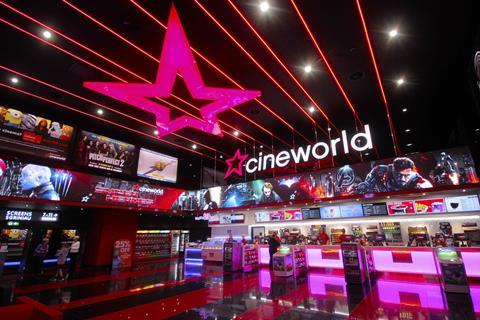 UK-based exhibitor Cineworld Group has reported its revenue for October in the UK and Ireland outperformed pre-pandemic levels.
Combined box office and concession revenue for the chain hit 127% of the October 2019 total in UK and Ireland this year, with worldwide revenues at 90% of the pre-pandemic total.
Cineworld is the world's second biggest exhibitor, owning Regal theatres in the US as well as Cineworld and Picturehouse Cinemas in the UK, with operations in 10 countries, 752 sites and 9,193 screens.
The group begun reopening sites in April 2021 and total revenue for the chain has been steadily rising since then, with 50% vs 2019 in July, 54% in August and 60% in September. Revenue for the US was at 80% of 2019 levels in October.
In a statement Cineworld said the recovery was driven by an "excellent slate of movies" including Black Widow, Shang-Chi And The Legend Of The Ten Rings, Venom 2: Let There Be Carnage and No Time To Die, which passed £90m at the UK-Ireland box office last week.
The group added that because of higher revenue and cost cutting measures, it generated positive cash flow in October.
Cineworld Group reported an operating loss of $208.9m in its interim results for the six-month period ending June 30 2021. This followed a pre-tax loss of $2.6bn for 2020.
CEO Mooky Greidinger said: With the incredible movie slate to come, there are real grounds for optimism in our industry. I would especially highlight the great performances we saw from our newly refurbished cinemas in the US. These new cinemas clearly support our strategy to enhance the cinema experience for all our customers."