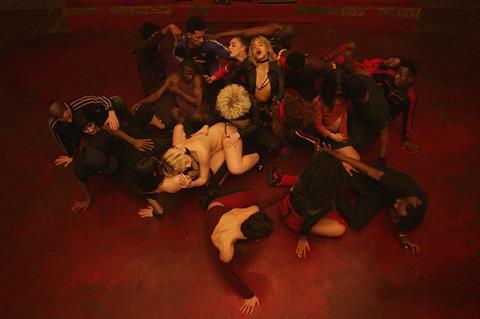 Gaspar Noé's Climax, Xavier Legrand's Custody and the late Claude Lanzmann's last film The Four Sisters are among the films on the short list to be France's Foreign Language submission will be announced tomorrow (September 21).
A committee overseen by France's National Cinema Centre (CNC) will audition the producers and sales agents of the five pre-selected candidates tomorrow morning.
The other two films in the running are Emmanuel Mouret's Mademoiselle de Joncquières and Emmanuel Finkiel's Memoir Of Pain.
This year's committee is made up of Teresa Cremisi, president of the CNC's advance on receipts commission, director Claire Denis, Cannes delegate general Thierry Frémaux, filmmaker and actress Nicole Garcia, producer Isabelle Madelaine, César Academy president Alain Terzian and Serge Toubiana, president export body Unifrance.
Gaspar Noé's Climax premiered in Cannes Critics' Week last May where Screen International critic Jonathan Romney described it as "a psychotropic street dance movie that turns into an orgiastic horror trip" in his review. It is produced by Rectangle Productions and sold internationally by Wild Bunch. A24 has US rights.
Emmanuel Finkiel's Memoir Of Pain is inspired by French writer Marguerite Duras's account of her husband's return from the Dachau concentration camp after World War Two.
It is produced by Les Films du Poisson and is sold internationally by TF1 Studio. It was acquired by Music Box for the US where it was released in August under the title of Memoir Of War.
The feature premiered at San Sebastian last September where Melanie Thierry won critical acclaim for her performance as Duras.
Xavier Legrand's divorce drama Custody, which won Silver Lion for best director and best first film at Venice last year, is tipped as a hot favourite.
It was produced KG Production and is sold internationally by Celluloid Dreams. Kino Lorber has US rights to the film.
Emmanuel Mouret's Mademoiselle de Joncquières 18th century love triangle costume drama has just premiered at TIFF's Platform section.
It is produced by Moby Dick Films and international sales are handled by Indie Sales.
The Four Sisters was iconic filmmaker Claude Lanzmann's final film before he passed away last July.
It consists of a quartet of remastered films originally intended for Lanzmann's epic work Shoah and revolves around four Holocaust survivors with unique stories.
It is produced Synecdoche and sold internationally by Arte Distribution. Cohen Media Group acquired US rights earlier this year.