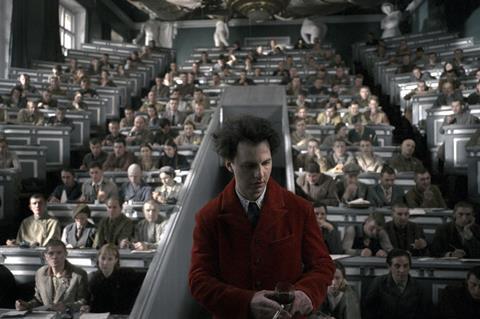 Dau, the long-gestating and controversial series of feature films and visual art projects and live installations by Russian director Ilya Khrzhanovsky, is gearing up to launch in the neighbouring Theatre du Chatelet and Theatre de la Ville theatres in Paris on January 24. The event will run non-stop, for 24 hours a day, until February 17.
The project, originally conceived as a $3m arthouse film biopic about the Nobel prize-winning Russian physicist Lev Landau in 2006, has assumed near-mythic status as one of the strangest and most ambitious endeavours undertaken in recent European film history. The interactive event now covers 30 years of Soviet history from 1938 until 1968 and features footage of hundreds of real people living and working over several years in a specially created scientific 'institute'.
Dau was first pitched at CineMart at the International Rotterdam Film Festival by Khrzhanovsky and Artem Vassiliev, his then-producing partner in what was then their newly created Phenomen Films, in 2006. Vassiliev has since left the project. The script was credited to Russian novelist, Vladimir Sorokin, who had also worked with Khrzhanovsky on his debut feature, 4. The bakcers included Eurimages, ARTE and the Swedish Film Institute, with Philippe Bober's Berlin-based Co-Production Office handling sales.
However the project quickly mushroomed in scale and ambition and Khrzhanovsky went on to shoot over 700 hours of 35mm film and transform the project into a piece of visual, interactive art. The majority of the extraordinary shoot took place between 2009 and 2011 in Kharkov, Ukraine, where a fully-fledged Institute for Research in Physics was built and where hundreds of visitors left their old lives to live and work as if they were in the 1950s. They participated in scientific and philosophical experiments and every aspect of their lives were filmed.
Participants during shooting included artist Marina Abramovic, opera director Peter Sellars, Peruvian shaman Guillérmo Arévalo Valera and many leading international scientists and artists.
"We wanted to create a living environment," explained executive producer Susanne Marian, who has been involved with the project since it was conceived. "The Institute was always, from the very beginning, perceived as a place where people should have the possibility to live. There were functioning bathrooms and functioning kitchens."
There was also controversy. Every part of the lives of the inhabitants/actors were filmed - and there were long stretches when no filming took place at all. There had been rumours Khrzhanovsky had been shooting some pornographic material. But executive producer Martine d'Anglejan-Chatillon denied this.
"When people live together for three years in a confined space, they have lots of sex. I can report that," she said. This sex may sometimes have been filmed, she continued, but so were scenes of "people having breakfast, people cleaning cars, people driving down the streets or cooking or all sorts of things. There is no hierarchy there in the value of their actions."
The Paris experience
D'Anglejan-Chatillon explained how audiences will be able to experience the finished Dau in Paris. "The two theatres will function as living organisms which will live and breathe within the heart of Paris," she said.
Between them, the two theatres, which are on opposite sides of Paris' Place du Chatelet, have seven projection spaces. Theatre du Chateet is headed by artistic director Ruth Mackenzie, a longtime supporter of Dau. Visitors will have to buy tickets ("visas") in advance. A six- hour ticket will cost €35, and a day pass will cost €75. An unlimited ticket is priced at €150. The organisers hope up to 50,000 visitors will visit the Paris event. The two theatres have a capacity for 2,000 people at any one time.
Audience members will be required to respond a number of questions about themselves.
"We have created an algorithm which will generate a psychometric profile of you which will be embedded in your visa," explained d'Anglejan-Chatillon. "When you come to the entrance, you will collect your visa and it will be twinned with a smartphone which we will give you as we take yours away."
This smartphone will contain personalised data about visitors and will work both as a guide and as a surveillance mechanism.
The international artists who will be either inside the theatres or who have created work for the event include Teodor Currentzis, artistic director of the Perm State Opera and Ballet Theatre, who will perform live with his orchestra. MusicAeterna, Robert del Naja of Massive Attack, who has developed an interactive application that will produce personalised soundtracks for visitors, and Brian Eno, who has created "bespoke acoustic architecture" for visitors.
Catholic and Orthodox priests, rabbis and scholars of the Jewish faith, Muslim clergy and scholars of Islam, Tibetan Buddhists, leaders of the Sikh community, theologians, philosophers, shamanic practitioners, artists and social workers will also be part of the live installation.
The Dau project is credited as a production of Phenomen Films, a UK-registered company and a subsidiary company of the UK-based charity Phenomen Trust. (The project has been edited in London for several years.) The Phenomen Trust was created in 2015 to support the creation and wide accessibility of exceptional works of art and culture. One of its biggest donors is Russian businessman and philanthropist, Serguei Adoniev.
The full list of partners on the project are: Eurimages, Arte France, WDR Arte, Medienboard Berlin Brandenburg, Mitteldeutsche Medienförderung, Ukrainian State Film Agency, Swedish Film Institute, Film I Vast, Hubert Bals Fond, and the Phenomen Trust.
D'Anglejan-Chatillon confirmed the CoProduction Office is no longer involved in the overall Dau project as a traditional sales strategy is no longer being pursued. However, Bober's French production company, Society Parisienne, remains a co-producer on the original Dau feature, which is being handled separately.
Voiceovers for the Russian-language films have been recorded by a host of prominent film actors including Gerard Depardieu, Isabelle Huppert, Isabelle Adjani, Willem Dafoe, Monica Bellucci and Fanny Ardant.
After Paris, the filmmakers plan to take the Dau experience to London in April, and then Berlin, with new voiceovers for each. However no details are yet confirmed. When plans for the event's original launch in Berlin last September reached the press, the Berlin city authorities vetoed the project due to concerns over the project's reported desire to rebuild large portions of the Berlin Wall.
No plans are in place yet for screening or staging Dau in Russia. However, the 700 hours of Dau material has been digitised and will eventually be available through online platform, Dau Digital. The producers also said a "couple of [TV] series" have also been edited from the material.