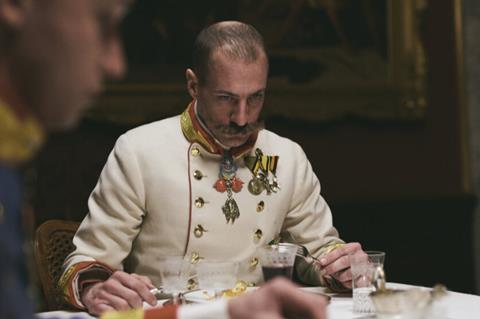 The Austrian director and producers of Marie Kreutzer's Oscar contender Corsage have reacted with dismay and disgust to the news that Corsage co-star, Austrian actor Florian Teichtmeister, has been charged with possessing "an enormous amount" of digital images of child pornography.
Teichtmeister will stand trial on February 8, accused of having in his possession 58,000 digital files featuring pornographic images of minors. If found guilty, he faces up to two years in jail. He has reportedly confessed to the charges and is expected to plead guilty.
Kreutzer said in a statement on the website of production company Film AG that she was "sad and angry" that a "feminist film that more than 300 people from all over Europe worked on for years may be tarnished and damaged by the horrific actions of one person".
Vienna-based Film AG said Teichtmeister had repeatedly denied the allegations for which he has now been charged.
"Since shooting ended in July 2021, Florian Teichtmeister has had no employment relationship with us," said a statement on its website.
"Nevertheless, we would have expected him to have informed us the moment police investigation into the allegations commenced. The opposite was the case: after rumours surfaced following the wrap on filming in Autumn 2021, Florian Teichtmeister, in response to explicit enquiry about these rumours, convincingly assured us (and others) of their falsity. We learned of his grave offences, to which Florian Teichtmeister has, according to his lawyer, confessed to prosecution authorities, on the 13th of January 2023 through the media."
Distribution impact
Costume drama Corsage, sold by mk2, has been a resounding hit since its premiere in Un Certain Regard in Cannes last May. Vicky Krieps, who stars as Empress Elisabeth of Austria, is in contention for an Oscar having already won several other awards, including the best actress prize at the European Film Awards in December. The film is Austria's official entry to the Oscars and has been shortlisted in the best international film category. Teichtmeister plays Emperor Franz Joseph, the semi-estranged husband of Krieps' character.
Corsage was released in Austria in July 2022 by Alamode (which is also distributing in Germany) and has been on cinema screens for 28 weeks. Since the news broke about Teichtmeister, the film has been pulled from one Cineplexx screen in Austria and a further 11 scheduled screenings from January 13-19 in Cineplexx sites have been cancelled. The film is still showing in other cinemas across Austria. The film was not planned to be screened in Cineplexx cinemas in other territories.
The film's international distributors, which include IFC in the US, Bim Distribuzione in Italy, Ad Vitam in France and Alamode in Germany, told Screen they are still digesting the news of the breaking scandal. mK2 said it stood behind the statement issued by Film AG and that there is no sign the film (which is still on release in many European territories) will be pulled from cinemas where it is on releasee.
Picturehouse Distribution has UK and Ireland rights. "We were shocked to hear the dreadful news about Florian Teichtmeister," said a Picturehouse spokesperson. "Corsage is a feminist film and the result of hard work from many people. We believe that the terrible actions of one person should not overshadow the message of the film, and the great achievement of those that made it."
Antonio Medici, CEO of Bim in Italy, added: "We wish to underline that we [agree] 100% with what was declared by the production company and in particular with what the director Marie Kreutzer said. We are sad and angry the film may be damaged by the horrific actions of one person, but we are even sadder and angrier at the extent to which videos and photos of sexual violence against children are produced, distributed and consumed."
In Portugal, the film is nearing the end of its run since opening on December 8.
"Nevertheless we agree with the producers and Marie Kreutzer when they say that the non-playing of the film would be an unnecessary punishment for hundreds of filmmakers, artists and professionals who worked on Corsage," said Gil Santos, president of distributor PRIS Audiovisuais. "So, PRIS Audiovisuais intends to keep exploiting the film in the other Media and it will be up to the audiences to decide if they want to see the film or not."
Territories including Japan have yet to release the feature.