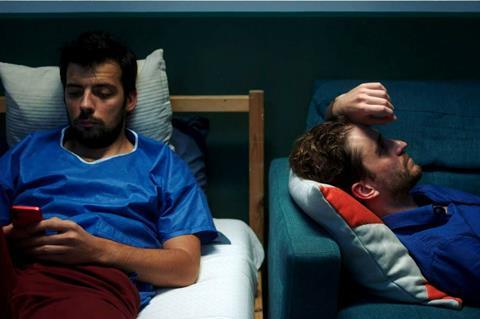 The next feature from feted Romanian filmmaker Cristi Puiu is among 12 titles selected for FIDLab, the co-production incubator of French festival FIDMarseille.
The 14th edition of the showcase, known for its focus on experimental documentary and fiction features, is set to be held from July 7-8 and will return as an in-person for the first time since 2019.
Scroll down for full list of titles
The selection includes MMXX, an ensemble drama from Romanian director Puiu that revolves around a therapist, her younger brother, husband and an organised crime investigator.
Known as the godfather of Romania's New Wave, Puiu won the Un Certain Regard award in Cannes with The Death of Mr. Lazarescu in 2005 while his films Aurora and Sieranevada also played at the festival in 2010 and 2016 respectively. His most recent feature, Malmkrog, opened the Berlinale's Encounters strand in 2020, for which he won best director.
MMXX is produced by Puiu's own Mandragora as well as Budapest-based 2DB Films Studio. It is in post-production.
Also in the line-up is the latest feature from Japanese director Kyoshi Sugita, who won FIDMarseille's grand prix and audience award in 2021 with Haruhara San's Recorder. His next project is Following The Sound, a drama about two women who go on a journey while carrying a cassette and recorder left by the late mother of one of them. Produced by Norio Hatano of Japan's Longride, the drama is at script stage.
Another winner from last year's festival is Irish director Declan Clarke who will attend FIDLab with All The Renaults In The World, an essay film about capitalism, privatisation and underground political networks. His film Saturn And Beyond won the George De Beauregard international prize at FIDMarseille in 2021.
Another previous FIDMarseille filmmaker is Laos director Kiyé Simon Luang, who was at the French festival in 2020 with romantic drama Goodbye Mister Wong and brings drama Fleur De Bambou to FIDLab. The project, at script stage, is produced by Thomas Ordonneau of France's Shellac Sud. Ordonneau is a prolific producer of features including Miguel Gomes' Arabian Nights trilogy and Pietro Marcello's Martin Eden.
Iranian trans filmmaker Amina Maher is set to make her feature directorial debut with I Look Like My Mother, produced by Germany's Schuldenberg Films and Rmad. The film will retrace the trauma associated within the relationship with her mother, with whom she performed as a child in Abbas Kiarostami's Ten, which played in Competition at Cannes in 2002. The project is in development and plans to shoot in Germany, the UK and Iran.
French documentarian Maureen Fazendeiro will present documentary The Seasons about the real and invented history of Portuguese region Alentejo, and the people who live there. Fazendeiro previously co-directed The Tsugua Diaries with Miguel Gomes, which played in Directors' Fortnight at Cannes in 2021.
Argentina's Jazmín López will bring her latest project Presidente, which explores the controversial history of Argentina's first female president, Isabel Perón. It recently secured support from Rotterdam's Hubert Bals Fund. López's feature debut Lions (Leones) played at Venice in the Horizons section in 2021, where she won a best director award, and If I Were the Winter Itself screened in competition at International Film Festival Rotterdam (IFFR) in 2019.
Canada's Joshua Bonnetta has experimental documentary Echo in the FIDLab selection. The film, in development, explores animal consciousness through the ultrasonic echolocating world of bats. It will also look into the field work of biologists who seek to understand and preserve them. Bonnetta co-directed doc El Mar La Mar, which played in the Forum section of the Berlinale in 2017 and won a Caligari Film Award.
The selection also includes the first features from Venezuela's Óscar Vincentelli and US filmmaker Lucy Kerr, whose shorts both won Flash Competition Prizes at FIDMarseille last year, as well as France's Isabel Pagliai and Lebanon's Mira Adoumier, whose shorts have played at IFFR and CPH:DOX respectively.
After presenting the projects, participants will hold one-on-one meetings with potential partners.
A total of 11 awards will be presented. Six of the prizes offer production and post-production services from Mactari, Sublimages, Commune Image, Micro Climat Studios, Vidéo de Poche and Kodak-Silverway. Four are for residencies, provided by the Camargo Fondation in Cassis, Casa de Veláquez in Madrid and new Corsica-based partners Culori and Providenza. The final award comprises long-haul tickets from Air France.
Beyond the 12 selected projects, a delegation of Portuguese producers will take part at this year's FIDLab as part of its France-Portugal season, and in collaboration with the Instituto do Cinema e do Audiovisual, ICA.
FIDLab 2021 selection
All The Renaults In The World (Ire)
Dir. Declan Clarke
The Seasons (Port-Fr)
Dir. Maureen Fazendeiro
Echo (Can)
Dir. Joshua Bonnetta
Fleur De Bambou (Fr)
Dir. Kiyé Simon Luang
Following The Sound (Jap)
Dir. Kyoshi Sugita
I Look Like My Mother (Ger)
Dir. Amina Maher
MMXX (Rom)
Dir. Cristi Puiu
Neverland (Fr)
Dir. Isabel Pagliai
Presidente (Arg)
Dir. Jazmin López
Se Van Sus Naves (Sp)
Dir. Óscar Vincentelli
The Christmas Card (US)
Dir. Lucy Kerr
The Night Came About (Neth)
Dir. Mira Adoumier