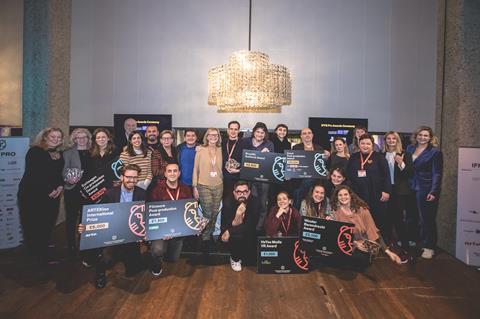 International Film Festival Rotterdam (IFFR) held the awards ceremony for its Pro industry section on Wednesday January 30, with Days Of Cannibalism and Lotus Position winning the inaugural Dutch post-production awards of €50,000 each to be spent in the Netherlands.
The new awards, launched in November last year and delivered with an additional €5,000 each in kind, are a collaboration between the Hubert Bals Fund, the Netherlands Film Fund and the Netherlands post-production Alliance.
Jury members programmer Sandro Fiorin, filmmaker Gurvinder Singh and head of industry at TorinoFilmLab Jane Williams described Teboho Edkins' Days Of Cannibalism as a 'smart, funny, fascinating and innovative documentary', and noted how the director is 'using a fiction narrative to produce a film that goes beyond pretence'.
Speaking to Screen, Edkins said the award means he and his colleagues "can finish the film in the way we would like", including hiring renowned Dutch editor Menno Boerema.
Also selecting Liu Shu's Lotus Position, the jury said they were 'inspired by the tradition of the Hubert Bals Fund to support urgent and remarkable films', and that this would 'support a courageous filmmaker to complete her film which without this support may not be realised'.
CineMart prizes
The ceremony also marked the end of the 36th edition of CineMart, IFFR's co-production market.
Four CineMart prizes were awarded, including the Eurimages co-production development award of €20,000, to Olga Chajdas' Stillborn.
The jury for the Eurimages award said, 'the director's visual style, her determination and approach to the recent history of her nation makes us confident that this film will travel over many borders'.
Chajdas emphasised the importance of co-productions to the European industry. "We realise we cannot do films by ourselves. When you're a child you realise you cannot play by yourself, and this is the same – we're stronger together and we have something to give each other."
The festival runs until February 3, closing with Kim Nguyen's The Hummingbird Project.
IFFR Pro 2019 awards
Dutch post-production awards: Days Of Cannibalism – Teboho Edkins (Fr, South Africa), Lotus Position - Liu Shu (HK, Fr, Neth)
HeYou Media VR award: Cosmos Within Us – Tupac Martir
BoostNL audience award: When We Lost To The Germans – Guido van Driel (Neth)
CineMart awards
Eurimages co-production development award: Stillborn– Olga Chajdas (Pol)
Filmmore post-production award: A House In Jerusalem – Muayad Alayan (Pal)
ARTEKino International prize: La Fiebre – Mateo Bendesky (Arg)
Wouter Barendrecht award: La Hija De Todas Las Rabias – Laura Baumeister (Nic, Fr)