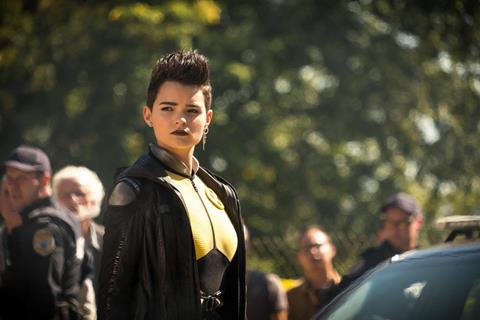 Rank
Film / Distributor
Weekend Gross
(Fri-Sun)
Running
Total
Week
1
Deadpool 2 (Fox)
£7.7m
£12.9m
1
2
Avengers: Infinity War (Disney)
£2.05m
£64.05m
4
3
Sherlock Gnomes (Paramount)
£709,101
£3.48m
2
4
I Feel Pretty (STX)
£407,773
£3.9M
3
5
Life Of The Party (Warner Bros)
£226,704
£1.11m
2
20th Century Fox
Deadpool 2 easily topped the UK box office on its first full weekend, plundering a £7.7m Fri-Sun non-final total. The Ryan Reynolds-starring sequel opened on Tuesday and had already made £5.24m in previews, taking its cume to £12.9m.
This is slightly down on the original's £13.72m opening, which opened one day later on a Wednesday.
However it's still a strong result for Fox considering the weekend's hot weather, royal wedding, FA Cup final and strong competition from Avengers: Infinity War.
The first Deadpool went on to be a smash hit in the UK, grossing £38.1m.
Disney
Avengers: Infinity War slipped to second this weekend, adding £2.05m (a fall of 64%) to take it to £64.05m overall. The film should pass Jurassic World in the next couple of days to move up to 12th in the UK's all-time chart.
Paramount
In its second week family animation Sherlock Gnomes fell one place to third, adding £709,101 for a cume of £3.48m.
Word-of-mouth horror hit A Quiet Place is still in the top ten after making £126,334 this weekend, a fall of 65%. It's now up to £11.62m.
STX Entertainment
Amy Schumer comedy I Feel Pretty added to £407,733 for a cume of £3.9m, passing her previous efforts Snatched (£1.8m) and Trainwreck (£3.2m).
Warner Bros.
Rounding out the top five is Melissa McCarthy comedy Life Of The Party, which made £226,704 in its second week - a fall of 58%. It's up to £1.119m.
Studiocanal
The Guernsey Literary And Potato Peel Pie Society continued its solid run with another £88,881 this week, taking it to £5.3m overall.
The 75th anniversary re-release of The Dam Busters, which screened at the Royal Albert Hall on 17 May and was simulcast on 393 screens, made £551,960.
Lionsgate
Ian McEwan adaptation On Chesil Beach opened at 13th in the chart, taking £51,714 from 31 sites plus £10,194 in previews for a total £67,638.
Curzon
Jeune Femme (also known as Montparnasse Bienvenue) opened to £31,180 from 24 locations including previews this weekend. Director Léonor Sérraille won the Caméra d'Or for the Un Certain Regard title at last year's Cannes Film Festival.
Eone
True-life thriller Entebbe took £30,687 and is now up to £234,200.