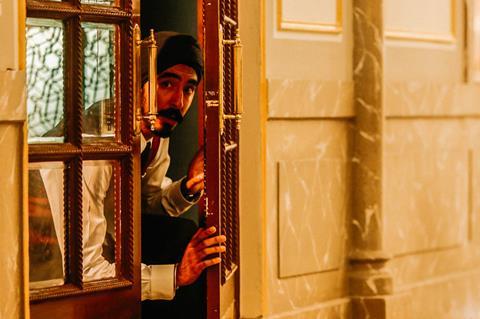 Dev Patel will make his feature directorial debut and star in the action revenge thriller Monkey Man, which Endeavor Content will introduce to worldwide buyers at AFM this week.
Alex Walton and his team will commence talks in Santa Monica on the project, which incorporates mythology and takes place in contemporary India as the Kid (Patel) emerges from prison to take on a world in the grip of corporate greed and fading spirituality. Production is scheduled to start in spring 2019 in Mumbai.
Patel (pictured in Hotel Mumbai) co-wrote the screenplay with Paul Angunawela and John Collee (the upcoming Hotel Mumbai, and Happy Feet, Master And Commander). Basil Iwanyk of Thunder Road is producing alongside Xeitgeist's Joe Thomas, Samarth Sahni, and Patel.
"Monkey Man is a vibrant, thrilling and above all entertaining story and we are excited to be teaming up with Dev, who has great creative instincts making him a natural director," said Iwanyk.
"Monkey Man is filled with vivid characters and thrilling action scenes and Dev's precise vision of a stylised and highly energetic genre film will appeal to audiences around the world," said Walton, who was recently named executive vice-president of international film sales and distribution at Endeavor Content.
That followed a recently announced move by the agency-financier-producer hybrid to buy out the remaining portion of Bloom, the sales agency launched by Walton and producer and Endeavor client Ken Kao, following a majority investment in August 2017.
87Eleven, which has worked on the John Wick franchise and Atomic Blonde, will choreograph and design action sequences for the film.
Slumdog Millionaire breakout Patel recently completed filming The Personal History Of David Copperfield for Armando Iannucci starring Tilda Swinton and Hugh Laurie, and will next be seen in two recent Toronto world premieres lined up for release in 2019. Bleecker Street will distribute Hotel Mumbai, while IFC handles The Wedding Guest.