Film and TV producer behind Four Weddings and Notting Hill awarded Honorary Fellowship.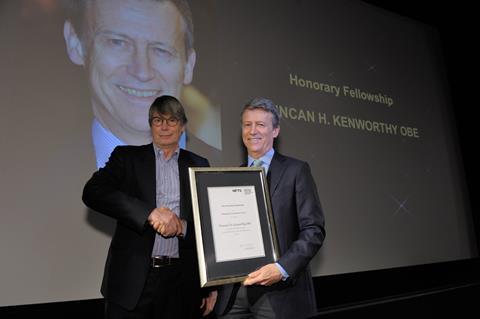 Duncan Kenworthy, the UK producer behind Four Weddings And A Funeral and Notting Hill, has been awarded an Honorary Fellowship by the National Film and Television School (NFTS).
The film and television producer, whose other credits include Lawn Dogs (1997), Love Actually (2003), The Eagle (2011) and 80s series Fraggle Rock, was presented the Fellowship by NFTS director Nik Powell
The presentation took place at the School's annual Graduation Ceremony held at the BFI Southbank in London.
Speaking at the ceremony, Kenworthy said: "In my many years of involvement with the NFTS, I've been constantly impressed by the passion and commitment of teachers and students alike.
"A school is a protected environment in which to take bold risks, and to fail sometimes in order to learn - yet the NFTS's student productions have won countless awards, including both of the 2015 BAFTA Short Film Awards and gaining Oscar nominations in both short film categories."
He added: "I wish all of this year's graduating students great success in their careers and creative fulfillment in their lives."
Kenworthy began his career in New York in 1973, where he supervised productions of Sesame Street around the world.
He moved back to London in 1980 to work with Jim Henson until the untimely death of the legendary puppeteer and filmmaker in 1990. Kenworthy was Henson's associate producer on The Dark Crystal (1982), and co-creator and producer of Fraggle Rock (1983-87). He produced The Storyteller (1988) and Greek Myths (1990) series, both written by Anthony Minghella, and a miniseries of Gulliver's Travels (1996).
In 1997, Kenworthy and Andrew Macdonald founded DNA (Duncan 'N' Andrew) Films, which they co-chaired for seven years. His production company, Toledo Productions, is based in Soho.
Kenworthy has been nominated for an Oscar and three Golden Globes, has won five BAFTAs and three Emmys, and was made an OBE in 1999 for services to film. He is currently vice president of BAFTA, having been chairman from 2004 -2006.
After serving on the NFTS Board of Governors for 13 years, he stood down in December 2014
Student awards
Awards were also presented to graduating students by industry supporters Avid, Christie, IOSH, Panalux and Sargent-Disc.
The Christie prize for the most promising NFTS student was awarded to NFTS graduating Screenwriter Joe Murtagh.
The Panalux Prize for Cinematography was awarded to NFTS graduating cinematographer Alastair Little for his work on the film The Earth Belong To No One.
The Sargent- Disc awards were presented to students graduating from the Production Management diploma course. The Scheduling award was won by Philip Karg (winner of Movie Magic Scheduling software); the Budgeting award was won by Kirsty Barham (winner of Movie Magic Budgeting software) and the Best Overall Award was given to Caroline Houghton (winner of both Movie Magic & Scheduling software).
The IOSH Award of £1,500 for Health and Safety Management in Film Production - Best Safety Plan on a Fiction Shoot was presented to graduating producer Alex Breede for her work on the film Group B, a short film about high speed rally car racing, directed by Nick Rowland.
The Avid Award for Excellence in Sound Design was presented to sound designer Matis Rei for his work on the film Group B. He received the prize of Pro Tools 12 and an Avid Artist Mix.
Actor Michael Smiley (Kill List, Black Sea) attended the Grad Show screening of Group B.