Netherlands Film Fund CEO Bero Beyer has given details of an ambitious plan to kickstart Dutch production this summer as the Covid-19 lockdown lifts.
The Fund has received a significant sum believed to be in excess of €5m ($5.7m) in extra government funding to help the Dutch industry cope with the pandemic. This money is part of a €300m ($340m) coronavirus support scheme for the entire cultural sector that was announced recently by the Dutch minister of culture Ingrid van Engelshoven.
Beyer has now revealed how the money is to be deployed. A large part of it will be set aside to provide a guarantee in lieu of production insurance so filmmakers are able to get back to work immediately. The hope in the longer term is for a larger, government-backed insurance facility but, in the short term, the Fund is offering cover.
"No insurance companies are covering pandemics anymore," Beyer explained of the Fund's decision to step into the breach. "Summer is breathing down our necks. There needs to be time to shoot now. Big productions are waiting."
Beyer described the Fund's scheme as "the next best thing to an insurance. When we give additional support to the productions, we are going to reserve part of that money and say, 'This is the additional premium you are paying.'"
Production protocols were put in place in May to guide filmmakers on health and safety after Covid-19, social distancing etc and a new "toolkit" app is available which specifies what is and isn't allowed. Former Fund CEO Doreen Boonekamp led the task force which drafted the protocols.
"We designed it in three steps," Boonekamp explained. "First of all, for situations where [producers] can comply with the hygiene rules and the 1.5-metre distance between people; then medium risk situations where the 1.5-metre restrictions cannot be followed and [cast and crew] should wear protective clothing; and finally for the high-risk situations with intense physical contact. In those kind of situations, it is necessary to have preventative diagnostic testing."
Some of the new money is being earmarked to help filmmakers meet the costs for additional crew and shooting days in order to follow the protocols.
"We estimate that €2m-€2.5m ($2.3m-$2.8m) [of the extra funding] will be there for implementing the protocols and the extra costs included there. That leaves between €2.5m and €3m ($3.4m) for the guarantee facility," Beyer explained.
The Fund boss emphasised that this was a short-term measure. "To be realistic, we will need at least €10m ($11.4m) a year. And this is only for the productions that we have a direct connection with and that are cinema oriented."
Several Dutch films should now be able to start shooting this summer. Among these are My Best Friend Anne Frank, directed by Ben Sombogaart,
The move follows on from the announcement in mid-April of a relief fund set up by Beyer and his team together with streaming giant Netflix.
"We wanted to make sure we could aid all the productions we have our finger on, which is pretty much all of them, to get them out of their Covid misery," Beyer said of the relief fund which aims to ensure productions affected by the lockdown remain "safe" and that money reaches the crews. The relief fund is also supporting the marketing and release of films that had to be pulled from theatres. (Dutch cinemas reopened at the start of June but with a maximum of 30 people allowed into a screening.)
"We beefed up our selective distribution support to give those films that we have already supported a little bit of extra muscle to ensure they retain a high degree of visibility once they go back into release," Beyer explained.
The Fund has also agreed to a loosening of the rules regarding coproductions with its Flemish partners, the Flanders Audiovisual Fund (VAF).
There is already evidence that these interventions are working. One film supported by the relief fund, children's movie Angel (Engel), directed by Dennis Bots, became the first live-action feature in the Netherlands to resume production since the Covid lockdown at the end of May.
Shooting on Angel had been suspended in March when the film was five days away from the end of principal photography. Now, by adhering closely to the film protocols, the filmmakers have completed principal photography and locked the picture.
Extra time was built into the schedule – five days of shooting took six days to complete. A new on-set role was also created, that of "social distance manager" – a crew member who policed the set to ensure adherence to Covid guidelines.
"Because we had started production already, we had our insurance in place," producer Danielle Raaphorst, CEO of production and sales outfit Incredible Film, told Screen.
The script was adjusted to ensure that the filmmakers could abide by social distancing regulations, and the relief fund helped cover extra costs needed to follow the COVID protocols. "We are really an example for how productions can start again," Raaphorst commented.
Angel is due to be released in the Netherlands on August 5 by Just Entertainment. An international version of the trailer will be available for the online Cannes Marché.
Other filmmakers say there are still technical, creative and fiscal challenges to be addressed.
Leading Dutch independent producer Leontine Petit, CEO of Amsterdam-based Lemming Film, commented: "We have to be careful that our crew feels safe and that we can make the film creatively interesting enough to watch."
"It's definitely a problem that we have to solve together. We can't do it by ourselves, only as producers – [the resumption of production] is something we have to solve as a community," the Lemming boss added.
Earlier this month, the Fund announced some of its latest production investments. Projects it is supporting include Sweet Dreams, the new Indonesia-set drama from Ena Sendijarević (whose debut feature Take Me Somewhere Nice has just been released by Mubi in the UK).
The new film, produced by Lemming, has received €850,000 ($965,000). Meanwhile, Halina Reijn's latest feature Another Life (after last year's Oscar contender Instinct) has received €70,000 ($79,000) in development funding. Reijn is co-scripting with Jim Taihuttu.
New research & development funding
During the hiatus in production, the Fund is also encouraging writers and directors to use this fallow period to develop new projects. Beyer suggests their current circumstances may stimulate creativity.
"The fact we were in lockdown does something to people. It does something to how we view the world and how we view the structures of filmmaking," Beyer said.
This month, the Fund is launching a "low threshold" research and development grant for writers and directors to come up with new ideas. "We want to get people to teamwork and use their time creatively," said the Fund head, who has set aside around €500,000 ($568,000) for the scheme. The idea is to support up to 50 new projects at their very earliest stage.
The Fund is also setting aside funding for Covid-themed projects, both shorts and features, that take "cinematic effects of the lockdown as a conceptual starting point".
"We need to rethink our place in the world, rethink the way we shoot films, rethink how we connect to people," said Beyer. "We want to give an impulse to that so we're spending about €1.5m ($1.7m) on projects in that arena."
Festivals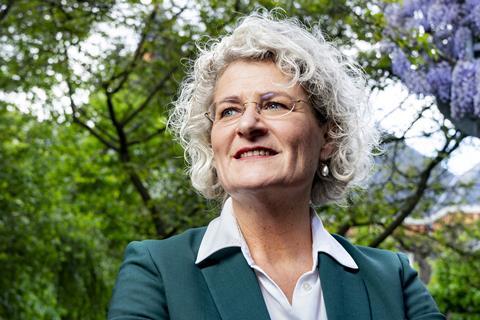 The major festivals in the Netherlands – the Netherlands Film Festival (NFF), Cinekid, International Documentary Festival Amsterdam (IDFA) and International Film Festival Rotterdam (IFFR) all receive support from the Fund. The festivals are collaborating on building an online infrastructure.
"They have to, and they are, developing multiple scenarios for implementing their festivals," Beyer said. "This ranges from having a fully online festival to a hybrid festival to a regular festival."
He predicted that events would be "somewhere between hybrid and regular" depending on what unfolds in the coming months.
"We're almost tired of zooming so it would be very nice if it is safe enough to step up and have fuller halls but it's very unlikely that within even a half year, there will be a regular festival," Beyer said.
The first event to take place will be NFF which also hosts international industry event the Holland Film Meeting (September 26-29). Boonekamp, the interim head of the festival, confirmed that NFF this year would be a hybrid event.
"On each day we will premiere a new film which will simultaneously be premiered in as many cinemas as possible in the Netherlands. In this way, we can reach out to a large audience while at the same time complying with the rules," Boonekamp said.
IFFR, where Beyer was previously festival director, celebrates its 50th anniversary next year.