EXCLUSIVE: First image released of Rampling in tale of identity loss and contemporary alienation.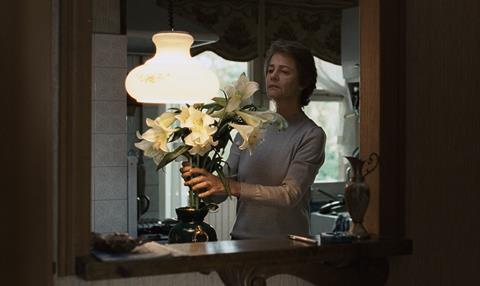 TF1 Studio will launch sales on Italian director Andrea Pallaoro's drama The Whale, starring Charlotte Rampling as a woman undergoing an identity crisis, at the upcoming EFM.
It is the second feature from LA-based Pallaoro after his portrait of family disintegration Medeas, which premiered in Venice's Horizons section in 2013 and went on to clinch multiple awards.
Revisiting themes explored in that film, The Whale is an intimate portrait of a woman's progressive loss of identity as she struggles to come to terms with her past and her own sense of reality, exploring contemporary alienation and the human struggle to connect.
Pallaoro co-wrote the screenplay with long-time collaborator Orlando Tirado.
"We're very proud to follow Andrea Pallaoro on his next movie. When we discovered Medeas, it was love at first sight and we know that The Whale has this same ambition which seduced us," said TF1 Studio head of sales Sabine Chemaly.
Rampling, who won a Silver Bear for her performance in the 2015 Berlinale hit 45 years for which she was also Oscar nominated, plays protagonist Hannah alongside French actor André Wilms as her husband.
It is a busy period for the actress who will also hit the big screen in Ritesh Batra's The Sense Of An Ending and Wim Wenders's Submergence this year.
The Whale is produced by Andrea Stucovitz at Italian company Partner Media Investment, John Engel at Brussels-based Left Field Ventures and Clément Duboin at Paris-based Good Fortune Films (France), in co-production with Rai Cinema and in association with Casa Kafka Pictures, Take Five, To Be Continued and Solo Five Production.
The film has received support from Eurimages, Creative Europe, the Mibact, the Regione Lazio International Film Fund, Fédération Wallonie-Bruxelles, the Federal Tax Shelter of Belgium, and the Tax Credit of Italy.
It is currently in post-production after a six-week shoot in between Brussels, Ostend and Rome.
Paris-based distributor Jour 2 Fête has taken French rights.