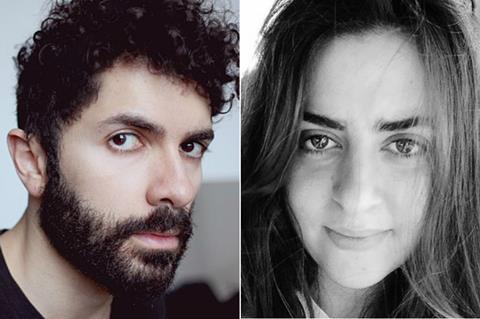 Lebanese directors Ely Dagher and Remi Itani have scooped the official $15,000 top prizes for their respective feature documentary projects Harvest and A Long Breath at the El Gouna Film Festival's CineGouna SpringBoard co-financing and industry platform in Egypt.
Dagher's Harvest was presented alongside 12 other projects in development, spanning both fiction and non-fiction.
It follows a young woman who returns to her home city of Beirut after a long time away and reconnects with her old life. It will be Dagher's first feature after his short film Wave 98, which won Cannes Palme d'Or for best short in 2015.
Itani's A Long Breath was presented in the post-production line-up alongside seven other works.
It portrays a man swinging between extremes of piety and hedonism as he tries to conquer his penchant for alcohol and drug while his mother and wife look on in the backdrop.
The jury for the official CineGouna prizes comprised director Anup Singh, filmmaker-producer Jad Abi Khalil and Josh Welsh, president of Los Angeles-based, non-profit arts platform Film Independent.
A total of $250,000 was meted out over some 20 prizes to the participating projects from a variety of sponsors.
Further big winners included Egyptian director Tamer Ashry's feature drama Straight To The Goal, which one five awards worth more than $40,000 in total.
The drama was presented in the in-development category and revolves around an Egyptian teenager heads to Marseille, with dreams of building a football career in Europe who then falls into a life of crime after he is injured and abandoned by his coach.
It will be Ashry's second fiction feature after his 2017 award-winning drama Photocopy and a number of shorts.
The project took the $10,000 iProduction prize, $10,000 Ergo Media Ventures prize, the $5,000 Waraq powered by Magic Beans prize
Ashry also won a place on the seven-day Film Independent Spirit Awards Residency in Los Angeles, sponsored by Film Independent and the US embassy, as well as unlimited location shooting services from Dakhli West El Balad.
The prize ceremony on Thursday evening marked the end of the third edition of El Gouna's industry-focused CineGouna Platform, spanning the CineGouna SpringBoard event and CineGouna Bridge, a programme of masterclasses, panel discussions and workshops.
Highlights of the latter programme included a masterclass by Academy Award-winning sound designer Resul Pookutty (Slumdog Millionaire) and panel discussions on the boundaries between fact and fiction in documentary, the impact and the role of film festivals and the art of film financing.
Some 200 industry professionals attended the event including Toronto International Film Festival artistic director Cameron Bailey, Berlinale head of programming Mark Peranson, producers Guillaume de Seille, Marie Balducchi and Marie-Pierre Macia.
The third edition of the El Gouna Film Festival on Egypt's Red Sea Riviera runs Sept 19-27.