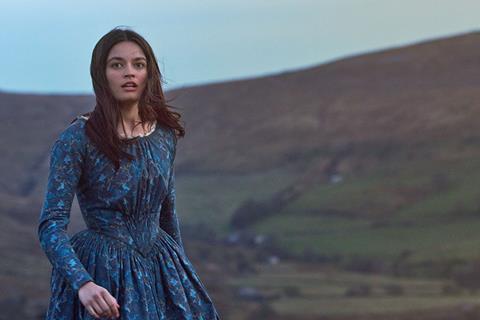 Frances O'Connor's Emily proved the big hit of the 33rd edition of Dinard Film Festival, the French seaside festival that spotlights UK and Irish cinema for French audiences that closed on October 2.
Emily won the Golden Hitchcock for best film, with Emma Mackey receiving the award for best performance. The period drama also scooped the audience prize for best feature film. The film premiered at Toronto, and marks the directorial debut of actor O'Connor.
Sex Education star Mackey plays a rebellious version of Wuthering Heights author Emily Brontë in the years leading up to her death aged 30, as she interacts with her pious father, siblings and her forbidden lover. Oliver Jackson Cohen, Fionn Whitehead and Adrian Dunbar round out the cast.
Emily is produced by Tempo Productions and Arenamedia, with Embankment handling sales. Wild Bunch will distribute in France, Warner Bros in UK and Bleecker Street in the US.
The winners were selected by a jury headed up by French actor José Garcia, and comprised of French actors Oulaya Amamra, Sofia Essaïdi and Alice Pol, UK actors George Blagden and Adrian Lester and French filmmaker Hugo Gelin.
Further awards included the jury's special prize, which went to the opening night film, Celyn Jones and Tom Stern's The Almond And The Seahorse. Charlotte Gainsbourg stars opposite Rebel Wilson in her first dramatic role, as two women living with partners with severe brain injuries. Best ensemble – a new award as of this year – went to Andrew Gaynord's All My Friends Hate Me.
Also playing in competition were Reggie Yates' Pirates, Jono McLeod's My Old School and Hassan Nazer's Winners.
The festival's box office enjoyed a record number of tickets sold, as the first post-Covid, post-Brexit fully in-person edition, with sold-out screenings for My Old School, Martin McDonagh's The Banshees Of Inisherin, Sadie Frost's Quant and Eva Husson's Mothering Sunday.
"The take-up this year has been absolutely wonderful," said Dinard's artistic director Dominique Green. "We've had a large number of sold-out shows, a lot of buzz and excitement and some unexpected surprises in take-up – the Mary Quant documentary [Quant] I wasn't expecting to sell out."
Travel chaos owing to a series of rail strikes in both France and the UK, coupled with the end of commerical flights to Dinard airport as of 2021, threw some spanners in the works for international attendance. However, a robust presence at the festival of UK and Irish independent filmmakers could be felt, including Yates, McLeod, Jones, Nazer, The Princess director Ed Perkins, It Is In Us All director Antonia Campbell-Hughes, A Quiet Girl director-producer duo Colm Bairéad and Cleona Ní Chrualaoi, Save The Cinema filmmaker Sara Sugarman and the teams behind Claire McCarthy's 1920s drama The Colour Room, Paul Raschid's interactive feature The Gallery, and Matthew Bauer documentary The Other Fellow, which charts the real lives of people across the world whose names are all James Bond.
Looking ahead
Green is coming to the end of her set tenure as artistic director, although the door is not closed on her return. Dinard is financed by public body Ville de Dinard, and thus the artistic director role goes out to tender every three years. While technically her last year, she could be re-selected in the role. If Green does return, she is keen to bolster the festival's professional activity.
"The French industry turnout has been slowly decreasing over the years," reflected Green, who is based in the UK, but holds dual UK-French citizenship. "Partly from 2010 to 2020 I think that was because of the programming itself, but also now because French distributors don't need to come here to see little gems anymore. They can see everything through being sent [online screening] links.
"One of my main missions when I took on this job was to re-professionalise the festival, but amid Covid and this year's [travel complications] it has been tough. There are six or seven French distributors here. In the heyday of the Franco-British co-productions, there would have been a good 30 or 40," said Green, who is keen for the festival to scale up its industry offering, with an industry programme and dedicated industry head.
"British films are so difficult for French distributors to handle now," she continued, "because of the UK being out of the [Creative Europe] Media programme. We – the wider industry – has to find a way to regenerate economic activity. Mothering Sunday hasn't been sold to France, but it was one of the first films to sell out here. There is a gap between what audiences want and the risk distributors can take."
Another future ambition that's up for discussion is for a Dinard spin-off event to be held in the UK, showcasing French cinema. "It's a question we've talked about a number of times – to find an equivalent place, and do it as a three or four day thing, would be wonderful," smiled Green. "But someone else has got to do that – it won't be me."