Florian Gallenberger's thriller is set during the Chilean military coup of 1973.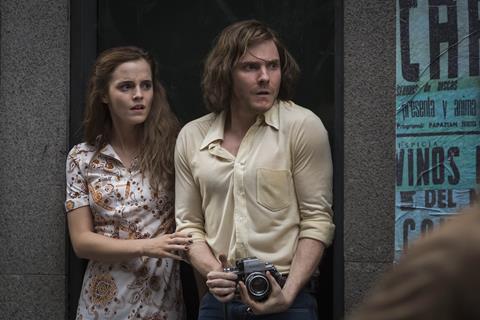 Florian Gallenberger's Colonia, starring Emma Watson and Daniel Brühl has wrapped principal photography after 47 days of shooting in Luxembourg, Munich, Berlin and South America.
It marks Watson's first lead role since Harry Potter. Alongside Brühl and Mikael Nyqvist, the supporting cast includes Richenda Carey, Vicky Krieps, Julian Ovenden, August Zirner and Martin Wuttke.
The film tells the story of Lena (Watson) and Daniel (Brühl), a young couple, who become entangled in the Chilean military coup of 1973.
When Daniel is abducted by Pinochet's secret police, Lena tracks him to a sealed off area in the South of the country, called Colonia Dignidad. The Colonia presents itself as a charitable mission run by lay preacher Paul Schäfer (Nyqvist) but, in fact, is a place nobody ever escaped from. Lena decides to join the cult in order to find Daniel.
Benjamin Herrmann produced the feature through his Majestic banner. Nicolas Steil served as co-delegate producer through Iris Productions.
Colonia was co-produced by Rat Pack Filmproduktion, Rezo Productions and Fred Films Colonia, in association with ProSieben andSky, supported by FilmFernsehFonds Bayern, Medienboard Berlin-Brandenburg, FFA German Federal Film Board, German Federal Film Fund (DFFF), Luxembourg Film Fund and the MEDIA program of the EU.
Beta Cinema is handling international sales, with UTA Independent Film Group co-representing domestic rights.
The film is due for release in October 2015.