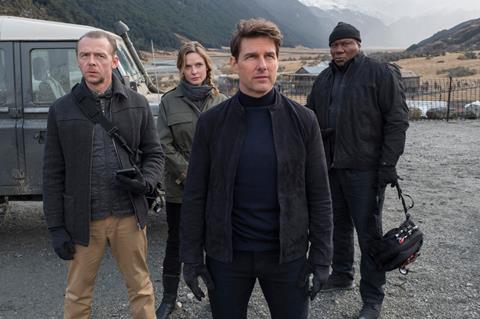 The UK government has relaxed quarantine rules for international film and TV productions shooting in England. The rules do not yet apply to Scotland, Wales and Northern Ireland.
UK culture secretary Oliver Dowden has announced select international film and high-end television stars, directors and producers will be exempt if they are deemed essential to the production.
Most travellers to the UK must quarantine for two weeks, although from July 10 visitors from "low-risk countries" will not have to isolate in England. Currently, the US is not on this list. The new rules pave the way for Hollywood production to resume first in England, and then hopefully the rest of the UK.
According to the Department of Culture, Media and Sport (DCMS) Dowden spoke to Tom Cruise this week about how the exemption will allow production to restart on Mission: Impossible 7 and 8, which are being shot at Warner Bros. Studios Leavesden in Hertfordshire.
The exemption applies to cast and crew coming into England specifically to work on film and television productions which qualify as British under one of the government's cultural tests or official co-production treaties.
Under the new rules, exempted individuals will live and work in controlled "bubbled" environments behind closed doors. Productions will need to follow government Covid guidance and put in place stringent protocols to ensure that they have a minimal impact on public health.
Adrian Wootton, chief executive of the British Film Commission (BFC), said: "Today's immensely welcome news is also a clear recognition of the importance of the film and high-end TV inward investment sector to the UK's economy. The sector was worth over £3bn in 2019, and has a clear role to play in our economic recovery following the lockdown."
BFI chief executive Ben Roberts said: "It's great news that film and television production have been granted quarantine exemption, one of the key outcomes from the work of the BFI's Screen Sector Task Force, which in tandem with the UK's COVID-19 industry guidance, means that film and television productions that are reliant on international talent, will be able to go ahead, generating jobs and securing a pipeline of new work for those working across the wider industry."
Under the new quarantine guidance, sports stars and their support teams will also be exempt.