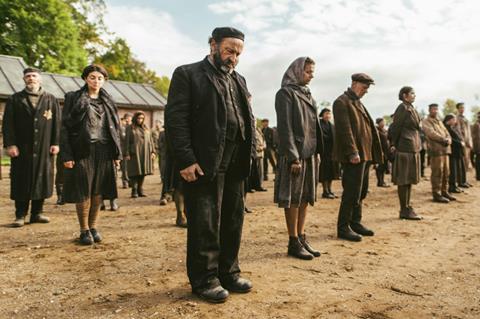 Russian actor Konstantin Khabensky's directorial debut Sobibor has sealed key territory sales in advance of its screening in the Cannes market. Sobibor is produced by Cinema Production and Gleb Fetisov of Fetisoff Illusion (Loveless).
It tells the story of the incredible heroism by Jewish prisoners in the Sobibor extermination camp in Poland in 1943, when Soviet-Jewish prisoner-of-war Alexander Pechersky spearheaded a successful uprising and escape from the camp. Eleven German SS officers were killed during the action, and over 50 Sobibor escapees survived (including Pechersky).
Khabensky himself plays Pechersky, while Christopher Lambert co-stars as Nazi SS officer Karl Frenzel.
Sobibor has been pre-sold to France and Switzerland (First International Production), the UK (4 Digital Media), Spain (Flins and Piniculas), Benelux (DFW), Poland (Nova Films), Hungary (Romis Entertainment), Bulgaria (Beatum), Japan (Fine Films) and Australia (Jewish International Film festival - theatrical release). Negotiations with the US, China and Latin America are underway.
The film is being handled in Cannes by All Media under CEO George Shabanov and head of international sales Zhanna Shakhshaeva.
Sobibor received its world premiere in Warsaw last month and was also shown in Rostov, Pechersky's home town. The film is supported by the Russian Ministry of Foreign Affairs and by Rossotrudnichestvo, the Russian government agency that oversees civilian foreign aid. The film's market screening is May 10 at 16.00.