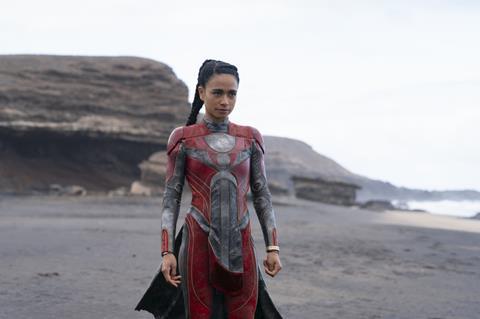 Worldwide box office November 5-7
| Rank | Film (distributor) | 3-day (World) | Cume (World) | 3-day (Int'l) | Cume (Int'l) | Territories |
| --- | --- | --- | --- | --- | --- | --- |
| 1. | Eternals (Disney) | $161.7m | $161.7m | $90.7m | $90.7m | 47 |
| 2. | No Time To Die (Universal) | $33.4m | $667.4m | $27.2m | $524.3m | 73 |
| 3. | Dune (Warner Bros) | $18.7m | $330.4m | $11.1m | $246.5m | 76 |
| 4. | Venom: Let There Be Carnage (Sony) | $15.8m | $424.6m | $11.4m | $227.6m | 55 |
| 5. | The Battle At Lake Changjin (various) | $8.6m | $859.5m | $8.6m | $859.5m | 1 |
Credit: Comscore, all figures estimates
Disney defies middling reviews with strong launch of Marvel's 'Eternals'
Unfamiliarity of superhero characters once again proved no barrier for latest Marvel film Eternals, which has launched globally with a strong estimated $161.7m – breaking down as $71m in North America and $90.7m for international. Imax accounted for $13.6m (8.4%) of the total.
It's the second highest opening for a US studio title this year, just behind Fast & Furious 9 ($163m). Universal's franchise hit was massively boosted on that occasion by $135.6m in China, but on the other hand debuted in just eight markets overall. Eternals has yet to arrive in China, but rolled out into 47 territories.
The Eternals number compares with a $158.8m launch for Black Widow back in July – although that number adjusts down to $150m when comparing with the Eternals number in like-for-like markets.
Eternals opened number one in all key markets, and delivered the highest opening weekend box office of the pandemic era in Italy, Brazil and Hong Kong. The film achieved the second highest opening weekend of the pandemic era in South Korea, Malaysia, Thailand, Sweden, Argentina, Central America, Colombia, Chile, Peru, Paraguay and Uruguay.
South Korea was especially strong for Eternals – opening with an estimated $14.4m, the highest for a US studio film in the pandemic era. UK/Ireland began with a robust estimated $7.1m, just ahead of France ($6.7m), then Mexico ($5.7m), Australia ($5.0m), Italy ($4.6m), Germany ($4.3m), Brazil ($4.2m) and Taiwan ($3.8m).
Eternals missed out on Saudi Arabia, Kuwait and Qatar after Disney declined to cut scenes involving the family life of gay character Phastos. Saudi Arabia is a fast-growing and increasingly key market – for example, it ranks tenth in the international territory league table for Sony's Venom: Let There Be Carnage, with $5.5m to date.
Eternals has been met with mixed reviews, delivering 48% and 53% scores respectively at Rotten Tomatoes and MetaCritic. Audience scores are higher – but Eternals' IMDb user rating of 6.9/10 compares with 7.9/10 for Shang-Chi And The Legend Of The Ten Rings.
This coming weekend sees Eternals open in Indonesia and UAE, while Russia opens today (November 8).
Germany beats UK at weekend with 'No Time To Die'
UPDATED: Germany and UK/Ireland have been trading places for several weeks in terms of weekend box office for Universal and MGM's No Time To Die. The latest weekend saw Germany reassert itself again, with an estimated $3.3m – compared with $2.7m for the film in UK/Ireland.
In cumulative totals for No Time To Die, UK/Ireland remains far out in front with $122.1m, ahead of Germany's $67.5m. These numbers are in line with Spectre and Skyfall in both markets.
Overall, the 25th Bond film grossed a confirmed $27.1m from international markets in its sixth week of release, and $5.8m in North America. Global totals are $524.1m for international, $142.7m in North America and $667.8m worldwide.
Both Germany and UK/Ireland were beaten at the weekend by the session's top international performer China, with $11.4m in its second frame, dropping 59%, and delivering $49.2m to date. That number is ahead of China's Dune tally. (See China box office report.)
No Time To Die is the fifth highest-grossing film of all time in UK/Ireland, having now overtaken Avengers: Endgame.
With $667.8m, No Time To Die has now reached 76% of Spectre's lifetime global total of $881m, and 60% of Skyfall's $1.11bn tally. The film arrives in Australia this Thursday (November 11).
'Dune' steams past $300m
UPDATED: Dune was closing in on a third of a billion dollars at the weekend, with global takings now at $331m – dividing into $84m in North America and $247m for international. That ranks the Warner Bros/Legendary film in 11th place in the global box office chart for 2021, and eighth place among US studio titles (ie ignoring three Chinese hits).
Dune fell by 51% in international markets at the weekend, which may be considered a fairly robust outcome given the competition from new arrival Eternals. Holds were particularly strong in Germany (-30%) and France (-41%).
The weekend delivered a confirmed $11.4m for international and an estimated $7.6m in North America, combining for an estimated $19m, and third place in the latest global box office chart.
China is the top international market with $36.7m, ahead of France ($30.2m), UK/Ireland ($23.1m), Russia ($21.1m) and Germany ($20.8m).
Warner Bros has been using its own Tenet as a box office comparison point – and Dune is now 91% along the path towards Tenet's lifetime global tally of $364m. The film should receive a boost when it arrives in Australia on December 2.
'Venom: Let There Be Carnage' reaches $425m
Sony's Venom: Let There Be Carnage was just ahead of Dune in the international rankings with estimated weekend takings of $11.4m. However, the franchise title is now relatively played out in North America (grossing an estimated $4.5m for the weekend period), and the combined weekend total of $15.9m puts it behind Dune in the latest global box office chart.
Cumulative totals for Let There Be Carnage are $197.0m in North America, $227.6m for international, and $424.6m combined. That puts the film in eighth place in the 2021 global box office chart (just behind Shang-Chi And The Legend Of The Ten Rings on $427.9m), or fifth place among US studio titles.
The original Venom film grossed a hefty $856m worldwide in 2018, including $269m for China. Let There Be Carnage has now reached nearly 50% of that total, without the benefit of a China release. Other key territories yet to release the film are Australia (November 25) and Japan (December 3).