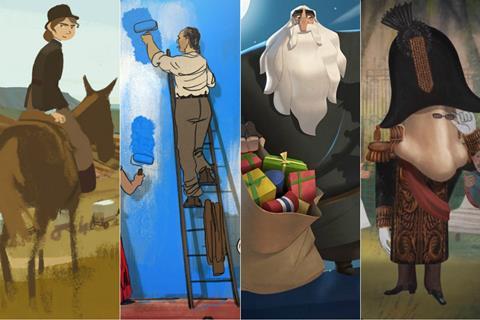 The European Film Awards has selected the four animation nominees for its 2020 online edition.
They are Rémy Chayé's Calamity, A Childhood Of Martha Jane Cannary (Fr-Den); Aurel's Josep (Fr-Bel-Sp); Sergio Pablos' Klaus (Sp), and Andrey Khrzhanovsky's The Nose Or The Conspiracy Of Mavericks (Rus).
Chayé's Calamity, A Childhood Of Martha Jane Cannary depicts a young girl in the American Wild West in 1863 who is forced to grow up quickly and take care of her family. The film won the Cristal for best feature at Annecy Animation Festival in June.
Josep, directed by French cartoonist Aurel and written by Jean-Louis Milesi, is about dying gendarme who recalls his encounter with Catalan artist Josep Bartolí in a French concentration camp after the Spanish Civil War. It was a Cannes 2020 official selection title and won the audience award and best screenplay prizes at Athens Film Festival in September.
Klaus is Pablos' Santa Claus origin story and isabout a clueless postman who befriends a disgruntled old toymaker, It is written by Pablos with Jim Mahoney and Zach Lewis. It won the Bafta for best animated feature earlier this year was nominated for an Oscar. It also won seven prizes at the Annie Awards, the ceremony for the International Animated Film Association.
Finally, Khrzhanovsky's The Nose Or The Conspiracy Of Mavericks debuted at International Film Festival Rotterdam in January, going on to win the special jury award at Annecy. Inspired by Russian author Nikolai Gogol's 1836 satirical short story The Nose and Dmitri Shostakovich's 1928 opera of the same name, the film is a darkly comic look at the 20th century. It is written by Khrzhanovsky with Yury Arabov.
The nominations were chosen by a committee comprised of EFA board member Béatrice Thiriet, director Anca Damian, and producer Antonio Saura; and producers Diogo Carvalho and Camilla Deakin, and Norbert Laporte, representing Cartoon, the European Association of Animation Film.
The winner will be presented at the 33rd European Film Awards ceremony, streamed live from Berlin on December 12.