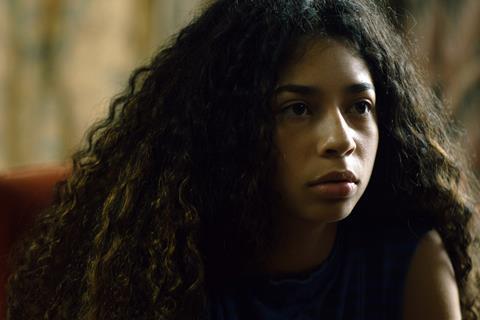 The third edition of the European Work in Progress Cologne (EWIP) will unfold as a physical event in spite of the challenges of the Covid-19 pandemic, its organisers have announced.
Running October 5 to 7 within the framework of the 30th Cologne Film Festival, the meeting will showcase 28 projects from 34 countries.
"The experiences in Cannes and other industry events in this corona year have shown that the direct exchange of people, despite numerous digital communication possibilities, cannot be replaced by anything," commented Torsten Frehse, a board member of German independent distributors' association AG Verleih.
The body organises the event with the support of regional film fund Film- und Medienstiftung NRW.
"That is why we have been working with our partners for a long time on a concept to meet the hygiene standards and the requirement to bring all participants to Cologne. We are very pleased that the guests from Germany and the world accepted the invitation. "
The competitive event is focused on feature film projects but this year will also showcase Israeli filmmakers Udi Nir and Sagi Bornstein's documentary series project Viral.
The timely German-Israeli production, lead produced by Christian Beetz at Beetz Brothers, explores the lives of eight characters during the pandemic through a compilation of YouTube footage.
Feature film projects include Octopus Skin, the second feature of Ecuadorian filmmaker Ana Cristina Barragan, after her well-received family drama Alba which was submitted to the 2018 Academy Awards by Ecuador.
The film revolves around a 14-year-old twin brother and sister whose idyllic life on a remote beach changes forever when they are forced to head to the city for the first time. It is lead produced by Isabella Parra at Ecuadorian production company Caleidoscopio Cine with Titus Kreyenberg at Germany's Unafilm and Konstantina Stavrianou at Greek company Graal on board as co-producers.
Debut feature projects in the line-up include Russian director Borodin's modern slavery tale Convenience Store, which is lead produced by prolific Russian producer and Metrafilms chief Artem Vasilyev. Borodin's short film Normal played in Cannes Critics' Week in 2018.
The selection also features projects from more established filmmakers such as Fabian by German director Dominik Graf and Memory Of Water by Finnish filmmaker Saara Saarela.
Graf's Fabian revolves around a thirtysomething copywriter whose life falls apart when he loses his job, girlfriend and best friend in quick succession is produced by Felix von Boehm at Lupa Film. Saara's Memory of Water is a dystopian tale about two teenagers on a quest to find water in a near world where it has become a precious commodity.
All the projects will be presented to industry experts in 15-minute pitching sessions. In addition, there will be one-to-one meetings as well as various panel discussions and workshops in cooperation with Creative Europe Desk NRW and Creative Europe Desks Germany.
Prizes totalling €37,000 ($43k) in value will be awarded on the final evening of the event on October 7.
This year's jury comprises Tallinn Black Nights Festival programme coordinator Triin Tramberg; Leslie Chen, senior advisor at new Chinese sales agency Blossoms Entertainment; Melanie Andernach, managing director and co-founder of Made In Germany Filmproduktion and Sebastian Lückel, head of acquisition and production at ARD Degeto Film.
Selected projects
9th Step (Lithuania)
Dir. Irma Puzauskaite.
Prod. Lukas Trimonis (Inscript), Junior Producer: Viktorija Cook (Inscript)
Convenience Store (Russia, Slovenia, Turkey)
Dir. Michael Borodin
Prod. Artem Vasilyev, Asya Pavlovskaya (Metrafilms)
Co-Prod.: Ales Pavlin, Andrej Stritof (Perfo), Diloy Gulun (Karma Films)
Darkling (Serbia, Denmark, Italy, Greece, Bulgaria)
Dir. Dušan Milić
Prod. Snežana van Houwelingen (Film Deluxe International)
Co-Prod. Ivan Krstović (This and That Productions), Ivana Miković (Firefly Productions), Stefan Kitanov (RFF International), Lene Broglum (Space Rocket Nation), Debora Desio (A_Lab), Rena Vougioukalou (Graal S.A)
Fabian (Germany)
Director: Dominik Graf, Writer: Constantin Lieb, Dominik Graf, Producer: Felix von Boehm (Lupa Film),
Co-Prod: Marc Schmidtheiny, Christoph Daniel (DCM Pictures)
In Limbo (Russia)
Director: Alexander Hant
Prod. Maxim Dobromyslov (LLC Perevorot)
Co-Prod. Ruben Dishdishyan (LLC Mars Media)
Iron Stream (Bangladesh, Germany)
Dir. Kamar Ahmad Simon
Prod. Sara Afreen (Studio Beginning)
Co-Prod. Yvonne Wellie, Jonas Weydemann (Weydemann Bros.)
Les barricades mystérieuses (Germany, Austria)
Dir. Timm Kröger
Prod. Heino Deckert, Tina Börner (ma.ja.de Fiction)
Co-Prod. Lixi Frank, David Bohun (Panama Film)
Love Is A Dog From Hell (Philippines, Germany)
Dir. Khavn de la Cruz
Prod. Stephan Holl, Antoinette Köster (Rapid Eye Movies), Achinette Villamor, Khavn de la Cruz (Karmias Overgroun
Loving Highsmith (Switzerland, Germany)
Dir. Eva Vitija
Prod.: Franziska Sonder, Maurizius Staerkle-Drux (Ensemble Film)
Co-Prod. Carl-Ludwig Rettinger, Lino Rettinger (Lichtblick Film)
Martin And The Forest Secret (Czech Republic, Germany. Slovakia)
Dir. Petr Oukropec
Prod. Peter Badač (BFILM)
Co-Prod. Anette Unger (Leitwolf Filmproduktion), BFILM
Memory Of Water (Finland)
Dir. Saara Saarela
Prod. Mark Lwoff, Misha Jaari (Bufo)
Co-Prod. Reinhard Brundig, Nina Frese (Pandora Film), Ivo Felt (Allfilm), Maria Ekerhovd (Mer Film)
Octopus Skin (Ecuador)
Dir. Ana Cristina Barragan
Prod. Isabella Parra (Caleidoscopio Cine)
Co-Prod. Titus Kreyenberg (unafilm), Konstantina Stavrianou (Graal
Passerby (Syria, Palestine, Germany)
Dir. Ameer Fakher Eldin
Prod. Tony Copti, Jiries Copti (Fresco Films Co.)
Co-Prod. Dorothe Beinemeier (Red Balloon Film), Executive Producers: Gwendolyn Wynne, Carol Shine (Apricot Films)
Saving One Who Was Dead (Czech Republic)
Dir. Vacláv Kadrnka
Prod. Vacláv Kadrnka (Sirius Films), Simona Kadrnková
Co-Prod.: Katarina Krnacová (Silverart), Jasmina Sijercic (Bocalupo Films)
Shelter (Ireland)
Dir. Seán Breathnach
Prod. Paddy Hayes (Magamedia)
Sinjar (Spain)
Dir. Anna M. Bofarull
Prod. Anna M. Bofarull, Marian Matachana (KaBoGa)
Co-Prods. Azadeh Khatibi (Genius at Large)
Smiling Georgia (Georgia, Germany)
Dir. Luka Beradze
Prod. Nino Chichua, Anna Khazaradze (1991 Productions)
Co-Prods: Eva Blondiau (Color of May)
Spas (Ukraine)
Dir. Maksym Nakonechnyi
Prod: Darya Bassel, Yelizaveta Smith (Tabor)
Co-Prod. Anita Juka (4Film), Dagmar Sedláčková (MasterFilm)
The Cars We Drove Into Capitalism (Bulgaria)
Dir. Boris Missirkov and Georgi Bogdanov
Prod. Martichka Bozhilova (Agitprop)
Co-Prod. Simone Baumann, Sascha Beier (Saxonia Entertainment), Sigrid Jonsson Dyekjær (Danish Documentary Production), Miljenka Čogelja, Dana Budisavljević (Hulahop), Jiri Konečný (Endorfil
The Great Freedom (Germany, Sweden)
Dir. Wendla Nölle
Prod. Andrea Schütte, Nikola Bock, Dirk Decker (Tamtam Film)
Co-Prod. NDR
The Living Man (Serbia)
Dir. Oleg Novković
Prods. Uroš Lazić, Ljiljana Djuričko (Salt), Marcel Lenz, Guido Schwab (ostlicht filmproduktion)
Co-Prod. Borislav Chouchkov (Chouchkov Brothers)
The Palace (Italy, France)
Dir. Federica Di Giacomo, Writer: Federica Di Giacomo, Andrea Sanguigni
Prod. Giulia Achilli, Marco Alessi (DUGONG FILMS)
Co-Prod. Marie Balducchi (AGAT Films & CIE)
The Ugly Truth, (Germany)
Dir. Krishna Ashu Bhati
Prod. Eva Habermann, Alexander König (Fantomfilm)
Under Control (Belgium, France)
Dir. Manuel Poutte
Co-Prod. Alexandre Cornu (Les films du Tambour de Soie)
Viral (Germany, Israel)
Dir. Udi Nir, Sagi Bornstein
Prod. Christian Beetz (gebrueder beetz filmproduktion)
Co-prod. Udi Nir, Sagi Bornstein (udiVsagi production)
Walter (Russia)
Dir. Robert Def
Prod. Katerina Mikhaylova (Vega Film), Konstantin Fam
Whispers Of War (Germany)
Dir. Florian Hoffmann
Prod. Alexander Wadouh, Roxana Richters (Chromosom Film)
Co-Prod.: Deutsche Film- und Fernsehakademie Berlin, ZDF Das kleine Fernsehspiel
Who I Am Not (US, Germany, South Africa)
Dir. Tünde Skovrán
Prod. Andrei Zinca, Francoise Nieto-Fong (Double 4 Studios, Inc.), Patrick Hamm, (Bulldog Agenda)
Co-Prod. Patrick Hamm (Bulldog Agenda)