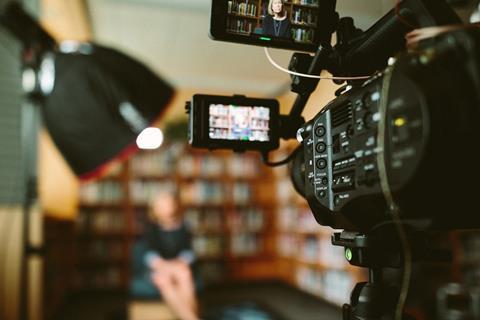 The Federation of European Film Directors (FERA) has suggested when production starts up again, every scene will have to be set up with the same level of care as a dangerous stunt scene.
Its members' creativity will be central to getting this to work, the body said in a statement titled 'Love in the time of corona: Developing health and safety guidelines on set, a director's perspective', on Monday (May 18).
"For decades screen directors have been shooting dangerous stunts Safely. 'Selling' a punch between two actors by positioning the camera so it can't see the safe space between them is an early example of successful social distancing," the statement said.
"But dramatising the deeper conflict between those two actors is the director's precious creative space, and without it an effective-looking punch is meaningless – the audience may believe but they won't care."
Brussels-based FERA represents some 20,000 directors across Europe including honorary president Agnieszka Holland and organisation ambassadors Marco Bellocchio, Isabel Coixet, Michaël R. Roskam, Charles Sturridge and István Szabó.
"As we restart production in the shadow of lethal Covid-19, every scene is going to be the equivalent of a stunt scene," the statement continued. "Even Mission: Impossible cannot boast such a tally. And it is not only the density of such scenes that is unfamiliar territory, it is the unknown nature of the risks posed by this novel coronavirus."
"When the most chaste kiss can kill"
The body said its members were ready to embrace safe shooting guidelines but that it would require more time and ingenuity to direct within their framework.
"In the past a combination of the director's creative thinking, combined with low and high cunning, could sometimes allow a stunt scene to be shot as quickly as a "normal" scene. But usually stunt scenes take longer and demand more resources," said the body. "In the new normal of Covid-19 this very expensive situation is likely to be the default.
"When the most chaste kiss can kill, we need to work closely with writers to creatively rethink the stories we can now tell with the resources available. For some time there has been no fat on the schedules directors deliver. If directors' creative space is now further reduced, anorexia and even starvation loom," it continued. "There are many talents that collaborate to produce the many incarnations of our work, but it is ultimately the director that viscerally connects the story to its audience in real time. It is this connection that we all yearn for and directors need the creative space to deliver it. Now more than ever."
FERA said how to create films that were neither "mechanical" and "dry" was a now a big topic of discussion for its members as the entire film industry explores how to get back on set.
"How can we continue to create nourishing cinema?" it asked.
Creative and radical thinking would be the key to overcoming the current challenges. The body cited French chef Alain Passard, who abandoned meat and transformed the menu of his Michelin-starred restaurant to a purely vegetarian one in 2001 in reaction to mad cow disease.
"Maybe we need to consider options as radical as Passard's, exploring different kinds of engaging stories we can actually tell under Covid-19. We will have to rethink intimacy in drama as much as proximity on set," read the statement.
Beyond how the question of how to shoot drama, FERA also suggested other genres such as wildlife documentaries, films on art, architecture, urbanism, philosophy of habits, film essays, found footage films, experimental films, trans-European memory projects, animation of all kinds and virtual reality could "yield unexpected and fruitful opportunities" during the ongoing crisis.
FERA's statement comes as film industries across Europe are drawing up specific guidelines on how shoots can take place in such a way that keeps the cast and crew safe until a vaccination or cure is found for Covid-19.