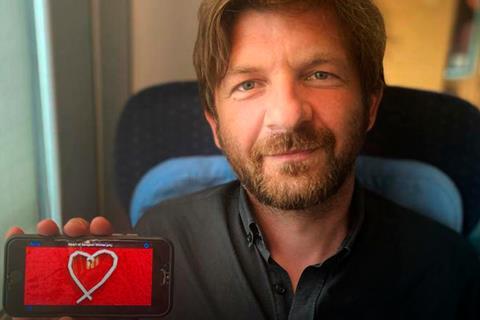 Psychological thriller Exile has won the best film prize at the 26th Sarajevo Film Festival, which took place online this year due to the Covid-19 pandemic.
Scroll down for full list of winners
In a virtual awards ceremony, streamed on the festival's VoD platform, Kosovo-born writer-director Visar Morina accepted the Heart of Sarajevo prize via a video message after jury president Michel Hazanavicius (The Artist) made the announcement from his own home in France. The award includes a prize of €16,000.
Exile, first seen at Sundance and in the Berlinale's Panorama strand, centres on a Kosovan chemical engineer in Germany (Misel Maticevic) who feels bullied at work and is plunged into an identity crisis. Maren Ade (Toni Erdmann) produces with Komplizen Film cohorts Jonas Dornbach and Janine Jackowski, while Toni Erdmann star Sandra Hüller plays the scientist's wife.
Three further Heart of Sarajevo awards were also announced. Azerbaijani filmmaker Ru Hasanov won best director (and €10,000) with his second feature, The Island Within, which tells the story of an international chess grandmaster who is given the chance to challenge the reigning world champion. The film received its world premiere at Sarajevo.
Croatia's Marija Škaričić won best actress for her performance in Andrea Staka's Mare, first seen at the Berlinale; while Greece's Vangelis Mourikis won best actor for his role in Georgis Grigorakis' Digger, which previously won the CICAE Award on its debut in Berlin.
Sarajevo also hosted the Audentia Award, worth €30,000 and given to a female director in Sarajevo's official selection to support their next project. It was won by Berlin-based filmmaker Natalija Yefimkina for her documentary Garage People, which previously picked up the Heiner Carow prize when it debuted at the Berlinale in February. It marks the first time a documentary has won the Audentia Award since being launched by Eurimages in 2016.
The awards ceremony was hosted by local producer Amra Baksic Camo from the stage of an empty theatre.
The festival was due to go ahead as a physical event but announced it would shift entirely online, eight days before it was due to open, as a result of a second spike of cases in Bosnia and Herzegovina. A handful of open-air screenings took place in Mostar, around 80 miles south of Sarajevo where fewer cases have been reported.
Mexican filmmaker Michel Franco and Danish actor Mads Mikkelsen received the festival's honorary Heart of Sarajevo awards remotely.
The festival opened on August 14 with the world premiere of Focus, Grandma, directed by Bosnian filmmaker Pjer Žalica, and will close on Friday (August 21).
Sarajevo 2020 winners
Competition programme – feature film
Best feature film: Exile (Ger-Bel-Kos)
Dir. Visar Morina
Best director: Ru Hasanov, The Island Within (Az-Fr)
Best actress: Marija Škaričić, Mare (Swi-Cro)
Best actor: Vangelis Mourikis, Digger (Gre-Fr)
Competition programme – documentary film
Best documentary: Merry Christmas, Yiwu (Swe-Serb-Ger-Fr-Qat)
Dir. Mladen Kovačević
Special jury prize: Holy Father (Rom)
Dir. Andrei Dăscălescu
Human rights award: Acasă, My Home (Rom-Ger-Fin)
Dir. Radu Ciorniciuc
Competition programme – short film
Best short film: Antiotpad (Cro)
Dir. Tin Žanić
Competition programme – student film
Best student film: The Great Istanbul Depression (Tur-Jp)
Dir. Zeynep Dilan Süren
Audentia Award: Garage People, dir. Natalija Yefimkina
Partners' Awards
Cineuropa Award: Exile, dir. Visar Morina
CICAE Award: Mare, dir. Andrea Štaka
Short: All Cats Are Grey In The Dark, dir Lasse Linder
(Films in the European Shorts section compete alongside the regional competition shorts for an EFA short film candidacy at the European Film Awards and to qualify for an Academy Award nomination.)
BH Film Student Programme Awards
Best BH Student Film: B4, dir. Alen Šimić
Special Jury Award: Roots, dir. Stefan Tomić
Special Jury Mention: Thrall, dir. Igor Đurić