Dominik Graf's period drama Fabian – Going To The Dogs has set the early pace on Screen's Berlin 2021 Competition jury grid, with a score of 3.1.
The result came from seven of the eight critics, and included three "excellent" scores of four stars from Die Zeit's Katja Nicodemus, Sight & Sound's Nick James and Screen's own critic.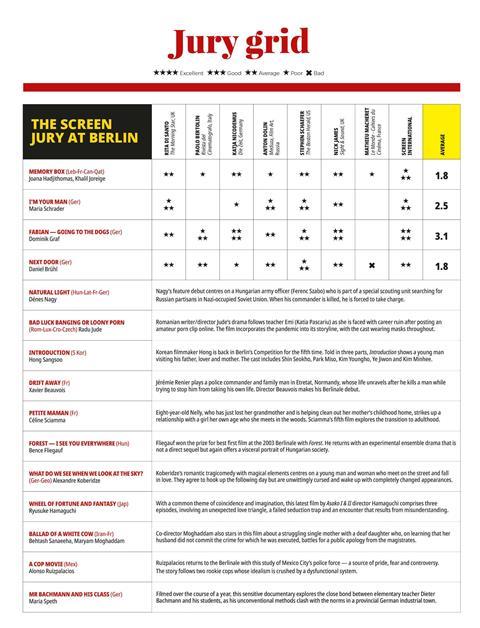 The Morning Star's Rita di Santo and Anton Dolin of Meduza and Film Art awarded it an "average" mark of two stars each.
Set in Berlin during the Weimar Republic, Tom Schilling stars as Fabian, who works in a cigarette factory by day and drifts through brothels, bars and artist studios at night. During these adventures, he falls in love with an actress, played by Saskia Rosendahl.
Also taking its place on the grid is Maria Schrader's I'm Your Man, starring Maren Eggert, Dan Stevens and Sandra Hüller. It scored a 2.5 average from six scores, with four threes but also a "poor" one-star result from Nicodemus. The German-language comedy centres on a scientist who takes part in an unusual study in which she lives with a humanoid robot programmed to fulfil her needs.
Two films recorded averages of 1.8, having received their full complement of eight scores.
Joana Hadjithomas and Khalil Joreige's Memory Box received a score of two or one from each juror apart from Screen's own critic, who awarded it three (good). It revolves around a single mother and her teenage daughter who are confronted with the former's colourful but painful Beirut past when a box of old notebooks, tapes and photographs arrives on Christmas Eve.
Also scoring 1.8 is Next Door, the directorial debut of German actor Daniel Brühl. Stephen Schaefer of The Boston Herald gave the film a three; but his was countered by a zero (bad) from Mathieu Macheret of France's Le Monde and Cahiers du Cinéma. Vicky Krieps and Peter Kurth star alongside Brühl in a black comedy about a film star and his troublesome neighbour.
Set to make their entry on the grid are Hong Sangsoo's Introduction, Dénes Nagy's Natural Light, Radu Jude's Bad Luck Banging Or Loony Porn and Xavier Beauvois' Drift Away.
Screen's Berlin 2021 jury grid launched this week, with eight critics set to mark the 15 films playing in Competition.