Screen is launching its jury grid for the 2021 Berlin Film Festival (March 1-5), the first edition of the event to run online.
Eight critics will watch each of the 15 titles, with the average of their scores providing an overall leading title.
This year's participating critics are:
Rita Di Santo, The Morning Star, UK
Paolo Bertolin, Rivista del Cinematografo, Italy
Katja Nicodemus, Die Zeit, Germany
Anton Dolin, Meduza/Film Art, Russia
Stephen Schaefer, The Boston Herald, US
Nick James, Sight & Sound, UK
Mathieu Macheret, Le Monde/Cahiers Du Cinéma, France
Screen International, UK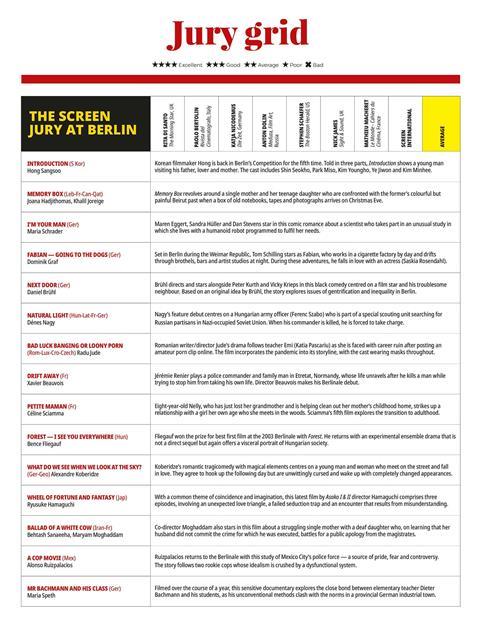 As in previous years, critics will record a score for each of the Competition titles, on the following scale: four (excellent), three (good), two (average), one (poor), and zero (bad).
These scores are then combined to produce an average, which is rounded up/down to the nearest tenth.
Screen will publish the latest edition of the grid in its daily Berlin digital editions, as well as through articles on the website.
Eliza Hittman's Never Rarely Sometimes Always finished top of last year's Berlin jury grid with an average score of 3.4, also winning the Berlinale's Silver Bear jury grand prix for Hittman. The film has gone on to receive international acclaim including nominations at the Film Independent Spirit Awards, Gotham Awards and Bifas.
The 15 Competition titles for 2021 were revealed last month, and include Céline Sciamma's Petite Maman, Radu Jude's Bad Luck Banging Or Loony Porn, and Hong Sangsoo's Introduction.