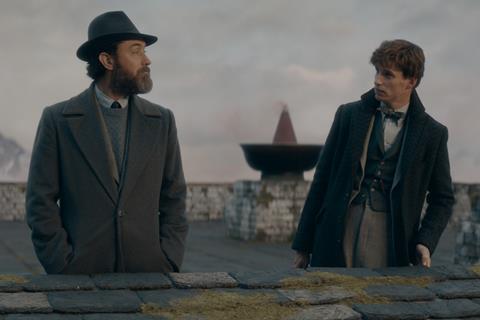 Worldwide box office April 15-17
| Rank | Film (Distributor) | 3-day (world) | Cume (world) | 3-day (int'l) | Cume (int'l) | Territories |
| --- | --- | --- | --- | --- | --- | --- |
| 1. | Fantastic Beasts 3 (Warner Bros) | $114.7m | $193.4m | $71.7m | $150.4m | 67 |
| 2. | KGF: Chapter 2 (various) | $70.6m | $72.3m | $67.7m | $67.7m | 19 |
| 3. | Sonic The Hedgehog 2 (Paramount) | $55m | $231.8m | $25m | $112.2m | 55 |
| 4. | The Lost City (Paramount) | $16.6m | $98.9m | $10.1m | $20.4m | 34 |
| 5. | Morbius (Sony) | $11.4m | $146.4m | $6.7m | $81.3m | 63 |
| 6. | The Batman (Warner Bros) | $7.6m | $751.1m | $3.8m | $386.1m | 76 |
| 7. | Everything Everywhere All At Once (various) | $7m | $19.1m | $0.8m | $1.5m | 16 |
| 8. | The Bad Guys (Universal) | $6.5m | $52.5m | $6.5m | $52.5m | 49 |
| 9. | Father Stu (Sony) | $5.7m | $8m | - | - | 1 |
| 10. | Ambulance (Universal) | $5.4m | $40.4m | $1.4m | $24.8m | 70 |
Credit: Comscore, all figures estimates, click top right to expand
'Fantastic Beasts 3' grosses $115m in second session
UPDATED: Warner Bros' Fantastic Beasts: The Secrets Of Dumbledore convincingly topped the global box office at the weekend with an estimated $43m debut session in North America plus a confirmed $71.6m in international markets, where the film expanded from 22 to 66 territories. Those numbers combine for approximately $114.6m globally over the weekend, taking confirmed cumulative totals to $150.7m internationally and $192.9m worldwide.
While the numbers seem amply robust, this third film in the Fantastic Beasts series (and the 11th title in the JK Rowling wizarding universe) looks set for a franchise low. The estimated $43m North America opening compares with a $74m debut for 2016's Fantastic Beasts And Where To Find Them and $62m for The Crimes Of Grindelwald in 2018.
The Secrets Of Dumbledore landed in several key international markets, scoring a confirmed $6.9m in France (35% behind the debut of The Crimes Of Grindelwald), and $7.2m in Mexico (including previews, 14% up on The Crimes Of Grindelwald). A confirmed $4.7m debut in Brazil is on par with the first two Fantastic Beasts films.
Among holdover territories, Germany led with $5.1m, falling 37% from the opening session and earning a 67% share of the top five films.
The Secrets Of Dumbledore grossed a confirmed $3.4m in UK/Ireland in its second session (a drop of approcimately 54%) and continues to present a rather disappointing outcome for the film, given that the home nation for the wizarding world provided a heroic $67.7m for the first Fantastic Beasts and $44.9m for the second. That compares with $34.9m and $43.8m respectively in Germany, and $29.1m and $32.8m in France.
Sunny weather will have softened the UK/Ireland weekend numbers and the result ranked eighth at the weekend among international markets behind the openings of France, Mexico, Brazil, South Korea and Italy and the second weekends of Germany and Japan.
In cumulative totals, Japan leads the way among international territories with $17.1m, ahead of Germany ($17m), UK/Ireland ($16.6m), China ($14.7m) and Australia ($7.9m). The film ranked number one at the weekend in 52 of its 66 markets, and in 41 of the 44 opening territories.
The Secrets Of Dumbledore has so far reached 24% of the lifetime total achieved by Fantastic Beasts And Where To Find Them ($814m worldwide) and 30% of the total for The Crimes Of Grindelwald ($655m).
Another 11 markets are yet to release, including Hong Kong where the film lands on Thursday (April 22).
Also for Warner Bros, The Batman reached a box office milestone at the weekend, pushing past $750m to reach a confirmed $751.6m. The film added approximately $7.6m worldwide, of which $4.3m came from 75 international markets for a confirmed $386.6m international running total.
The Batman is the third biggest Hollywood film of the pandemic era, behind Spider-Man: No Way Home ($1.89bn) and No Time To Die ($774m), and ahead of Fast & Furious 9 ($726m) and Venom: Let There Be Carnage ($502m).
Indian action film 'KGF: Chapter 2' scores strong $71m opening
For the second time in a month, India has delivered a blockbuster hit big enough to register at the top end of the global box office. RRR landed in late March with a $63.2m worldwide debut, and now KGF: Chapter 2 has eclipsed it, opening with an estimated $67.8m for international (including India) and $70.6m including North America. Worldwide total is $72.4m.
The film is a sequel to 2018 period action hit KGF: Chapter 1, which was filmed in India's Kannada language and stars Naveen Kumar Gowda (aka Yash). Both films are written and directed by Prashanth Neel, and star Yash as a gangster with a moral code who tangles with his superiors in the Kolar Gold Fields of India's state of Karnakata.
KGF: Chapter 1 is estimated to have grossed 250 crore Indian rupees ($32.7m) in its lifetime in India. SS Rajamouli's RRR grossed 1,000 crore Indian rupees ($131.0m) after 16 days of play in India.
New openings boost 'The Lost City'
Paramount's The Lost City benefited from its arrival in eight new international markets, taking the country total to 33. The romantic comedy action adventure grossed an estimated $10.1m at the weekend for international, $6.5m in North America, and $16.6m worldwide – moving up from sixth to fourth place in Comscore's worldwide box office chart.
Totals to date are $78.6m in North America, $20.4m for international, and $99.0m worldwide.
The Lost City was boosted by its arrival in UK/Ireland (a five-day estimated $3.5m), Australia ($3.3m) and Spain ($1.1m). The film arrives this week in France, Brazil, Mexico and South Korea, with Japan to follow in June.
'Sonic The Hedgehog 2' adds $55m, reaches $232m
Paramount's Sonic The Hedgehog 2 took a 58% tumble at the North America box office in its second session, but was much more stable in international, dropping 31%. Weekend box office takings were an estimated $30.0m in North America (taking the total to $119.6m) and $25.0m for international (for a $112.2m total). Worldwide cumulative total is a solid $231.8m.
Among the 54 international markets released so far (representing 87% of the international rollout), UK/Ireland leads the way with $21.6m after three weekends of play, ahead of Mexico ($12.7m after two weekends), France ($11.4m) and Australia ($9.2m).
Sonic The Hedgehog 2 is already 73% of the way to matching the $319.7m worldwide box office of the first Sonic The Hedgehog film, released pre-pandemic in February 2020. The sequel mops up some of its remaining territories this week, arriving in Poland, Malaysia and India. Key market Japan is set for August.
'The Northman' kicks off with $3.4m in early markets
UPDATED: Universal began its rollout of Robert Eggers' The Northman at the weekend, beginning in 15 early international markets ahead of the North America release this Friday (April 22). The starry Viking revenge tale began with a confirmed $3.4m, including a confirmed $1.2m for UK/Ireland, and $932,000 for Mexico.
Italy, Germany, Australia, Russia and Spain are all welcoming The Northman this week, with France and Brazil to follow in May. The film has a big budget, reported variously in the $70-90m range. To achieve profitability, The Northman will need to perform far ahead of the box office reached by Eggers' previous features The Witch ($40.4m worldwide) and The Lighthouse ($18.1m).