Warner Bros' Harry Potter spin-off records the biggest opening of the year to date with confirmed $19.1m (£15.33m).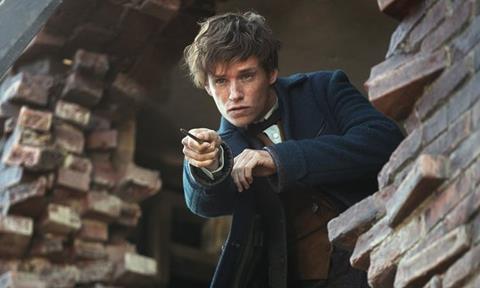 UK TOP FIVE
| Ranking | Film/Distributor | Weekend gross | Running total |
| --- | --- | --- | --- |
| 1 | Fantastic Beasts (WB) | $19.1m (£15.33m) | $19.1m (£15.33m) |
| 2 | Arrival (eOne) | $1.86m (£1.49m) | $7.19m (£5.76m) |
| 3 | Trolls (Fox) | $1.53m (£1.24m) | $25.7m (£20.8m) |
| 4 | Christmas With André (CinemaLive) | $1.45m (£1.16m) | $1.45m (£1.16m) |
| 5 | Doctor Strange (Disney) | $1.15m (£930,624) | $26.5m (£21.45m) |
(Note - Dollar conversions are based on today's rates)
WARNER BROS
Fantastic Beasts And Where To Find Them was always going to debut top of the UK box office, it was only a question of how big.
The answer? A resounding confirmed $19.1m (£15.33m) from its 661 sites. That marks the biggest opening of the year to date, topping stablemate Batman v Superman: Dawn Of Justice's $18.05m (£14.62m) bow from 612 sites.
While Fantastic Beasts opened behind every single Harry Potter outing (except Goblet Of Fire), most benefitted from previews. When considering Fri-Sun tallies, it's a very different story with Fantastic Beasts posting the third-best opening of the franchise to date, ahead of Goblet Of Fire's $18.44m (£14.93m) from 535 sites.
Prisoner Of Azkaban was the lowest-grossing outing of the Harry Potter series with $57m (£46.1m) and, given this start, there's every reason to believe Fantastic Beasts could well top that and potentially become the first £50m hit of the year. It needs to hold well first though.
Also for Warner Bros, The Accountant fell 55% with a $580,000 (£470,000) third weekend for $5.74m (£4.65m) to date, while Storks has flown to $7.96m (£6.45m) after six weeks in play.
EONE
Arrival fell a respectable 42% (excluding previews) as it dropped to second with a non-final $1.86m (£1.49m).
eOne's critically acclaimed sci-fi is now up to $7.19m (£5.76m) after 11 days in play and has surpassed Sicario's $6.14m (£4.98m) result. Another sturdy hold will see it well-placed to become Denis Villeneuve's best-ever UK result, currently Prisoners' $9m (£7.3m).
Also for eOne, The Girl On The Train has now journeyed to $29.1m (£23.38m) following a $236,000 (£189,433) seventh weekend.
I, Daniel Blake and The Light Between Oceans have grossed $3.53m (£2.84m) and $2.07m (£1.66m), respectively.
FOX
Trolls has crossed the £20m mark at the UK box office in its fifth week.
Fox's latest Dreamworks Animation offering fell only 32% with a non-final $1.53m (£1.24m) for $25.7m (£20.8m) to date. It's now overtaken Kung Fu Panda and will soon surpass Monsters Vs Aliens' $26.4m (£21.37m) result.
Also for Fox, Miss Peregrine's Home For Peculiar Children and Ae Dil Hai Mushkil stand at $15.08m (£12.23m) and $1.76m (£1.43m), respectively.
CINEMALIVE
André Rieu has struck gold again at the UK box office for CinemaLive.
Following on from the record-breaking success in July of his Maastricht Concert 2016, André Rieu: Christmas With André grossed $1.45m (£1.16m) on Saturday (November 19), setting a new one-day record for a concert event.
DISNEY
Doctor Strange fell 61% in the face of Fantastic Beasts' huge opening as it posted a $1.15m (£930,624) fourth weekend.
Disney's latest Marvel offering is now up to $26.5m (£21.45m) in the UK and is now the sixth biggest outing for the studio. It's unlikely to catch Guardians Of The Galaxy's $35.2m (£28.5m), but it's a good result all the same.
SONY
Falling more than 50% in its third weekend, Sony's A Street Cat Named Bob added $457,000 (£370,000) for a decent $4.35m (£3.52m) to date.
UNIVERSAL
In its third weekend, Universal's Nocturnal Animals fell 60% on its way to $303,000 (£245,762) for $3.02m (£2.45m). It needs to hold well to surpass A Single Man's $4m (£3.24m) result.
Also for Universal, Bridget Jones's Baby now stands at an imperious $58.9m (£47.73m).
DOGWOOF
From its 14 sites through Dogwoof, Iggy Pop and The Stooges' documentary Gimme Danger posted a $41,000 (£33,048) UK debut, including previews.
VERTIGO RELEASING
The second Philip Roth adaptation in as many weeks, Vertigo Releasing's Indignation grossed $34,000 (£27,606) from its 30 sites, including one preview.
NATIONAL AMUSEMENTS
Japanese box office smash Your Name recorded a $21,000 (£16,702) UK bow from its 17 Showcase sites through National Amusements.
Over the weekend, due to Fantastic Beasts, it only received matinee and late evening screenings, with Bristol its best location with more than $3,700 (£3,000).
The critically acclaimed animation will be screened in 100 sites on Thursday (November 24), with further screenings from Friday (November 25).
UPCOMING RELEASES
This week sees saturation releases for eOne's Bad Santa 2 (opens November 23), Paramount's Allied and Pathe's LFF opener A United Kingdom.
Soda Pictures' Paterson and Studio Soho's Mum's List both receive wide releases, while Universal's Almost Christmas and Arrow Films' Magnus are among the films receiving limited releases.