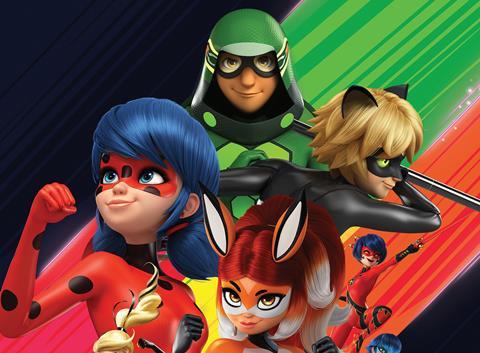 France's ON Kids & Family and Paris and LA-based ZAG are partnering with Chinese animation studio Fantawild in a joint venture to develop animation brand Miraculous in China.
Fantawild has acquired all Chinese rights to the property and will invest and participate in the development of a feature film, which is aiming for a theatrical release in China. The joint venture will also be involved in a TV series, licensed merchandise and location-based entertainment in the China market.
Created by ZAG and produced with ON Kids, Miraculous – Tales Of Ladybug & Cat Noir is a 3D CGI animated action comedy series, targeted at children and pre-teens, which currently airs in more than 120 countries. The series follows the adventures of two typical teens who transform into superheroes, Ladybug and Cat Noir, when Paris is threatened by evil forces.
Best known internationally for the Boonie Bears series of animated films, Fantawild also operates 20 theme parks across China. Fantawild is selling the latest installment in the Boonie Bears franchise, Boonie Bears: The Wild Life, at the European Film Market (EFM) in Berlin.
"Miraculous is a robust property that promotes girl power, and it's exciting to finalise our agreement and bring it to China," said Daisy Shang, executive president of Fantawild Group and president of Fantawild Animation.
Owned by Mediawan Group, On Kids is based in Paris, with nearly 500 employees also across Montreal, LA, Hyderabad and Luxembourg. The company also produces animated series such as Le Petit Prince, Le Petit Nicolas and Robin de Bois.
In addition to producing Miraculous – Tales Of Ladybug & Cat Noir, ZAG is producing upcoming properties Power Players and Ghost Force under its ZAG Heroez label. The company was founded in France in 2009 and later expanded to Santa Monica, California.