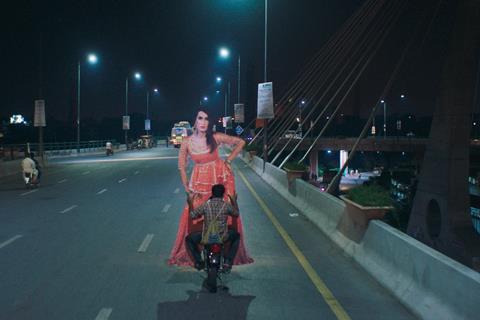 London and Paris-based sales outfit Film Constellation has boarded international sales on Pakistani filmmaker Saim Sadiq's Cannes Un Certain Regard title, Joyland. WME Independent is representing North American rights.
Sadiq's debut feature is the first film by a Pakistani director to be selected for Cannes.
It is produced by the US's All Caps and Pakistan's Khoosat Films in association with Diversity Hire, One Two Twenty Entertainment, Blood Moon Creative, Film Manufacturers Inc., Astrakan AB, and Noruz Films. The producers are Apoorva Guru Charan, Sarmad Sultan Khoosat and Lauren Mann.
The feature follows a patriarchal family as they yearn for the birth of a baby boy to continue the family line, while their youngest son secretly joins an erotic dance theatre and falls for an ambitious trans starlet. Their impossible love story begins to illuminate the entire family's desire for a sexual rebellion.
Screen can exclusively reveal the film's first image above.
Ali Junejo, Alina Khan, Rasti Farooq, Sarwat Gilani, Sohail Sameer, Salman Peerzada, and Sania Saeed star.
"Saim has weaved a tender and sensual modern day family tale, wrestling with the weight of manufactured gender roles," said Fabien Westerhoff, CEO of Film Constellation. "It radiates the shared desire to live and love without compromise."
"My amazing cast has given the characters of Joyland a kind of empathy and humanity that a filmmaker can only hope for," added Sadiq.
Sadiq's debut feature follows his short film, Darling, which won the best short film in the Horizons strand at the Venice Film Festival in 2019.