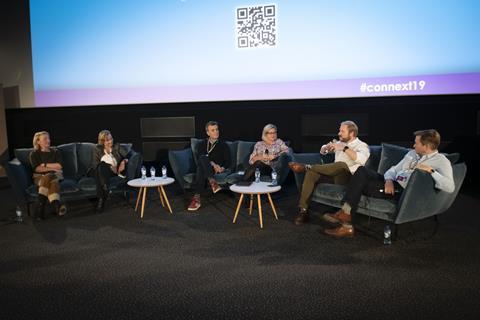 Film directors need to have more ambition and a unique cinematic vision to attract sales agents, distributors and ultimately a theatrical audience, agreed a group of European film industry experts at a debate at Flanders Image's CONNeXT event in the Belgian city of Ghent on Tuesday (October 8).
"I'm looking for something singular, something different," said Karin Beyens, head of acquisitions at France's Diaphana Distribution. "Last year we bought Mid 90s and Girl, two films that give you a certain experience. You feel something when you see these films. Or [I'm looking for] a more mainstream film, a feelgood film. Most of the time those experiences are not in the same film."
"The gems are what people are looking for and want permission to come out for," said Philip Knatchbull, CEO of UK distributor, exhibitor and VoD platform Curzon. "It isn't good enough to acquire a film that would work well on Netflix."
"Your theatrical film has to be shit hot," added Mike Goodridge, artistic director of the Macao International Film Festival and Awards and former CEO of Protagonist Pictures. "There has to be something special and surprising about it. Mediocrity will not work. As a festival director I see hundreds of films and I don't see a commercial life for a lot of them."
The panellists were talking at an event called 'Make Cinema Great Again!' and contemplated the impending impact of the arrival of at least five new US streaming platforms.
"Imagine if you have five platforms in your home, that's $50 a month. That's tons of content in your home," Goodridge pointed out. "The competition for the cinema experience is going to get more and more intense. Cinema has to respond with incredible content."
"People always want to leave the home," Knatchbull suggested. "That's the good news. You've just got to provide something for them that they want. And cinemas can't just be these individual boxes anymore. The competition is not just from the streaming platforms. It's from other leisure activities too from tenpin bowling to football to theatre to Secret Cinema."
Finding an audience
Diaphana's Beyens underlined the job of the distributor was to identify the films to which they can deliver an audience. The challenge is to identify which audience and then how to reach them.
"We try to get in the audience that film really deserves," she said. "The films have to be made at the right budget level so we can pay the right MG and can spend a lot of money to bring the audience to the cinema. We pay for the films but we have to pay a lot more money to get the audience in. We have to balance all of that."
The speakers agreed social media was a highly effective marketing tool to reach a potential audience that neither reads newspapers or watches advertising-supported television.
"We have to invent the marketing plan each time for each film. And that takes a lot of thinking," Beyens explained. "Mid 90s was the first time we had the impression that social media made a difference. The biggest challenge was bringing a young audience. It took us five, six months before we released the film. We connected with the young audience through social media using small clips and images. Then it opened in the US and in Berlin and all of sudden it became a film that people were aware of.
"But social media is also something unpredictable and it can turn against you in a second. All of sudden the ex-president dies and all of the attention goes to something else. Or in October it's fantastic weather. We have to do the best we can but it's not a win-win situation."
One way to attract audiences to theatrical films is to make the screenings as much of an event as possible.
"The Belgian premiere of Gangster was a big event," said producer Kobe Van Steenberghe of a team productions. "People couldn't get in if they weren't dressed like gangsters. And 95% of the audience came dressed up. And it was all connected to social media."
"We believe our role as producer does not end with producing a movie," he continued. "We have a very good distributor but we have to give them the things they need to do that.
"With social media, the cool thing is you can reach a lot of people, the people you want to reach, for not that much money. For Gangster, it was €5,000 for our part of the social media campaign.
"We also use social media to find the people who are interested in the movie, we do some tests to see who reacts, and who doesn't react but we want to include. With [the upcoming] Torpedo (aka U-235) we noticed that 70%-80% of the people who reacted were men but there's also a love story that is not communicated enough in the trailer. We are now going to do a separate trailer centring the relationship and we are only going to target it to women. It's not lying as those things are all in the movie but we did not communicate it enough."
Too many films?
The speakers contemplated whether too many films were being made and whether too much European public money was being invested in development and production.
"I would encourage public funders to promote more ambitions in their filmmakers," said Goodridge. 'It's all about the director. If you know how to tell the story in cinema language, that belongs in a cinema. Too many of these films, don't. And they aren't special enough. That's why distributors don't buy them and it's why sales agents increasingly can't afford to take them on as they know they can't sell them. We will reach a crisis point where a lot of these films won't go to market."
"The tricky thing is no first- time filmmaker, no filmmaker at all, starts his film with the aim of making a mediocre film," interjected Daniela Elstner, the incoming managing director of Unifrance and sales veteran who previously headed Paris-based sales agent Doc & Film International. "There has to be a certain amount of films being produced so that you can get these little gems out."
The panel were asked what they believed cinema's place to be in the modern world.
"When you've got directors at the top of their game like Boon Joon Ho, he's making Parasite for cinema. He's not making it for a small screen. You've got to go to the cinema to get that full experience," Goodridge pointed out. "That's what cinema has over television. It has a language all of its own that television doesn't and filmmakers have to take advantage of that."