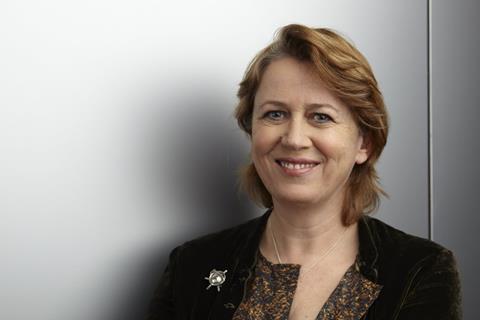 After Sue Bruce-Smith, Film4's deputy director, died on May 2 at the age of 62, Screen contacted some of her many former colleagues, collaborators and friends to remember Sue.
In addition to her two stints at Film4, Bruce-Smith had also previously worked at Palace Pictures, the BFI, BBC Worldwide and Little Bird.
Feel free to add your tribute in the comments section below the article.
Clio Barnard (director) and Tracy O'Riordan (producer)
We first had the pleasure of working with Sue on The Selfish Giant and she immediately struck us as a very experienced film executive with a sharp intellect, coupled with an incredible warmth and ability to put you at ease. It was great to have her championing our little independent film and calmly guiding us through the nerve-wracking wait following the first festival submission and being with us at each step of the way when the film went out into the world. Always there if you needed astute work advice or you just needed someone to listen to you when things were tough going. Sue will be hugely missed in our industry and as a friend. Our thoughts are with her family in Dublin.
Clare Binns, Picturehouse
It's very sad to be having to look back on the life of Sue, my friend for so many years. Whenever we met, at a festival, conference, or a business meeting, I would see her face and I felt good. She lit up a room. We often had to do a deal, on a film or project, or I would be ringing her up using her knowledge and advice to help me do my job. What I know about her is that she loved the business we are in. She would always do the best for her films, for the directors, the producers and writers she worked with. Always fighting their corner, not for selfish reasons but for the film, so it would reach the biggest audience it could, without losing the film and the filmmakers' integrity. For independent film she was a fervent advocate for unique voices. I cannot imagine the world without her positive, truthful and passionate voice. It's up to us to carry on her love of the art of cinema- I certainly will hear her voice telling me to do better and be bolder in the job I do.
Meroë Candy, worked with Sue on the Wellcome Screenwriting Fellowship
At first, I was really intimidated when I realised I would be working with Sue - she was such an industry legend. But in our first conversation and from then on, she made me feel completely relaxed and valued. She was so generous and unassuming with her advice. The first thing she asked me when I told her I was setting up an independent company, was 'How can I help?' I am forever grateful for her kindness and to have spent time with her.
John Cooper, director emeritus, Sundance Film Festival
Quite simply Sue was one of the good ones. Good to people, great at her job and it was always a good time for those of us who had the honor to spend time with her. She will be deeply missed.
Peter Buckingham, former colleague at Film4
Forty years of admiring Sue. The first word that comes to mind - admiration. Others fast tumble in. Words such as warmth, intelligence, care, kindness, humility, humanity and passion. Passion - that last one is important. She carried such a passion for storytelling and filmmaking, which translated into the incredible support she gave to so many filmmakers. To allow their stories to be told and heard. She covered the creation of films and the hugely important task of getting them to an audience. She did this always so beautifully. And always with humanity. A rare person. She will be terribly missed.
Katherine Butler, The Ink Factory, and former colleague from Film4
I had the privilege to work with Sue for nine years at Film4. She was the glue that bonded the entire Film4 team together, past and present. She cared deeply for everyone in the team, she nurtured and grew us all and her compassion made us all better people. She was loved and respected by everyone in the industry right across the world – you could never walk down the Croisette at Cannes with Sue and think you were going to get anywhere quickly because she would be greeted by people who wanted to say hello every three steps. And she would stop and chat with each and every one!
She was a fair but fearsome negotiator, but always came out the other side of those negotiations with everyone's respect and admiration no matter which side they were on. Like me, she had a terrible sense of direction and punctuality, so when the two of us were left to it we usually ended up lost and late, but laughing hysterically together. She had amazing creative instincts but was often too modest to express them, so you had to pull those thoughts out of her – and they were always right. She was the wisest person I know and I miss her horribly. I send love to all who knew her and especially to her family.
Mike Downey, producer Film and Music Entertainment Group & chairman of European Film Academy
Sue Bruce-Smith's contribution to British, European and world cinema was immeasurable. Over a 30-year-long career the litany of successful films she was involved in, went hand in glove with the respect and love that was felt for her by the vast array of global talent who had the inordinate privilege of working with her and had the massive advantage of her 'touch' on their projects. Knowing Sue from her days as head of sales back at the British Film Institute, I was always struck by her honesty, compassionate forthrightness and willingness to give her time to advise (it was always good), read (incisively), or just chew the fat (creatively), character traits that never changed or wavered over the years however high she rose. Generous and loyal to a fault, sharp as a tack, her skills ran the whole gamut from world sales to finance from production to marketing, and from finance to distribution. She represented the very best of us and of our film business, and if the torrent of grief that has already appeared on various social media outlets is anything to go by, it is clear that her loss will resonate throughout the industry for some long time to come.
Rose Garnett, head of BBC Films (former colleague of Sue's at Film4)
It's hard to write about Sue because she was modest and private, but also because she was so many things to so many people. Everybody loved her -walking with her at a festival was a masterclass, as people ran to greet her she knew not just what films they had but also the names of their loved ones and children. Funny, clever, loving, optimistic, realistic, generous, honest, creative, thoughtful and very kind (but not soft). She was brilliant at living. She was the best partner in crime, the best teacher and the best confidante. She taught me that making a great film was a holistic process - that every stage mattered, from the right financing to dynamic distribution. The films Sue made happen are her public legacy, but my memories of Sue are as an incomparable colleague, a stupendous friend and the most marvellous partner and mother.
Sarah Gavron (director) and Faye Ward (producer)
We feel so lucky that we got to work with Sue on our projects. Even when she was very unwell in recent months, she wrote us full, inspiring emails about our latest film, Rocks. She was the consistent, calm voice on the phone when a film hit a terrifying, rough patch - somehow she would always help navigate a way forward. She would stop at nothing to get films made, would give advice generously and was the friend you wanted to hang out with at film festivals and events. Sue has passed on her wisdom and nurtured so many, that her imprint will remain on UK film for years to come.
Mike Goodridge, producer, former CEO of Protagonist and former editor of Screen International
I can't remember how I first got to know Sue. When I was a journalist, it feels like she was always there as a warm, intelligent and friendly presence at festivals, and at festival dinners. It was she who approached me first about throwing my hat into the ring for the CEO role at Protagonist, and she overcame my nerves about entering a field I had previously only written about. She, of course, had spent years in international sales herself, and assured me that I would have the support to learn and make the job my own. I owe her a great deal, and I suppose I shouldn't be surprised that many other people were beneficiaries of the same wisdom and encouragement from her across the industry. Of her many qualities, her gift of problem-solving was the most inspiring to me. Whenever I needed advice on a thorny issue I had to tackle, I would call her and we would talk the issue through to a logical solution. Thank you for everything, Sue.
Ed Guiney, producer, Element Pictures
Sue was hugely regarded and loved by so many of us who work at Element. She was a brilliant collaborator, a wise confidante and mentor, and one of our very closest friends in the industry. We made over 10 films with her and shared many memorable meals and screenings and celebrations. What is truly extraordinary is that so many other people share a similar experience of her – it's an unfathomable, superhuman quality to have made so much of a positive impact on so many. We will miss her terribly. RIP.
Amy Gustin and Deena Wallace, BIFA
Sue was a staunch ally of BIFA. She was kind, insightful and gave of her time and expertise generously. As a member of our events committee, she was at the heart of the creation of our events aimed at supporting talented new filmmakers and especially of our emerging female talent dinner, which she hosted in 2017. Sue pushed us to make the most of our awards' potential (and to make the food better, in which respect I fear we let her down). As we've continued building on our support for emerging filmmakers in the British film industry, Sue has been our inspiration: we want to create something that is a bit like her, full of wisdom and knowledge, there when you need advice and supporting you every step of the way. If we can, we'll capture a little bit of how much fun she was as well - she was always the person we made a beeline for at intimidating networking dos. She was always a pleasure to be with because of the joy she took in life, in her work and in the people she worked with. We will miss her enormously.
Briony Hanson, British Council
Back in another era, when I was a junior programmer at Tyneside Cinema, it was my job to 'call London' to see if I could secure titles for the cinema's festival, a task I loathed, mainly because of the complete indifference from 'London' to our little regional event. Finding my way to Sue, then at BFI, was a revelation; she took my call, answered with enthusiasm, helped where she could and treated me, inexplicably, like an equal. Years later, when I finally met her face to face, the fact that she remembered me with such enthusiasm, just made me feel head and shoulders taller. Getting to know her since and working together on projects like our Cannes GREAT 8 showcase, made me value her even more as someone respectful, smart, funny and really kind. Now she's gone we should probably all 'be more Sue'.
Pippa Harris, producer at Neal Street Productions and chair of BAFTA
Sue was a hugely talented and much loved film executive and our thoughts are with Hugo, Tom, Ruby and all her family at this terribly sad time. Sue battled her illness in the way she had always lived life, with strength, good humour, tenacity, and patience. Her contribution to the UK film industry, and especially to Film Four and to independent film-making was immense, which is why we chose her as the recipient of a BAFTA Special Award last year. All of us at BAFTA have lost a highly respected colleague and a beloved friend.
Sandra Hebron, NFTS and former LFF artistic director
Sue's warmth, kindness and good counsel sustained and supported me for many years, as they did for so many. She embraced and encouraged, was universally liked and respected - as significant a legacy as the many films and filmmakers she coaxed into being. I loved and admired her: she modelled sanity and good behaviour, and was funny with it. Smart, knowledgeable, curious - she was not only unfailingly fair in all my festival dealings with her, but also wonderful company. She loved and understood the world of film; even more precious, she loved and understood people. Losing Sue feels so sad and unfair; my heart goes out to her family.
Mark Herbert, co-CEO, Warp Films
If it wasn't for Sue there would be no Warp Films. Early in my career, I thought I knew how to make a film but had no idea how to finance one. So Sue took me under her wing and gave her valuable time to educate and introduce me to funders, sales agents and distributors. She was an absolutely amazing person to be around at festivals, working tirelessly to get films off the ground then great fun to be around at night for a well-earned drink, you could spot that kind smile from afar. Her care and passion for films have helped launch so many great careers. She is a genuine legend of the British film industry and will be sorely missed. Thinking of her family at this truly sad time.
Anna Higgs, head of entertainment, Northern Europe, Facebook
Working with Sue at Film4 will always be a career highlight. I realise now that she was so much the driving force behind the innovation remit I joined to deliver, and her passion for exploring new ways of working to ensure the future of the artform she loved so much was the foundation for any success we had. Whether it be taking risks with completely new release patterns on A Field In England, or new forms of storytelling around a film on Frank, she was there to support, challenge, negotiate and stretch. Like only the best leaders, she trusted and empowered those around her in such a way that you ended up doing more than you'd ever hoped and her genius was to help you take that experience and plough it into the next adventure.
When I left Film4 we'd catch up over dinners at the Union Club and her sparkling wit, insight and general genius was wonderful to be around, but sitting with her as dozens of other industry figures dropped by the table to say hello, share a bit of intel or thank her for something was a total joy. That's because it was the real mark of how her impact was not just industry-wide thanks to her remarkable professionalism, but truly deep thanks to who she was and her personal connection with her colleagues. An all too rare combination that is why she leaves such a brilliant legacy, but will be so sadly missed.
Katie Holly, producer, Blinder Films
Sue was such a warm, supportive and brilliant person. Soon after Blinder Films was established she was the external assessor on the Irish Film Board's MPD (slate) funding scheme - despite being so new we secured funding that was transformational for us as a company, and following that Sue reached out to offer praise and encouragement. I was really touched, and she continued since then to check in from time to time, offering introductions, advice, making sure I was coming to the Cannes party to catch up. Her interest gave me confidence. She was so generous with her knowledge and wisdom, and such a lovely person to boot. I really respected and admired her. She will be missed.
Kate Hughes, FOCUS and former colleague of Sue's at Film4 and London Film School
Sue was extraordinary. My memories of her since I first met her when she was an incredibly wise and supportive advisor to the Piccadilly Film Festival, and then a colleague at Film Four, are filled with an overwhelming sense of her strength, deep humanity, humour, compassion and creativity. Thirty years ago we went on a horseriding trip together in the Blue Mountains. The usual route was cut off. It was getting dark and a filmmaker and I, who were very inexperienced riders, were panicking when we had to retrace our steps and the horses were protesting. Sue immediately took charge, calmed us down and remained absolutely rock solid throughout. She got us safely home. That was definitely Sue's speciality.
Tabitha Jackson, director, Sundance Film Festival
Gracious, kind, self-deprecating, generous, consummately professional, widely loved, absolutely irreplaceable. Safe journey, friend.
Zygi Kamasa, CEO, Lionsgate UK
Such incredibly sad news both personally and for those who knew her well, but also a huge loss for the British film industry. Sue was such a charming and intelligent human being, and equally an incredibly passionate supporter of British independent film. She will be missed by many, and our thoughts and prayers go out to her family at this time.
Asif Kapadia, filmmaker
I heard the sad news of the death of Sue Bruce-Smith over the weekend. Sue was one of the constants at Film4 over the years. I first met her while making my debut feature The Warrior, she was really supportive even though we were trying to push the idea of what a British film could be. She was there when I made Far North, she asked me to make a short film, The Odyssey for the 2012 London Olympics. Finally she was a real supporter of Amy, backing the film from the initial idea stage. Sue was such an important person within the U.K. film industry and she was genuinely one of the good people in the business.
Philip Knatchbull, CEO, Curzon
Sue was an inspirational figure in the independent film world both for people behind the camera and in front. Her intelligence, straight talking and common sense made working on projects with her both easier and more fun. In a difficult business with many stresses and strains she was a constant breath of fresh air who so many people looked up to and wanted to emulate.
Kate Leys, script editor
Sue runs through my whole life in British film, years of films, filmmakers, festivals, cinemas and parties. She runs through all of ours; if you could track her influence you'd find it everywhere. She was superb: so generous that she was literally generous with everyone, and so calm and focused that she became the cornerstone of everywhere she went. She was wry and funny. It was my secret pleasure to make her laugh but I daresay I'm not the only one, she just made me feel that way. Andfor someone with such a big heart she was also clear sighted and decisive - ruthless even, she might laugh at that. She was someone whose approval you longed for, and then always somehow got. When I first heard she was ill she told me that she looked like hell. I told her that in my head she'd always be drinking champagne at the Film4 pre-Cannes party wearing the superb '50s style dress I'd seen her in only weeks before. She approved of that.
Charles McDonald, publicist
I have such happy memories of collaborations with the remarkable SBS over the years. She was insightful, energetic, kind, generous, passionate, loyal - you just really wanted to put every ounce of energy and commitment into working with her. Sue was always warm and encouraging, never an executive automaton. Thank you, Sue. I shall miss her hugely.
Roger Michell, filmmaker
Sue, in glorious contrast to the classic film-exec type, was warm, quiet, clever, self-effacing, smart and usually wreathed in smiles. She worked on my very first film Persuasion when I knew even less about anything than I do now and was so helpful and kind. We'll all miss her.
Amanda Nevill, former CEO, BFI
Paris was a special liberated place to study back in the late seventies. We both studied in Paris, just 10 years after '68, And secretly hoped to rediscover some of the spirit of revolution. She was sophisticated, full of energy and spent the money she didn't have on crisp linen striped shirts which were a sort of addiction. I reencountered her at the BFI marvelling at what she had already achieved and then watched and learned from her way of doing things, straight, honest, full of integrity and laced with a kindness kindled by her love of creative people and an innate understanding of their challenges.
Bridget Pedgrift, BFI, former colleague of Sue's at Film4
Sue was a one-off. One of the good guys. The kind of person who makes a difference to your life. She cared. Always the voice of reason - but with a wicked sense of humour. And never one to back down from a good argument…She had a knack of being there for you with timely wise words, comfort and support. A rare skill. Such empathy. She got me back on my feet when my father died. And later, it was she who persuaded me back into the industry after a six-year break. When I close my eyes and picture Sue, etched into my memory are images of her striding purposefully down the street or along a corridor at a pace others found hard to keep up with - head down, always running late, juggling so many balls. A human dynamo, - but with such compassion. She was so many things to me over the years - friend, confidante, counsellor, colleague, boss. And to her family so much more. I will miss her.
Danny Perkins, Elysian Film Group and former CEO of StudioCanal UK
This is terribly sad new because Sue was such a wonderful person and my heart goes out to her family at this time. I was fortunate enough to work with Sue on a number of projects over the years and she always brought a huge amount of understanding and experience to each of them. She reacted to good news and bad in the same measured manner and cared tremendously for each film, each release and everyone involved. Genuinely warm and truly wise, she was an exemplary colleague. Sue will be hugely missed by the entire industry.
Lynne Ramsay, filmmaker
So very, very sad.I wish I had known Sue more.Whenever I met her, she was smart, funny and supportive.I mostly remember having a laugh with her at some stuffy Cannes event we didn't want to be at…Sue was passionate about film and helped numerous filmmakers realise their work with genuine care for each project she fostered. You always felt in safe hands.It's devastating to think of not having Sue around.
Tessa Ross, House Productions, former colleague at Film4
Sue was an exceptional person and she will have a lasting legacy because she touched so many lives for the better. She became instantly invested in the people she worked with and so brought friendship as well as expertise to the work. Making independent film is hard but Sue wore it lightly, despite her extraordinary dedication and she did it all with huge energy and fun alongside her great common sense. She loved people and they loved her back. I miss her. I am so lucky to have shared many years working with her, learning from her and benefitting from her warmth and grace.
Ben Roberts, CEO, BFI, who also worked with Sue at Protagonist
Sue was a gentle force of nature, and we will all feel her loss. She was everything good about our film community. She was there for me whenever I needed her. She gave great business advice, she cared about every detail, she did everything with passion. I owe her a huge debt and will miss her no end.
Bill Stephens, former director of Film Four International
I knew Sue for many years and worked with her briefly at Film Four in the latter part of the '90s. She was a delight to know and a delight to work with. Once known never forgotten. She was always straight as an arrow in all things and managed to create a relaxed environment in whatever sphere she found herself. She was universally loved and trusted by everyone and in this life that's a rarity. She will always be remembered by those who knew her as a wonderful human being and the world is a poorer place for her loss. God bless and keep her.
Clare Stewart, former artistic director BFI LFF
Vale Sue Bruce-Smith. A true guardian – protector and defender – of cinema. A great believer in film, a champion of filmmakers (especially new talent), a bloody hard worker, generous to a fault and someone who always had your back (even when you didn't know you needed it). When I arrived in the UK to head up the BFI's festivals and cinemas, Sue was quick to support, a proper sounding-board for ideas and a connector for me with an industry I had to get to know rapidly in order to do my job. In the meeting room, she was passionate, straight-up and strategic about Film4 and every one of its films; in the corridor (or more accurately, while waiting for the lift after meetings) she was personal and supportive; at industry receptions, she was fun, and a tiny bit wicked.
My last outing with Sue was during LFF last year. Sue, Lizzie Francke and I skived off after bumping into each other at an industry talk. We headed to Maison Bertaux on Greek Street for tea and cake. It was a magical, unplanned festival moment (the kind I could never have while running the LFF), not least because of how good the cake was. We talked books, films, the importance of the NHS and the perspective that comes with illness. I was open with her about how hard it was to step back and be a punter at the festival (at the same time as loving the freedom of it) and we talked some more about letting go. Sue was working it out then – the letting go bit – something I am sure she achieved, in her usual way, with grace, humour and a good dose of ferocity. Sending all the love to her family and friends (and her industry colleagues, who felt like they were both).
Alison Thompson, Cornerstone
An industry leader of her generation, Sue had a combination of rare qualities as mediator, mentor, savvy negotiator, listener and brilliant communicator, with the ability to connect to all kinds of people from interns to world renowned filmmakers. She helped the careers of so many. Often people like Sue don't get the recognition they deserve, but Sue was so extraordinarily good it was impossible to hide her light. She will leave a big hole in so many lives.
David Thompson, producer and former head of BBC Films
Sue was an amazing champion of independent film, so bold and supportive and nurturing of so many different talents. She really was a cornerstone of the whole industry. She will be sorely missed not just for her knowledge and professional skills, but also for her kindness and big heart and generous spirit. So many people owe so much to her.
Tricia Tuttle, artistic director, BFI London Film Fesitval
Anyone in the industry who has worked with Film4 has worked with Sue Bruce-Smith; she was everywhere. And she would be that same warm, gracious person whether you were an assistant or a festival director. I remember her kindness in my early years in the industry, at London Film Festival then at The Script Factory. When I made a mistake, she was unwaveringly gentle. When I felt invisible, she knew my name. And called me by it when she said hello. I know so many other people received that kind of welcome to industry from Sue too.
But being nice alone won't get you to the very top of the industry. Films Sue worked on have been fundamental to the success of BFI London Film Festival over the years years, and have opened and closed so many editions in the last decade under three festival directors: Mark Romanek's Never Let Me Go, Danny Boyle's 127 Hours, Terence Davies' The Deep Blue Sea, Sarah Gavron's Suffragette, Martin McDonagh's Three Billboards Outside of Ebbing, Missouri, Ben Wheatley's Free Fire, Steve McQueen's Widows, Armando Iannucci's The Personal History of David Copperfield. And seeing up close how beloved Sue was by the filmmakers she worked with says so much about the quality of her work. Kind and bloody brilliant. Sue Bruce-Smith was the whole package.
Paul Webster, producer, Shoebox Films, and former colleague of Sue's at Film4
The headlines say Sue was an 'industry titan'. I prefer to think of other qualities; her strength in adversity, the ease and comfort she spread. She was warm, gentle, funny and kind. A subtle operator, a pleasure to be with. But then again the headlines also say she was 'much loved' and I say yes, that's about right.
Stephen Woolley, producer, Number 9 Films and former colleague at Palace Pictures
Of course my memories of Sue are more recent than the halcyon days of Palace in the '80s. My producing partner Elizabeth Karlsen and I worked closely with Sue during her long stint at Film4 From The Actors through to Carol with half a dozen movies on the way. Sue was a joy to collaborate with. It felt like an unofficial reunion whenever we strategised our releases and working with Sue was like strolling in the sunshine in an industry where most of the time your ducking and diving in the dark shadows of uncertainty and paranoia.
Sue was, as everyone agrees refreshingly straight and honest, without an agenda and a natural peacemaker. Through the ups and downs of Film4's different commissioning editors (four I think), Sue remained a reliable and necessary constant, a rock in an often sea of turbulent change that is often the British film industry (we could definitely do with a few more of those rocks in the months to come.).
Although of course inevitably my most vivid mental recollections of Sue during this sad time do hark back to those Palace days.
On reflection, Sue was like the young girl in The Munsters, the sensible one that the rest think is odd. She was smart, straightforward, spoke many sentences without swearing and always had a smile and a laugh for every moment. Sue's job description was never fully clear to me. She worked with us all in different capacities and willingly took on tasks that we thought were either extraordinarily absurd or far too mundane. But she was never ever a pushover. She provided the sane voice in what must have sounded like the babble of overexcited idiots. I will always remember Sue often taking on Nik Powell at meetings during his more belligerent rants with the firm "Oh come on, Nik, that's not on" with her charming thousand-watt smile that even he couldn't run roughshod over. She put up with us all because she genuinely appreciated the movies we made and released and the crucial sense of independence that pervaded our success.
In a company bursting with youthful ambition and born out of punk defiance, Sue earned deep respect from all of us. She was so honest, charming, intelligent and unfashionably sincere she disarmed us……and others in the industry. A Palace secret weapon!
Whilst she will be so so sorely missed at Film4 many of us will cherish the memories of working with an ally with pragmatic common sense allied with an amazing sense of humour that allowed her to laugh and gently mock the sometimes ridiculous industry we all pursue, whilst loving it all the same.
James Mitchell, CEO & producer at Soho Moon (former colleague of Sue's at Little Bird)
When I first met Sue Bruce-Smith at Film Four sometime in the '90s, I was delighted with the outcome of our meeting and thought her quite mad – she had just agreed to put up an advance of $2 million for the Werner Herzog film I was putting together. I was right to be delighted and she wasn't mad at all – Film Four did handsomely and recouped their advance, not before Sue had good-naturedly agreed to Herzog'sinsistence on limiting the deal to a 20-year term, because he intended(may still intend) at the end of his career, to own all his films and to edit them into one.
We got lucky. I learned, by chance, that Sue wanted to give her two children an opportunity to live in Ireland and get to know their Irish family better. I was running Little Bird at the time and I made Sue an offer, once again hardly believing that she had accepted. We ended up as the three-year gap in her time at Film Four, but in that time she contributed enormously, not only in terms of business and making us more business-like, but in spreading goodwill and forging friendships that endured. She was much loved and will be greatly missed. Former colleagues Jonathan Kelly, Karen O'Malley, and Donna Walsh join me in sending all our good wishes to Hugo and to Tom and Ruby, who stayed in Ireland and have made the very best of it.
Jane Doolan, worked with Sue at Little Bird's distribution company Clarence Pictures
I came to know Sue over the years I worked with her as a colleague whilst distributing Film Four titles in the '90s in Ireland with Clarence Pictures. Our friendship endured and I will miss her wise counsel, the introductions she didn't have to make, and endless encouragement, but it is the grabbed moments together I will cherish most – another commuting (by air) working mother, sharing our stories,her pride in Ruby and Tom, the many laughs, but above all else, her loving kindness. Ar Dheis Dé go raibh a hanam.
From social media
Lenny Abrahamson, filmmaker
Sue Bruce-Smith is such a huge loss to the film industries of these islands. Such insight and goodness and strength. A beautiful person who I was privileged to work with. Rest in peace, Sue.
Altitude Films
Very sad to hear of Sue Bruce-Smith's passing. She was a true champion of independent film whose support for emerging and established filmmakers alike knew no bounds. She was one of us, and she will be dearly missed by all.
John Battsek, producer, Passion Pictures (former colleague at Palace)
This is just desperately sad. You will not find a single person who has anything negative to say about Sue. Just an absolutely lovely, kind, caring, talented, funny, gorgeous human being. Was always so kind to me. Will never ever forget her.
Arianna Bocco, IFC Films
I'm truly gutted by the loss of this amazing woman and lucky to feel like I knew her both personally and professionally. She was the smartest and kindest woman and someone who gave genuine encouragement and support to so many. I will miss our meetings and chats under the trees at the Film 4 villa in Cannes. My condolences to the Film 4 family and to Sue's friends and family. I will always remember Sue fondly.
Iain Forsyth & Jane Pollard, filmmakers
Heartbroken. Sue Bruce-Smith was one of the most significant, persuasive, shrewd, witty, kind and yet utterly humble people in the industry. She held our hands when we were shaking with nerves and cut through the bullshit to make things happen. Our thoughts are with her family.
Eve Gabereau, Modern Films
She was so kind and thoughtful, a great producer and supporter of film, open to ideas and always listening but also had her own seemingly endless inner resources and great experience that she was happy to share. And mostly, she was a lot of fun – as we all know, especially over a plate of pasta at Cannes. I loved the way she made immediate connections between people too.
From my early days in the industry she helped me out in so many ways, from some work I did in Dublin to many collaborations on Film4 releases, and, more recently, on to co-producing, and this continued all the way to the end. Even when I last saw her at the London Film Festival in October, she introduced me to some of the opening night film talent because she thought we would have a lot to talk about. Thoughts and love to all who knew her and were affected by her beauty, intelligence and strength. What a truly wonderful person she was and will shine on to be through her lasting legacy… Missing her already, and feeling (almost) ready to be a baton bearer of her fighting spirit.
Nick James, writer and former editor of Sight & Sound
I knew Sue Bruce-Smith more as an occasional friend than a colleague, someone I loved to see in a film biz context, knowing we could talk about our families instead of work, but I knew how brilliant and encouraging she was. Always upbeat, always out to solve any problem.
David Linde, Participant
Do you ever aspire to be like someone? To represent to your colleagues the highest level of intelligence, commitment, savvy and compassion? Sue Bruce-Smith was a shining example of how and why wonderful things happen in collaborating around this amazing art form, film. While she was a bedrock at Film4, at my various stops, she taught me a ton about how things are done the best way possible, the right way and to the best ends possible. RIP, Sue. You will be remembered and celebrated, forever.
Hamish Moseley, MD, Altitude Films
Rest in power Sue Bruce-Smith. What an amazing person. An inspiration and enabler. A crucial cog in the film industry machine for so long
Caroline Norbury, CEO of Creative Industries Federation
Always kind, always interested in new voices and always committed to public service; Sue was very simply a lovely person who will be much missed.
Amy O'Hara, BFI Network
Sue gave me a chance, taught me you could be the smartest, most 'powerful' person in the room & also the kindest. She led me to some of my best friends. Her insight, taste & ability to spot a team gift in the Oliver Bonas sale were second to none.
Roman Paul, producer, Razor Films
Sue has left us. What stays is immense sadness and an immense warmth, a beautiful friend and professional always on top of her game, a colleague who made you feel that you belonged regardless. Beautifully encouraging from the beginning, good laughs, always interesting to talk to - I could go on and on only to prove that she is irreplaceable … not only Cannes will never be the same - it was a fixture to come to the Film4 villa to catch up. She was there from my first days in the business, and now she has moved on. Sue, I hope you are off to a really good after-party. And as strange as it might sound - there is something to look forward to on the other side: to somehow meet again. Bisoux, my dear, your departure leaves holes in our hearts but I don't think that you would like this as the only thing - how about you leave the feeling of a hug, and that your infectious smile inscribed itself indelibly in our memories.
Nick Rowland, filmmaker
Terribly sad news. Sue was such a huge support to so many in the industry and a kind, welcoming person. I am so grateful for the support and guidance she generously provided when we made our film. She will be greatly missed.
Screen Ireland
Sue was a passionate advocate of independent cinema throughout her distinguished career and many Irish filmmakers benefited from her generous advice and support…Her passing is a huge loss to the Irish and UK film industry and independent filmmakers. Our thoughts are with her family and friends at this time.
Jack Thorne, writer
Sue Bruce-Smith was one of the great ones. A truly special person with a brilliant script head, who was a consistent passionate advocate for the weirdest and most wonderful films. This is a very sad day.
Robert Walak, Focus Features
She was the gold standard of executives and a guiding light in my career, having worked with her across a number of my favorite movies at Momentum, TWC and Focus. In a tough spot, you'd ask yourself 'what would Sue Bruce-Smith do?' and the answer would be act with honesty and integrity. She had superlative taste and judgment with films and a passion for why they needed to be made. It was always a pleasure to spend time with her and I'll miss her sense of humour. Many fond memories of laughing with her in the corners of industry events. You will be missed, you wonderful lady.
Susan Wrubel, Aspen Film
The film industry has lost one of its best and brightest. Sue was one of the first executives I met when I began traveling to film festivals in 1996. She was so kind, nurturing and understanding of the fact that I was newish to the business. We developed a lovely relationship and no matter that we never did a huge amount of business together, she was always encouraging, supportive and some sort of mentress. Sue was one of the wonderful ones. May her memory be a blessing. RIP dear lady. You will be missed by so many of us whose lives you touched. My heart goes out to her family. There's one less star in the sky tonight.
Alexandra Rossi, producer
Really struggling with the news about Sue, am completely heartbroken but comforted by all your beautiful words and memories.
When I moved to London in 1998, I was so excited but it was also so scary. Sue invited me for dinner the first night I arrived when I was thinking "oh my, what am I doing here?". It was so lovely and so sweet and I felt welcomed in this new big city. And she took care of me all the years after. She always had a kind word, an encouragement, a good piece of advice. I went through something quite difficult while Sue was sick and she was always making sure I was ok. She was generous and so comforting. I hope she felt we all loved her so much. She was a wonderful human being and as an executive, a real trailblazer and an inspiration. In time I hope I will come to terms with what has happened but for now, I keep asking myself why Sue? why Sue? why Sue?
Peter Carlton, Warp Films
Still trying to absorb the news of Sue Bruce-Smith's passing. Of course we all knew it was coming at some time - it will of course come to us all at some time. But somehow I never quite believed this illness wouldn't be another thing that Sue would find a way to make work. She was the master at making everything work. If there was a way, Sue would find it. So many fabulous memories of her, so loved by so many. She was the perfect partner in crime, such a brilliant team player, such an enabler of creative talents. Sue never pushed herself to the fore but was such a rock, such a wit, such a wicked spirit to play alongside. Sue just always made things better wherever she was. Long may you continue to do that, Sue, wherever your journey now takes you.
Rachel Robey, Wellington Films
Sue was a fantastic woman - so generous, supportive, funny, and of course brilliant. She went out of her way to help Al Clark and me over the years, and advised when it was well outside of her remit - she always made us feel as though she had time for us when she was one of the busiest people in the industry. We have lost another of the good ones, and we'll miss her. Rest well, Sue xxx
Feel free to add your tribute in the comments section below.