EXCLUSIVE: German sales company Films Boutique has snapped up world rights to several new titles.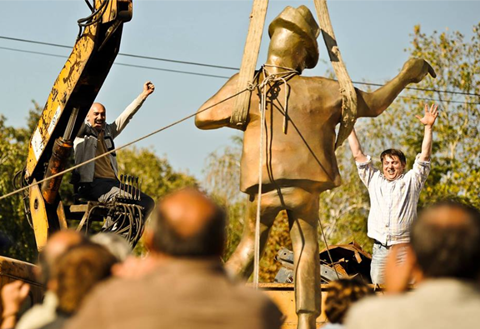 Here at the Cannes market, the company is unveiling Monument To Michael Jackson, which will have a closed screening for buyers.
Directed by Darko Lungulov, the bittersweet comedy is set in a dying town in Serbia, where daydreamer Marko is on the verge of divorce from the love of his life.
When an old communist-era monument is removed front he Main Square, he comes up with the idea to build a monument to Michael Jackson in order to save his town and seduce his wife again. But the town's mayor has his own plans.
During the festival, Films Boutique will also be introducing buyers to Directors' Fornight title Next To Her, the debut feature by Asaf Korman who worked as editor on The Slut by Hagar Ben Asher. The film stars Dana Ivgy and Liron Ben-Shlush.
Based on autobiographical events, Next To Her tells the story of a young girl raising her mentally disabled sister alone.
Films Boutique CEO Jean Christophe Simon said: "Next To Her s a very moving director-driven film. The film depicts the very special relationship that binds a girl with her disabled sister and the way their relationship changes when they are forced to accept new people between them. It's a heartwarming story but also the discovery of a very talented filmmaker."
Also showing to buyers is Texan thriller Two Step, the debut from US filmmaker Alex R. Johnson. This screens in the Marché following its premiere at SXSW.
Another new pick-up is Halfway, the new feature from Belgian director Geoffrey Enthoven, which will receive its market premiere and will feautre in a closed screening for buyers only.
This is Enthoven's follow-up to his box-office and critical hit Hasta la Vista, which was sold by Films Boutique to more than 40 territories.
Halfway has been doing brisk business at the Belgian box office and is likely to be given an international premiere at an autumn festival.
Films Boutique is also selling Patchwork Family by Pascal Rabaté , which will receive its market premiere and will feautre in a closed screening for buyers only.. This stars Sami Bouajila, Isabelle Carré, Daniel Prévost and Gustave Kervern. It will be released by Ad Vitam Distribution in France on the July 9 on between 150 to 200 screens.