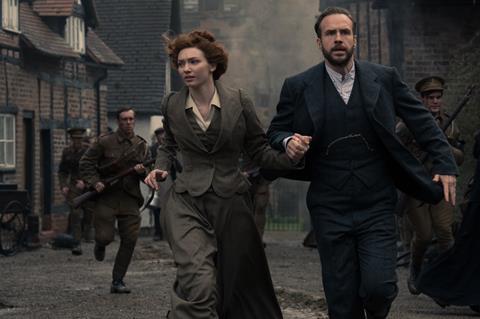 Filming has begun in Liverpool on BBC One's The War Of The Worlds, starring Eleanor Tomlinson (Poldark) and Rafe Spall (Jurassic World: Fallen Kingdom).
The three-part drama is produced by Mammoth Screen and adapted by Peter Harness (Wallander).
It is the first UK TV adaptation of HG Wells' 1898 sci-fi novel, following Steven Spielberg's 2005 film version starring Tom Cruise.
Set in Edwardian England, the series follows Amy (Tomlinson) and partner George (Spall) as they try to defy both the prejudices of society and an alien invasion to start a life together. Also in the cast are Rupert Graves (Sherlock) as George's elder brother Frederick, and Robert Carlyle (T2: Trainspotting) as astronomer Ogilvy.
The drama is being directed by Craig Viveiros (And Then There Were None) and is produced by Betsan Morris Evans (The City In The City). Executive producers are Damien Timmer, Preethi Mavahalli, Peter Harness and Craig Viveiros for Mammoth Screen, and Tommy Bulfin for the BBC.
ITV Studios Global Entertainment is handling international sales.