The first-look international trailer for Rei Cine's upcoming Venice Critics' Week and San Sebastin Horizontes Latinos selection Hunting Season (Temporada De Caza) is now live.
Argentinian filmmaker Natalia Garagiola makes her feature directorial debut on the Argentina-US-Germany-France-Qatar co-production from Rei Cine, Gamechanger Films, Augenschein Filmproduktion, and Les Films de l'Étranger.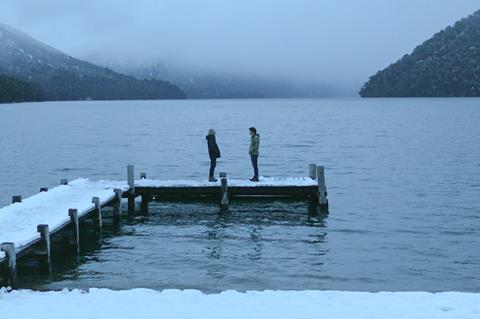 Hunting Season marks the first time New York-based Gamechanger Films has co-financed a film outside the US. Lautaro Bettoni, Germán Palacios, Boy Olmi, and Rita Pauls star in the story about a respected hunting guide whose life with his new family in Patagonia changes when he is forced to take in his estranged teenage son following the death of his first wife.
The man struggles to get along with his son, who displays violent outbursts. Without any sympathy from his new family, the hunter and teenager move towards forgiveness in the wilds of nature.
Santiago Gallelli, Matías Roveda, Benjamin Domenech, and Gonzalo Tobal served as producers. The executive producer roster includes Julie Parker Benello, Dan Cogan, Geralyn Dreyfous, Wendy Ettinger, and Philipp Stendebach.
Mynette Louie, Jonas Katzenstein, Maximilian Leo, Catharina Schreckenberg, and Philippe Avril served as co-producers, and Abigail Disney and Regina K. Scully are the co-executive producers.
Garagiola has written and directed three short-films: RincóN De LóPez (2011); Cannes Critics' Week 2012 selection Mares And Parakeets (Yeguas Y Cotorras); and Sundays, which premiered in Cannes Directors' Fortnight 2014 as a part of the Nordic Factory. She is currently writing her second feature.
Hunting Season opens in Argentina on September 14 through CineTren and an Argentinian version of the trailer will go online this week.
The production is supported by INCAA, the Torino Film Lab (Production Award), the Doha Film Institute, the World Cinema Fund, Strasbourg Eurométropole, Mecenazgo Cultural – Buenos Aires Ciudad, Toulouse Cinéma en Construction, Buenos Aires Lab, Cannes Nordic Factory, Rotterdam Lab, BrLab, and TyPA.
France's Alpha Violet handles world sales and co-represents US rights with Gamechanger Films.