The first trailer for 'The Death Of Stalin', directed by In The Loop's Armando Iannucci has been released by UK and Ireland distributer eOne.
Based on graphic novel The Death Of Stalin by Fabien Nury and Thierry Robin, the drama is set in the days following the Russian leader's stroke in 1953 as team of ministers tussle for control.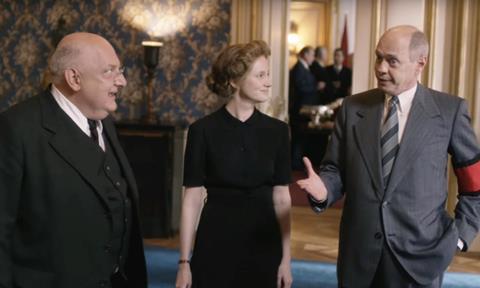 Steve Buscemi stars with Simon Russell Beale, Paddy Considine, Rupert Friend, Jason Isaacs, Olga Kurylenko, Michael Palin, Andrea Riseborough, Paul Whitehouse, Jeffrey Tambor and Adrian McLoughlin.
The script is written by Iannucci, David Schneider and Ian Martin, with additional material by Peter Fellows.
Filming took place in England and Ukraine in summer 2016.
French outfit Gaumont is handling sales on the title, and previously struck a deal for US rights with IFC.
The film is a Quad, Main Journey production, in co-production with Gaumont. Producers are Yann Zenou, Nicolas Duval-Adassovsky, Laurent Zeitoun and Kevin Loader.
Read more:
'The Death Of Stalin' to open Toronto Film Festival Platform programme