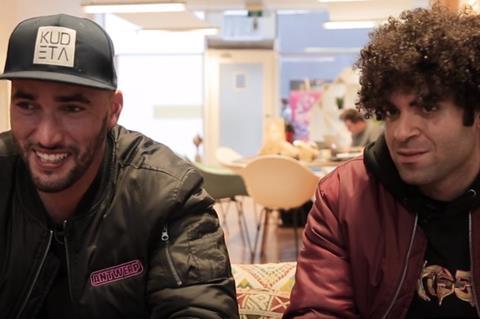 Koen Van Bockstal, the new CEO of the Flanders Audiovisual Fund (VAF), has unveiled details in Cannes of a new co-production treaty between Flanders and Jordan.
One Flemish Belgian film is already shooting in Jordan: Rebel, produced by Caviar. This is a coming-of-age story about a family torn apart over a little boy's future. It is directed by Adil El Arbi and Bilall Fallah (pictured), the filmmakers behind Bad Boys For Life – the top-grossing Hollywood film of last year. The VAF is one of the major investors in the project.
Van Bockstal is now looking to boost the position of gaming at the VAF. Funding for gaming is currently at €1.7m ($2m) per year but he is determined at least to double that amount and possibly to pump far more money than that into the sector.
"I want to develop it [gaming] as a third pillar," the VAF CEO said of plans to put the gaming sector on the same level as film and TV. "The gaming industry today is bigger than the film industry and the music industry combined. There's no way you can neglect it. If we are the fund for audiovisual production, with all due respect, gaming is part of that."
Over the last 20 years, young directors in the region have blossomed. Filmmakers from the Flemish new wave such as Felix van Groeningen, Fien Troch and Michael Roskam have won multiple international awards. The VAF boss is predicting that a fresh batch of directors are now ready to emulate their success, among them Anthony Nti, who won the Grand Prix at Clermont Ferrand with his short Good Night and is expected soon to make his feature debut.
There are also high hopes for The Melting, the directorial debut from Veerle Baetens, one of the biggest stars in Flanders. This is in pre-production and is being made through Bart Van Langendonck's Savage Film with support from both the VAF and the Netherlands Film Fund.
Van Bockstal comes into the VAF having worked in both the music and the arts; he was general manager of Sony BMG Music Entertainment and director of the Flanders Literature Fund.
The VAF is one of the supporters of Romanian-born, Belgian-based Teodora Ana Mihai's Mexican drug drama La Civil, screening in Un Certain Regard.