Fortissimo Films has added two Last Summer from Italy and Atlantic from the Netherlands to its Cannes slate.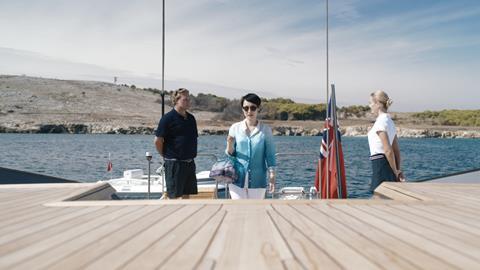 Fortissimo Films is to begin pre-sales at the Cannes market on Italian feature Last Summer and Dutch film Atlantic. Both are currently in post-production and slated for festival launches later this year.
Fortissimo will handle worldwide sales for both outside their respective countries of origin and will introduce the films to buyers during the Marche with exclusive footage.
Last Summer marks the feature debut of London-based Italian commercials and short film director Leonardo Guerra Seragnoli.
Starring Rinko Kikuchi (Babel), the English and Japanese language film also introduces child actor Ken Brady. Produced by Elda Ferri (Jean Vigo Italia), Luigi Musini (Cinemaundici) and Rai Cinema, the film was written by Seragnoli and Igort. Acclaimed Japanese writer Banana Yoshimoto is a contributing writer on the film.
The film is partially set on a luxury yacht anchored off the coast of Apulia where a troubled young woman, Naomi (Kikuchi) has four days to reconnect with her seemingly indifferent and unreachable young son (Brady) in order to leave a lasting memory before she loses custody of him forever. Surrounded by a hostile crew employed by her former father-in-law, Naomi must battle with them and her own inner demons to try and find closure with her son.
The deal was negotiated between Fortissimo MD Nelleke Driessen and producer Musini.
Atlantic is from independent Dutch producer Bero Beyer of Augustus Film (Paradise Now). Directed and written by Jan-Willem Van Ewijk, the film features a multi-national cast including Moroccan newcomer Fettah Lamara and Dutch star Thekla Reuten.
The Arabic and French language film was shot on the coast of Morocco and is a co-production between The Netherlands, Belgium and Germany. Co-producers include Marion Hansel (Man's Film Production), and Fabian Massah (Endorphine Productions) along with Propellor Film and NTR. Currently in post-production, the film is expected to have its festival premiere and commercial launch later this year.
The story centres on Fettah, a young man who lives in a Moroccan coastal village where every summer, hip Europeans come to windsurf and enjoy the relaxed lifestyle. Fettah is one of the locals who helps them and looks after their needs.
During one particularly summer, Fettah befriends Alexandra (Reuten), a European woman. When she leaves to go back home, he decides to embark on a treacherous and solitary windsurfing voyage to Europe.
The deal was negotiated between Fortissimo's MD Nelleke Driessen and producer Bero Beyer on behalf of the film and its investors and partners.
Fortissimo chairman Michael J. Werner said: "We're confident that with the tremendous stories and universal themes depicted in both films, our distributors will find the promo footage on both films to be appealing and motivating."