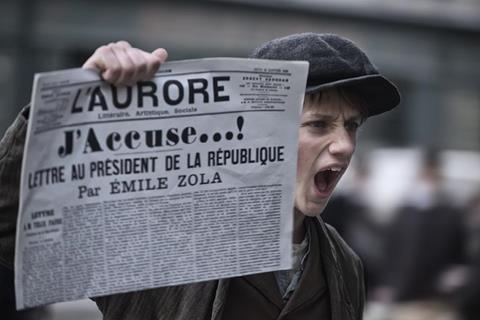 France's Academy of Cinema Arts and Sciences and the country's film industry came under fire on Wednesday after Roman Polanski's An Officer And A Spy topped the nominations list for the 45th edition of its César awards.
The period drama– about the infamous 19th century case of French-Jewish army officer Alfred Dreyfus who was wrongly convicted for spying - garnered nominations in 12 categories, including best film and best director.
The film's selection at Venice – where it won the grand jury prize – as well as its French release in November were mired in controversy linked to historic and fresh rape allegations against Polanski.
Most recently, the promotional campaign for the French release last November was sent into disarray by the publication of new rape accusations on the eve of its opening, prompting the film's stars Jean Dujardin and Louis Garrel to cancel all media appearances.
Polanski has denied the allegations.
This case combined with French actress Adèle Haenel's decision a few days later to go public with accusations that director Christophe Ruggia sexually assaulted her as a teenager served to reignite the #MeToo debate in France at the end of last year.
French feminists were quick to criticise Polanski's nomination haul on Wednesday.
"It shows that the cinema world has not taken on board the sexual violence suffered by children in France," prominent feminist Caroline De Haas told French media.
She criticised the César Academy for giving such "strong visibility" to Polanski, saying: "The César Academy is taking a moral position and has decided that criminality is not a problem."
César president Alain Terzian told French media it was not the Academy's role to take a moral position.
"1.5 million French people went to see the film, ask them," he was reported to have said when quizzed by local media.
By contrast, in the US the board of the Academy Of Motion Picture Arts And Sciences has expelled a number of members accused of sexual misconduct in light of the rise of the #MeToo movement, including Polanski, Bill Crosby and Harvey Weinstein, although it is not clear if this would bar their films from being accepted for consideration in the Oscar race.
De Haas, who is the founder of French feminism group Osez le Féminisme, which translates "Dare to be feminists", said its members would be protesting outside the Cesars awards ceremony on Feb 28.
It is not the first time the Academy has got into hot water in relation to Polanski.
In 2017, the body sparked a backlash when it invited Polanski to preside over the awards ceremony. Polanski turned down the offer a few days later in response to growing protests and a petition garnering 60,000 signatures. It remains to be seen whether Polanski will attend this year's ceremony with An Officer And A Spy.
The other question is whether Haenel, who is nominated in the best actress category for her performance in Céline Sciamma's Portrait Of A Lady On Fire, will attend if Polanski does. She has now become a standard bearer for female victims of sexual assault following her decision go public with her accusations against Ruggia.