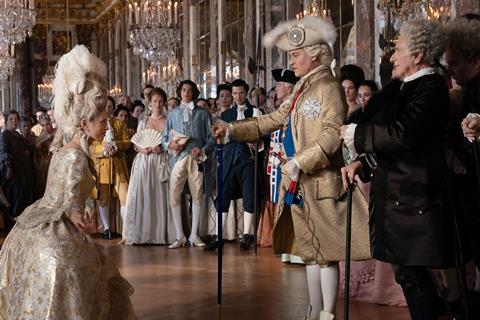 After playing catch-up with a surge in production in 2021 following delays and full national lockdowns in 2020, French production retained a sense of stability in 2022 but is still under pre-pandemic levels, according to an annual report from France's National Cinema Centre (CNC) released on Wednesday (March 29).
The figures showed a surge in production from US streamers and a rise in investment from international co-productions, signs of a giant shift in the filmmaking landscape in the country.
After film production skyrocketed by 43.5% year on year to 340 films made in 2021 compared to just 237 in 2020, France's film industry has continued its production pace with 287 films made in 2022, a return to its decade-long average, but still 13 films less than its 2017-2019 average.
The number of French majority productions dipped compared to pre-Covid years, but producers are making less for more. There were 208 French-initiated films in 2022, far less than the 233 films on average from 2017-2019, but more than the less than 200 films each year before 2010. However, the average budget of such French majority productions rose to €4.4m carried by big-budget titles including four films with budgets exceeding €20m:: Jeremy Zag's Miraculous: Le Film, Luc Besson's Dogman, Maiwenn's Jeanne du Barry and Dany Boon's La Vie Pour de Vrai.
Streamers shake up the scene and co-productions climb
The biggest change in the 2022 figures is the arrival of US streamers in the territory. Windowing laws require such streamers to invest in local production and, in addition to a surge in series, streamers continue to invest in local language features. In 2022, 17 films were pre-financed by streaming platforms compared to just one in 2021. Netflix dominated the field with eight films made for an average budget of €2.22m each, Prime Video followed with five films made for an average budget of €270,000 and Disney made four films with an average budget of €490,000
Total investment reached €1.18 bn, driven by a record number of co-productions that the CNC owes to "the end of pandemic restrictions" and thus, "an increase in foreign contributions." French investment was €898.5, a 6.2% dip from the 2017-2019 average, while foreign investment jumped 22.3% to €283.7m.
International co-productions hit a record high level of 144 films made over the year. Co-productions represented 50.2% of all films made in France in 2022, crossing the 50% mark for the first time since 2003. There were a record number of 79 minority co-productions. However, geographical diversity was down as France co-produced with 33 different countries in 2022 compared to 45 in 2021 and 39 on average over the last decade.
Films by female directors on the rise
76.4% of French majority productions were fiction films, with an average of €5.1m budget, a 7.6% jump compared to 2019. Animated films accounted for just seven of the 208 films made, but saw their average budgets jump 145.3% from 2019 to €14.5m and documentaries remained stable at 21% of the films made, an a slight 1.8% drop in average budget to €560,000.
Five films had budgets of over €7m. Producers' investments in production remained stable at 39.5% compared to the 2017-2019 average while broadcasters, longtime investors in French cinema, made up for 29.7% of funding, on par with 2017-2019 figures. Canal+ remains the biggest investor with €117.3m invested in French majority productions in 2022, representing 43.2 % of total broadcasting investment, the highest level since 2016. France Televisions' France 2 was the top investor among public channels, making up 14.6% of total investments in 2022.
The figures were also femme-forward with the CNC reporting that 69 films, one third of French- majority productions, were directed or co-directed by female filmmakers, "the highest in history."
The total number of shooting days was down, however, in line with the slight drop in number of overall productions compared to 2021's post-Covid catch-up. The number of total shooting days fell by 15.1% compared to the 2017-2019 average, to a total of 5,352 days. In particular, the number of shooting days abroad increased by 22.0% compared to 2021 to 1,216 days, but still below pre-pandemic levels of 1,436 days on average.
As always, investment in French film is contingent on ticket sales at movie theatres so as the country continues to recover at the box office, the resurgence should be reflected in production figures in the months and year ahead. The CNC's study focused on French majority productions and co-productions and does not take into account not-yet-released figures regarding foreign spend in the territory for international productions benefitting from its tax rebate for international productions, the TRIP.