Horror festival's 18th edition to close with Tyler McIntyre's Tragedy Girls.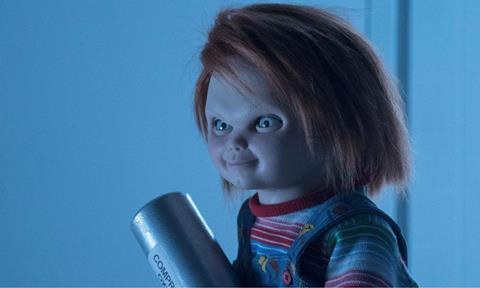 FrightFest, the London-based horror festival, will mark its return to the Cineworld Leicester Square (formerly the Empire Leicester Square) with the global premiere of Cult Of Chucky.
Director Don Mancini will be in attendance on the opening night, along with stars Jennifer Tilly and Fiona Dourif, which takes place on August 24.
Other world premieres at this year's festival include an unseen version of Adam Green's Hatchet, as well as Julien Maury and Alexandre Bustillo's Leatherface, their prequel to The Texas Chainsaw Massacre.
FrightFest's 18th edition runs until August 28 and will screen 64 films, including 20 world, 22 European and 18 UK premieres, across five screens at the Cineworld Leicester Square and The Prince Charles Cinema.
This year's festival will close with the UK premiere of Tyler McIntyre's Tragedy Girls, starring Alexandra Shipp and Brianna Hildebrand.
FrightFest perviously screened McIntyre's Patchwork at its Glasgow event in February 2016.
The festival will also welcome back genre favourites Adam Wingard and Joe Lynch with the European premieres of Death Note and Mayhem, respectively, as well as Mickey Keating's Psychopaths and Norbert Kell's Replace, starring iconic genre star Barbara Crampton.
Other films showing at this year's festival include Cannes title The Villainess, Trent Haaga's 68 Kill, Miguel Angel Vivas' remake of French extreme thriller Inside, Alex de la Iglesia's The Bar and Caroline Labrèche and Steeve Léonard's Radius.
FrightFest's British strand will feature the world premieres of Dominic Brunt's Attack Of The Adult Babies, Christian James' Fanged Up and Matthew Heaven's Accountable, while its First Blood strand is back with Jason Flemyng's directorial debut Eat Locals and Louis Melville's Boots On The Ground.
Its popular retrospective strand includes Dream Demon, Return Of The Living Dead III, the longest version found of giallo Death Laid An Egg and two Hammer classics: Blood From The Mummy's Tomb and Demons Of The Mind.
The festival will unveil its guest list, special events and the Short Film Showcase titles in the coming weeks.
FrightFest 2017 runs August 24-28.