The Japanese distributor will release Gods Of Egypt and Pride And Prejudice And Zombies in September.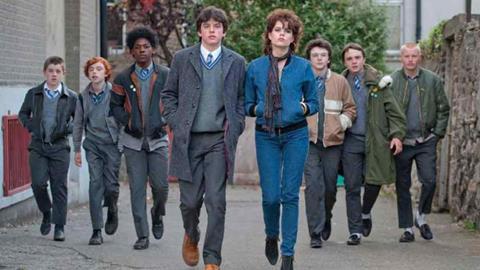 Japanese distributor Gaga has unveiled its 2016 line-up, including Gods Of Egypt and Pride And Prejudice And Zombies, along with a move into the animation business.
One of Japan's most active buyers, Gaga will release both titles in September, along with Giuseppe Tornatore's Correspondence.
Before then, it will release David Wnendt's Hitler satire Look Who's Back in June; John Carney's Sing Street and Margarethe von Trotta's The Misplaced World in July; and Sérgio Machado's The Violin Teacher in August (see full line-up below).
The company's alternative label Gaga + has a line-up of six films – including Laura Poitras's documentary Citizenfour and Uli Edel's Pay The Ghost – while its GagaX label will release Michel Franco's Chronic and Hong Kong director Dante Lam's To The Fore.
On the animation front, Gaga said it will co-finance animation projects "with our eyes on the global market". The company's first two animation projects – both TV series – will be announced at the Anime Japan event this weekend.
"In addition to high-quality foreign and Japanese films, Gaga will focus on the production and distribution of content targeting communities with keen interests in specific topics," the company said in a statement.
The first of these will be a live-action feature adaptation of best-selling manga Itazurana Kiss, which Gaga is co-producing with Asia Pictures Entertainment and LDH.
Itazurana Kiss has previously been adapted as a live-action TV series in Japan, Taiwan, Korea and Thailand, along with an animation series and stage play.
"As a film curator/distributor, Gaga will strive to work on various projects in a wide range of genres," the company said.
Gaga 2016 slate:
Look Who's Back, dir: David Wnendt (June 2016)
Sing Street, dir: John Carney (July 2016)
The Misplaced World, dir: Margarethe von Trotta (July 2016)
The Violin Teacher, dir: Sérgio Machado (August 2016)
God Willing, dir: Edoardo Maria Falcone (August 2016)
Gods Of Egypt, dir: Alex Proyas (Sept 2016)
Correspondence, dir: Giuseppe Tornatore (Sept 2016)
Pride And Prejudice And Zombies, dir: Burr Steers (Sept 2016)
The Final Lesson, dir: Pascale Pouzadoux (2016)
Oboreru Knife, dir: Yuki Yamato (Nov 2016)
Florence Foster Jenkins, dir: Stephen Frears (Dec 2016)
Voyage Of Time, dir: Terrence Malick (2017)
The Neon Demon, dir: Nicolas Winding Refn (2017)
It's Only The End Of The World, dir: Xavier Dolan (2017)
La La Land, dir: Damien Chazelle (March 2017)
Lion, dir: Garth Davis (April 2017)
Utsukushii Hoshi, dir: Daihachi Yoshida (May 2017)
Gaga +
Citizenfour, dir: Laura Poitras (June 2016)
Pay The Ghost, dir: Uli Edel (Oct 2016)
Itazurana Kiss The Movie, dir: Minoru Mizoguchi (Autumn 2016)
Bastille Day, dir: James Watkins (2016)
November Criminals, dir: Sacha Gervasi (2017)
Rupture, dir: Steven Shainberg (2017)
GagaX
Chronic, dir: Michel Franco (May 2016)
To The Fore, dir: Dante Lam (2016)
Hitchcock/Truffaut, dir: Kent Jones (2016)