Series written by Game Of Thrones author; produced by US network Universal Cable Productions.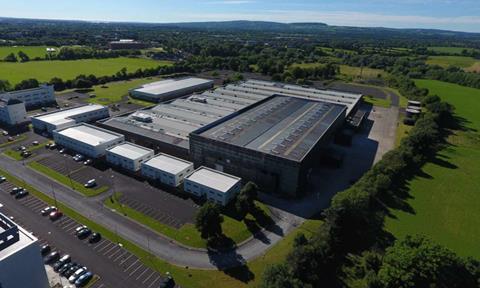 Ireland's newly opened Troy Studios has attracted its first major international project, a pilot for a new series written by the author of Game Of Thrones.
Nightflyers, based on author George RR Martin's novella of the same name, will shoot in the Limerick-based studios. Martin's series of epic fantasy novels, A Song Of Ice And Fire, was later adapted into the hugely successful series, Game Of Thrones.
Independent.ie first reported the story, and a spokesperson for NBC Universal Cable Entertainment confirmed to Screen that the pilot will shoot in Troy. A decision regarding further series plans has not yet been announced.
SYFY had previously announced a pilot pick up for Nightflyers, with Jeff Buhler (Jacob's Ladder) writing the adaptation for television.
Nightflyers tells how, in the hope of making contact with alien life, eight maverick scientists and a powerful telepath embark on an expedition to the edge of our solar system. They do so above The Nightflyer - a ship with a small, closely knit crew and a reclusive captain. But surviving the journey proves difficult following a series of violent events.
Irish coup
Attracting the production represents a coup for Troy, which opened late last year in the south western Irish city of Limerick and boasts 350,000 sq ft of space under one roof.
The facility is built on the site of the former Dell factory in Castletroy, on the outskirts of Limerick city, and it is the largest production studio on the island of Ireland.
Its facilities include 70,000 sq ft of sound stages with a 50ft working height and support facilities including workshop space, props and costume space and production offices. The studios also feature a five-acre backlot.
Troy has three stages: A, which has 30,668 sq ft of space, and B and C which feature 17,848 sq ft of space. It's been reported locally that filming will begin this autumn and that set construction onsite has already commenced.
Ireland currently provides a 32% tax credit for film and television production with a cap of $82,043,500 (€70m) per project.
From Universal Cable Productions, Nightflyers will be executive produced by Gene Klein (Suits), David Bartid (Suits) and Doug Liman (Edge Of Tomorrow) of Hypnotic; Buhler; Alison Rosenzweig (Jacob's Ladder, Windtalkers) and Michael Gaeta (Jacob's Ladder) of Gaeta Rosenzweig Films; and Lloyd Ivan Miller and Alice P. Neuhauser of Lloyd Ivan Miller Productions. Robert Jaffe will produce. No cast has been announced.
Previous high-end TV series to shoot in Ireland include Vikings, Into The Badlands, Penny Dreadful and Ripper Street. HBO smash hit Game Of Thrones shoots in Northern Ireland.
Read more:
'Krypton' TV series will shoot in Northern Ireland (Exclusive)