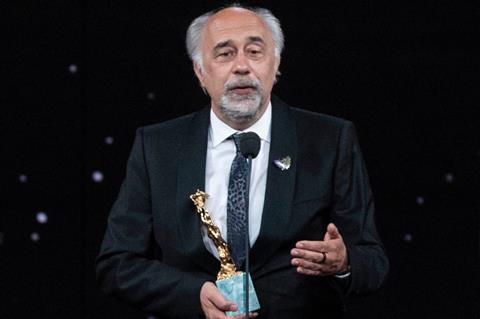 Giorgio Diritti's Hidden Away was the big winner at Italy's David di Donatello awards on Tuesday (May 11), winning seven awards including best picture, best director and lead actor for Elio Germano.
The drama, which chronicles the difficult life of Italian painter Antonio Ligabue, is produced by Palomar with Rai Cinema, and premiered at the 2020 Berlinale, where Elio Germano won the Silver Bear for best actor. The film, which was the frontrunner going into the night with 15 nominations, also picked up prizes for cinematography, hair artist and sound.
Scoll down for full list of winners
After an online 2020 edition, in which all of the nominees were awarded via video, the 66th David di Donatello ceremony returned with an in-person ceremony. Held a couple of months after its usual date in March, the event was set in two different locations in order to comply with Covid-19 safety protocols.
Italian star Sophia Loren won the best actress award for her role in Netflix drama The Life Ahead, directed by her son Edoardo Ponti and distributed worldwide by Netflix. It is her seventh victory out of seven nominations. Loren also received an honorary lifetime achievement award, celebrating a career that has lasted more than 70 years. The actress received her first David award in 1959 for her performance in Matin Ritt's The Black Orchid.
Netflix also scored a hat-trick of awards with Sydney Sibilia's comedy Rose Island, which won best digital effects; supporting actor for Fabrizio Bentivoglio and supporting actress for Matilda De Angelis.
Susanna Nicchiarelli's Miss Marx also picked up three awards from 11 nominations for best music, costume design and producers Marta Donzelli and Gregorio Paonessa of Vivo Film. The biopic of Karl Marx's proto-feminist daughter premiered at Venice.
The D'Innocenzo Brothers drama Bad Tales went into the night with 13 nominations but walked away with a solitary award for editor Esmeralda Calabria. The film previously won best screenplay at the Berlinale, where it premiered in 2020.
The audience award, honouring the highest grossing film of the season, went to Checco Zalone's Tolo Tolo - one of the few pictures in the line-up that had been distributed before the pandemic.
Best international feature went to Sam Mendes' 1917.
Special David awards went to veteran comedian Diego Abantuono, whose credits include 1991 Italian Oscar winner Mediterraneo; international star Monica Bellucci; and actress Sandra Milo, a close collaborator on Federico Fellini's films including 8 ½.
66th David di Donatello Awards
Best Picture: Hidden Away, Giorgio Diritti
Director: Giorgio Diritti, Hidden Away
Debut Director: Pietro Castellitto, The Predators
Screenplay: Mattia Torre, Figli
Best Adapted Screenplay: Marco Pettenello, Gianni Di Gregorio, Lontano Lontano
Producer: Marta Donzelli, Gregorio Paonessa, Miss Marx
Actress: Sophia Loren, The Life Ahead
Actor: Elio Germano, Hidden Away
Supporting Actress: Matilda De Angelis, Rose Island
Supporting Actor: Fabrizio Bentivoglio, Rose Island
Cinematography: Matteo Cocco, Hidden Away
Editing: Esmeralda Calabria, Bad Tales
Documentary: Alex Infascelli, My Name Is Francesco Totti
Score: Gatto Ciliegia Contro Il Grande Freddo, Downtown Boys, Miss Marx
Original Song: Luca Medici, Antonio Iammarino, Immigrato
Production Design: Ludovica Ferrario, Alessandra Mura, Paola Zamagni, Hidden Away
Costume Design: Massimo Cantini Parrini, Miss Marx
Makeup Artist: Luigi Ciminelli, Andrea Leanza, Federica Castelli, Hammamet
Hair Artist: Aldo Signoretti, Hidden Away
Digital Effects: Stefano Leoni, Elisabetta Rocca, Massimiliano Battista, Rose Island
Sound: Carlo Missidenti, Filippo Too, Luca Leprotti, Marco Biscarini, Francesco Tumminello, Hidden Away
Audience Award: Tolo Tolo, Luca Medici
International Film: 1917, Sam Mendes
Career David: Sophia Loren
Special David: Sandra Milo
Special David: Diego Abatantuono
Special David: Monica Bellucci